7 Voice Commands to Use With Your AAA Home Security System
Whether you're working from home, coming back from grocery shopping, or getting ready for bed, having a virtual assistant to help you around your home is a game changer that saves you time and energy.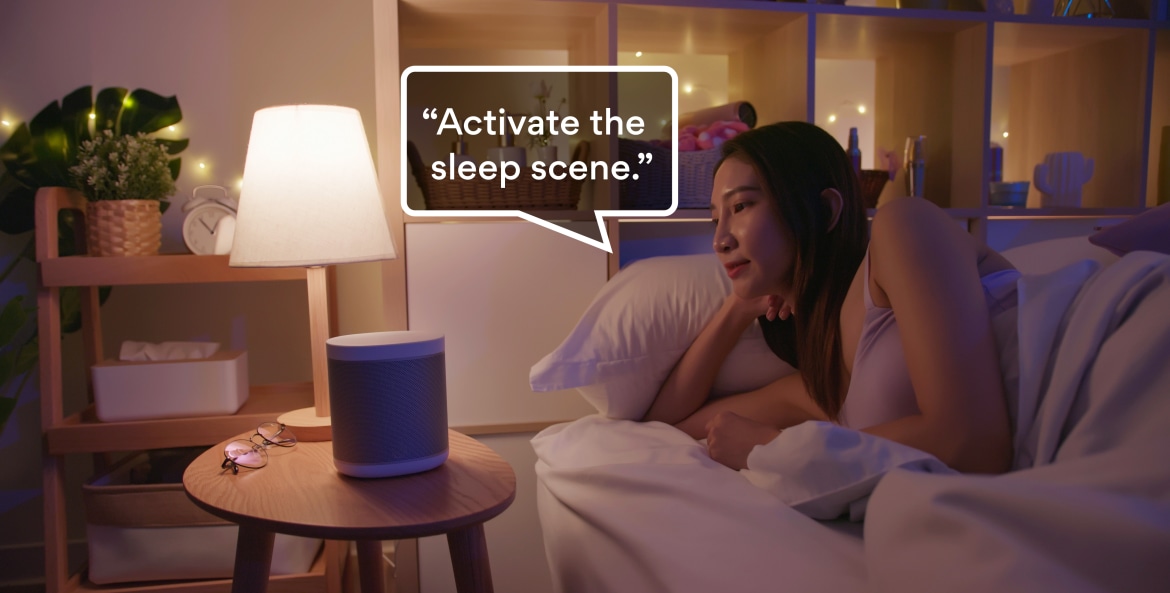 Here are 7 home security voice commands that our Members love!
"Arm the system"
"Activate the sleep scene"
"Lock the front door"
"Turn off the lights"
"Set the temperature to 72°"
"Close the garage door"
"Check system status"
Now, let's help you get connected!
Connecting your Smart Home Security system to a virtual assistant is easy.  Below, you will find the configuration instructions for some of the most popular virtual assistant options.
Alexa and Amazon Echo
Download the latest version of the Alexa app.
Plug your Amazon Echo into a wall outlet.
Connect the Echo device to a Wi-Fi point by opening the app, selecting "Settings", and choosing "Add New Device". Select your Amazon Echo and press "Continue".
Connect your Echo with your Smart Home Security system using Alexa skills - Alexa's version of apps. Select "Skills" from the Alexa application menu and select "Enable" for the skills associated with your home's device(s).
Complete the app-guided linking process and then say "Alexa, discover my device(s)!"
Google Assistant and Google Home™
Download the Google Home app.
Plug in your Google Home  into a wall outlet. 
Connect the Google Home to Wi-Fi.
Select "Add" in the app home screen to connect your compatible Smart Home Security products and follow the set up instructions.
Once your devices are connected, say "Okay, Google™" or "Hey, Google™" followed by a voice command. 
Siri® and HomePod®
Ensure that your device is updated with the latest iOS.
Download the HomePod app and make sure your Smart Home Security devices are connected to the app.
Plug in the HomePod in a room that's within range of the Smart Home Security devices that you'd like Siri to control.
On your Apple® device, log into iCloud. Make sure your Apple ID® requires two-factor authentication and turn on iCloud Keychain® .
Physically hold your unlocked Apple device next to your HomePod. The words "Set Up" should appear.
Simply follow the prompts to connect to Wi-Fi and your Smart Home devices. 
After connecting your devices, you may test a voice command to ensure that your virtual assistant is operating properly. We hope this hands-free system helps you stay more in the moment with the people that matter most and gives you a small return of time and energy every day. 
Disclaimer: This blog post is provided by AAA Smart Home. It is not sponsored by Amazon, Google, or Apple. Each of the trademarks AAA Smart Home identifies in connection with each such company are the registered trademarks of that company. Google Assistant and the Google Assistant logo are trademarks of Google LLC. Siri and the Siri Logo are trademarks of Apple Inc., registered in the U.S. and other countries. Alexa and all related logos are trademarks of Amazon.com, Inc. or its affiliates.
Informational purposes only
The content provided in this blog post is for informational purposes only, and is not intended to be an offer to sell any AAA Smart Home product or service. A3 Smart Home LP makes no representations as to the accuracy or completeness of the information contained in this or any blog post on the AAA Smart Home website.
Get started protecting your home today!