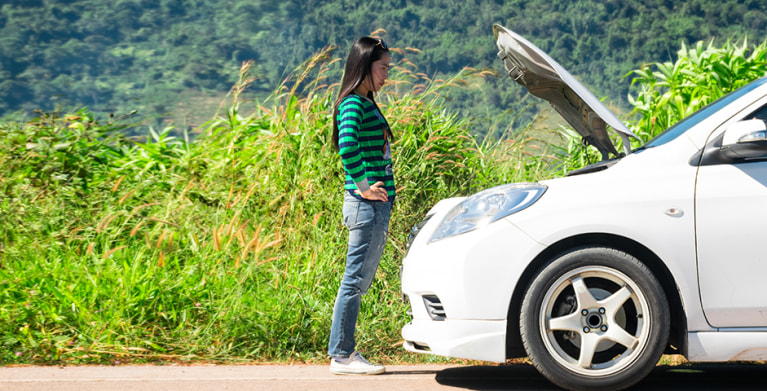 Mobile Car Battery Installation &
Jump Start Service
If your car battery dies, whether
you're miles from home or stuck
in your driveway, AAA experts
are on their way.
How does AAA Battery Roadside Service work?
---
Battery gone kaput? Help is on the way. 
Stranded drivers have trusted AAA to get them back on the road for more than a century, and today is no exception. Contact AAA for help around the clock and an expert AAA roadside technician will arrive to get you moving again from most locations. 
With AAA Battery Roadside Service, Members enjoy the convenience of mobile battery delivery just about anywhere you are—24/7, nationwide—and assistance from highly trained technicians. AAA roadside experts also offer battery testing and diagnosis (they can test your  charging system, too), provide jump starts, and sell you a car battery replacement on the spot—installation included—before recycling the old battery.1 And if all else fails, we can tow your vehicle.
Note: If you're a new AAA Member there is a 48-hour waiting period before all Membership benefits kick in.
1 Certain restrictions apply. Batteries may be out of stock or unavailable at time of service. Roadside assistance may be unavailable in some coverage areas. AAA does not provide battery replacement services for EV or hybrid vehicles.
Request Battery Roadside Service
---
AAA Membership Car Battery & Roadside Benefits
---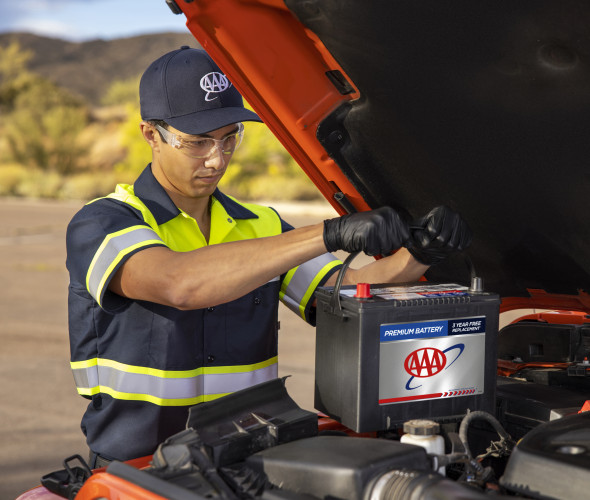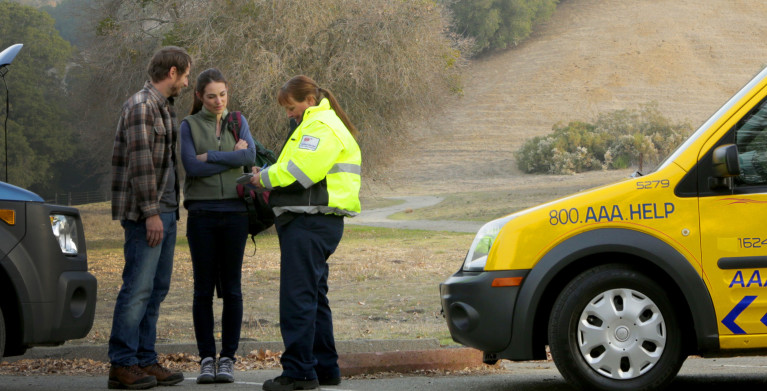 10 Signs Your Battery Needs Replacing
Sometimes, a vehicle battery gives you hints of impending trouble. Not sure what to look for? Consider these 10 warning signs.
Your car starts slowly or has trouble starting. If you start the ignition and the engine cranks slowly, or makes a whirring sound for a while, you might need a new battery.
Your car's engine cranks but won't start. This could be a sign that your battery is failing. If you try to start your car and hear only a click, you may have either a faulty battery or a bad starter.
Your car needs multiple jump starts. If your car often needs a jump to get it going, its battery could be wearing out. Or, another part of your electrical system, such as the alternator, is failing. Take your vehicle to a AAA-approved mechanic, who can pinpoint the problem.
Your dashboard lights are flickering or your headlights are dim. Failing lights could signal a failing battery, or perhaps a failing alternator.
Your car struggles to perform in cold or hot weather. Colder temperatures strain your battery and can eventually kill it, while extreme heat can damage its internal structure.
You notice a rotten-egg smell. A sulfuric acid smell could indicate an unstable battery.
The battery case is swollen, cracked, or disfigured. If you notice any of these changes, your battery is damaged.
You have corroded battery terminals. Car batteries have a positive and a negative terminal (the two terminals that you connect jumper cables to when jump-starting a car). Corrosion around a battery terminal—a powdery buildup that's usually white, green, or blue—can hamper battery function.
You haven't been driving your car lately. "Use it or lose it" certainly applies to your car battery. If a car isn't driven regularly, the battery drains, eventually leaving you with a dead battery. If your car sits too long between drives, you may not be able to revive it with a jump start.
You have an old battery. Nothing lasts forever, and that includes car batteries. Most batteries last for 3 to 6 years.
Suspect a failing battery? AAA Members can request roadside assistance to have their battery tested and replaced.
Car Battery Maintenance Tips
---
While car batteries inevitably need to be replaced, there are a few ways to maintain your battery's longevity. Here are a few ways to keep your vehicle battery in tip-top shape.
Frequently Asked Questions: AAA Battery Service
---
Can AAA change or install a battery?
Yes, if your vehicle won't start, AAA road service technicians will first diagnose the problem. They'll conduct a car battery test and might also test your vehicle's starting and charging systems.
If you have an old, dead battery, the technician can install a fresh one on the spot with a AAA-branded battery that you purchase. If you have a AAA battery that fails testing and is under the three-year warranty, technicians will install a new AAA battery on the spot. (Additional charges may occur if installation or removal is especially labor-intensive.)
Can AAA jump start a battery?
Yes, AAA can jump start a car battery in a gas-powered or hybrid vehicle. (EVs can be towed to the nearest charging station.)
What options do I have for battery issues with AAA?
When you request Roadside Battery Service, the AAA technician will test your battery to determine the best course of action. AAA Members who have battery issues are entitled to a few different services.
A simple jump start can often get you back on the road quickly. If your battery fails the test, the technician can replace your battery on the spot. (AAA technicians carry batteries for most vehicles in their trucks.) And if a jump start does not work, you also have the option to have the vehicle towed.
What kind of AAA battery warranty does AAA offer?
AAA offers a three-year AAA Battery Warranty. If your AAA battery fails during its first three years, AAA will install a new battery for free.
Does AAA replace batteries for motorcycles?
No. AAA does not install motorcycle batteries but does offer towing services with AAA Premier Membership.
Which AAA Membership includes Battery Roadside Service?
If you have a dead car battery, how do you know whether you need a battery replacement or a jump start?
When you call AAA Roadside Service, a skilled technician will arrive on the scene, pop open your hood, and test your dead battery. Based on the results, the technician will either safely jump-start your battery or install a new battery on the spot.
How much does AAA charge to install a new car battery?
Battery installation is included with membership. Only if installation is especially labor-intensive will there be additional charges.
How often should you replace your car battery?
It depends. Battery life is affected by factors like usage, how well the battery is secured, and battery location (whether it's usually parked in a garage or out in the elements). But once your battery is three years old, it's smart to have it tested annually.
Where can I get my car battery replaced?
Contact AAA and we'll send a AAA Battery Service technician out to test your battery, starting, and charging system. If your battery fails, our technicians have batteries on their service trucks to change it out quickly. They'll even recycle your old battery for you.
Does a new car battery need charging?
No. It should come from the manufacturer as a fully charged battery that's ready to go. If you buy a new vehicle battery and it's low on charge, it probably sat on a shelf too long before you bought it.
How long does a car battery last?
Car battery life is generally 3 to 6 years for cars, trucks, and SUVs. Battery life varies based on factors like your car's usage and exposure to extreme temperatures.
AAA Members Share Their Roadside Tales
---
Discover what AAA Members have to say about their experience using AAA Battery Replacement and Roadside Service.
Join AAA today and start enjoying the benefits! For more than 100 years, AAA has been a trusted ally to drivers and pioneered roadside service.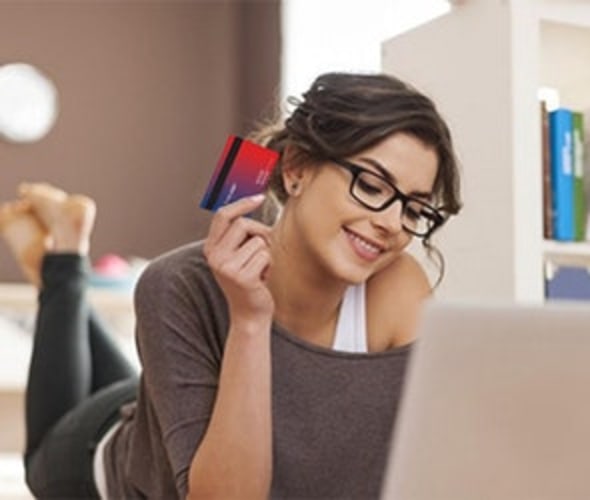 *Certain restrictions apply. Valid Membership card required. AAA batteries may not be available for all vehicle makes and models. Mobile battery replacement is not available in all areas. Member pays for battery. Some battery installations may require additional fees. For full Membership terms & conditions, view AAA Terms & Conditions. For AAA battery warranties, view limited warranty.