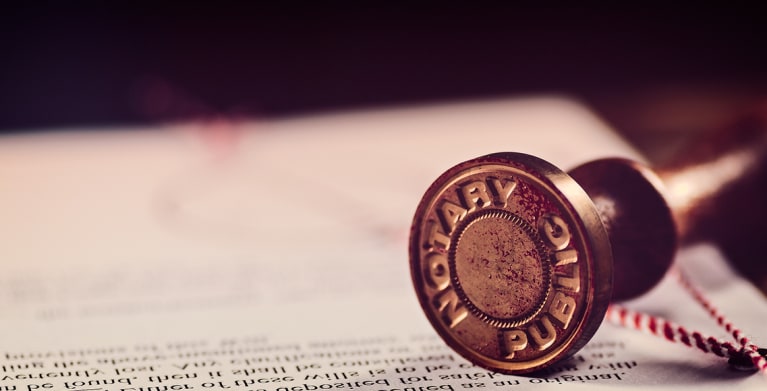 Notary Services
Get your important documents notarized at a AAA branch near you.
Fast, convenient notary services are available in select AAA office locations for AAA Members and non-Members alike, with discounted pricing offered exclusively to AAA Members. 
How much do notary services cost at AAA?
AAA Members save on notary services.
California Notary Fees
What can be notarized at my local AAA branch?
The notaries at AAA can notarize many types of documents, including:
Affidavits
Permission slips for minors
Passport applications for minors  
Car title transfers
Contracts
Healthcare directives 
Power of attorney
Trusts
Notaries cannot perform the following services:
Notarize photographs, wills, mortgages or I-9 forms
Certify copies of birth, marriage, divorce or death certificates
Notarize incomplete documents
Provide witnesses
Note: AAA handles personal notary transactions only; no business-related documents, please. Please contact a financial institution if you need a gold medallion signature.
Helpful Tips
For a more efficient visit, please follow these guidelines.
Have All Parties Present
All signers must be present. If the document to be notarized requires more than your signature, please make sure each person is there with the required identification. 
Bring Correct Identification
Each signer must have a valid form of identification. Acceptable forms of ID vary by state, but are typically government issued, with a photo, signature, and physical description of the person. Valid IDs include state-issued driver's license, state-issued ID card, military ID, and U.S. passport. Contact your local AAA branch if you are unsure about your form of ID.
Know Your Document
Know what type of notarization you need; for example, an acknowledgment, jurat, oath, or affirmation. This is especially important if the notarial statement isn't attached to your document. Please ask the party requiring the notarization to provide the notarial statement or to advise the type needed. Notarizations can have legal ramifications. Notaries aren't licensed attorneys and aren't authorized to decide the type of notarization needed.  
Mark Pages to Be Notarized
If you're bringing in a large document, mark the page(s) that needs to be notarized. Please pay special attention to any blank spaces on the page to be notarized and put a line through the space or write "NA" (not applicable). If there are misspellings, please make changes on the document.
Terms and Conditions: Certain restrictions apply. Notary services offered may vary by location.