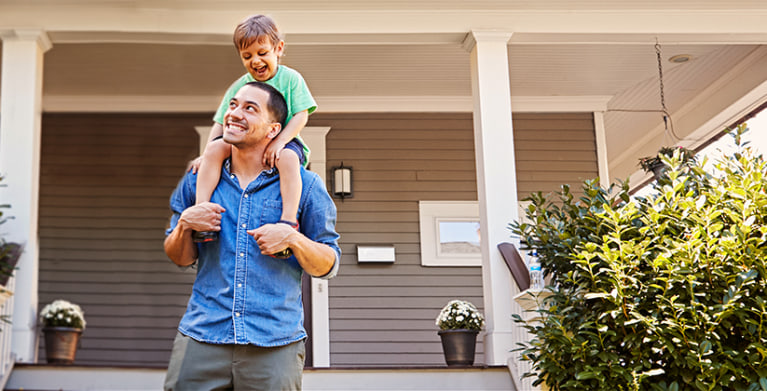 Earthquake Insurance
Start your Earthquake quote
Is your home covered for the next big earthquake?
If you live in a state with a higher risk of earthquakes, you may consider getting earthquake insurance to protect your property. Learn more about earthquake insurance, including how it works and what is—and isn't—covered.
Whether they shake, rattle, or roll—a little or a lot—earthquakes can cause major damage to your home and your belongings inside. Even a relatively small quake could crack the foundation, topple furniture, or do far greater destruction. If you live in the West, you probably already know all that. But would it surprise you to learn that most homeowners and renters insurance policies do not cover earthquake damage? Because they don't. To protect your property, you'll want to purchase an add-on or standalone earthquake policy.
How does earthquake insurance work?
Earthquake insurance offers three main types of coverage.
Dwelling Coverage: Helps pay for physical or structural damage to your home. Earthquake insurance carries a deductible, usually ranging from 5 percent to 25 percent of your home's replacement value. For example, if your policy has a 5 percent deductible and it will cost $400,000 to rebuild your home, you'd be responsible for paying the first $20,000 of the work. Your state may require a minimum deductible.
Personal Property Coverage: Helps protect your belongings, such as furniture and electronics. Depending on your policy, your deductible may be included under your dwelling coverage, but this coverage has its own limit, typically $5,000 to $200,000.
Additional Living Expenses Coverage ("Loss of Use"): Takes care of certain living expenses if you need to find a new home or relocate while your home is being repaired. Your policy may cover costs such as rent for a temporary apartment or furniture—and maybe even laundry. This type of coverage has limits typically ranging from $1,500 to $100,000, but no deductible.
How much does earthquake insurance cost?
What does earthquake insurance cover?
Earthquake insurance typically covers:
Even the best earthquake insurance policies usually don't cover:
Fire damage from a blaze caused by an earthquake. Fire damage is covered by your homeowners policy.
Flood damage from a flood caused by an earthquake. A flood insurance policy covers this type of damage.
Sinkhole damage caused by an earthquake. A separate sinkhole covers this type of damage.
Damage to masonry, such as brick, stone, or rock on your home's exterior.
Damage to vehicles. The comprehensive coverage you have as part of your auto insurance pays for vehicle damage.
What about FEMA?
Rebuilding your home is your responsibility.
You might expect the Federal Emergency Management Agency to swoop in and solve your problems after an earthquake, but that's not really how FEMA works. The feds focus on meeting people's immediate needs following a natural disaster, such as providing medical care, food, and clothing.
As the agency informed victims of a major earthquake in Alaska: "Insurance is always the first line of defense when a disaster causes damage to your home and personal property, and by law, FEMA cannot duplicate insurance or other benefits." You may apply for federal grants or loans after a quake, but repairing or rebuilding your home, and replacing any damaged belongings, is your responsibility.
Contact an Insurance Agent
---