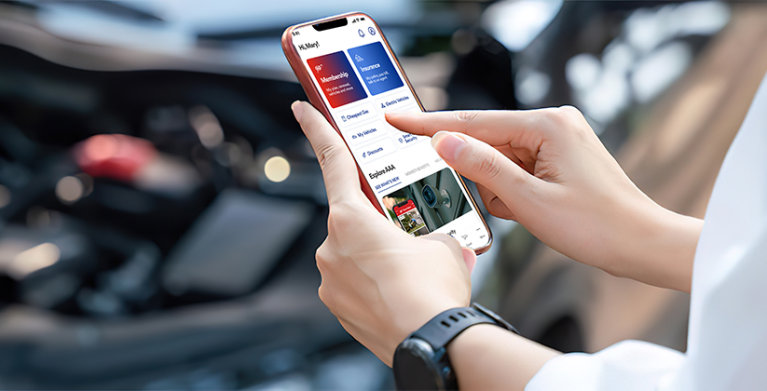 AAA Roadside Assistance
Need assistance right now?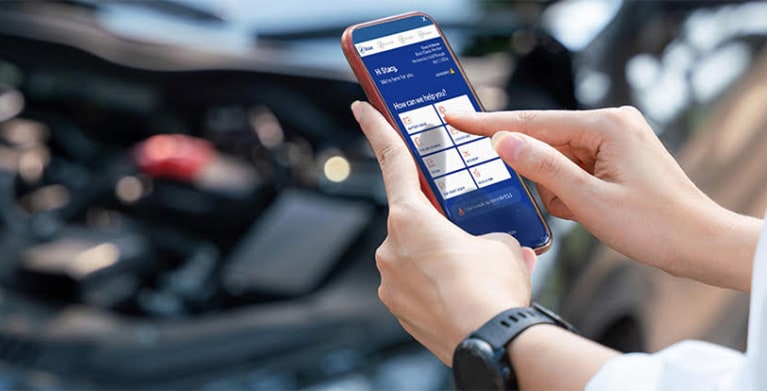 AAA Roadside Assistance
Need assistance right now?
You're covered 24/7, in anyone's car - whether you're the driver or a passenger.
You can trust our trained technicians to perform a variety of services to get you on your way. Request roadside assistance on the AAA Mobile App without calling and track your service vehicle's arrival. There when you need us mostTM.
Need emergency roadside assistance? Request online or Call 800-AAA-HELP
Have questions about your AAA roadside assistance benefits? Call 800-922-8228.
Roadside Assistance Covers*
---
How do AAA Roadside Assistance Membership benefits differ?
While many of the Member benefits are the same, these roadside services change based on Membership plan:
Classic

Membership

Plus

Membership

Premier

Membership

Miles of standard towing

5

100

200

RV and motorcycle towing

Emergency fuel at no additional cost

Locksmith reimbursement

$50 (car only)

$100 (car only)

$150 (car and home)
What AAA Members Have to Say
---
How does AAA Roadside Assistance work?
If your vehicle breaks down or you run out of gas, you can contact AAA Roadside Assistance for help 24 hours a day, seven days a week in any car—whether you're the passenger or the driver, anywhere in the U.S. or Canada. To get roadside service, you'll need your AAA Membership card and a photo ID.
As a AAA Member, your benefits include up to four service visits per Membership year, including:
Towing to the nearest gas station, AAA Approved Auto Repair shop, or your preferred mechanic. Miles of towing vary, based on your AAA Membership plan.
Flat tire service if your tire needs to be inflated or changed.
Emergency fuel delivery to get you to the nearest gas station.*
Car battery service, if you need a jump-start or on-the-spot battery replacement.**
Mechanical first aid to get your vehicle running (minor repairs, not including parts or supplies).
Locksmith service if you are locked out of your car.
In some cases, additional charges may apply.
AAA Members can request Emergency Roadside Assistance three ways:
*Certain restrictions apply. Valid Membership card required.
**Certain restrictions apply. Valid Membership card required. AAA batteries may not be available for all vehicle makes and models. Mobile battery replacement is not available in all areas. Member pays for battery. Some battery installations may require additional fees. For full Membership terms & conditions, view AAA Terms & Conditions. For AAA battery warranties, view limited warranty.
Is AAA Roadside Assistance available 24/7?
Yes, roadside assistance from AAA is available to Members 24 hours a day, 7 days a week. Call 1-800-AAA-HELP (800-222-4357), and we'll send someone to assist you.
How long does AAA's Roadside Assistance take?
Response time varies, but AAA's Roadside Assistance team strives to provide prompt, efficient service whenever possible. Request road service from the AAA Mobile App, and you can track the location of your technician.
There may be times when AAA services aren't available, like during extreme weather conditions or when a local AAA tow truck operator isn't available. In these situations, you may request reimbursement from AAA for expenses. To do so, submit a reimbursement form.
How many times a year can you use AAA?
AAA Membership provides each Member up to an aggregate of four (4) total Emergency Road Services per Membership year.
To find out how many service calls you've used during your current Membership year, please call AAA Member Services at 800-922-8228 Monday through Friday, 7:00 a.m. to 9:00 p.m., and Saturday and Sunday, 7:00 a.m. to 7:00 p.m. Pacific Time.
Can I use AAA Roadside without my Membership card?
Yes. You can either provide your physical AAA card to take advantage of AAA Member benefits, or use the AAA Mobile app for quick, easy access to your Membership card.
Can I call AAA if I am not a Member?
If your car breaks down or runs out of gas and you don't have a AAA Membership, you can still call 800-AAA-HELP (800-222-4357) to sign up for a AAA Membership and service right away. While it usually takes 48 hours for Membership benefits to kick in, you can pay an additional $75 to waive the waiting period for immediate roadside service.
Can I use AAA Roadside Service immediately?
AAA Emergency Roadside Service benefits are available 48 hours after you first purchase your Membership. However, you can pay a $75 fee to waive the waiting period and get help right away. If your vehicle requires towing right away, towing is limited to five miles. After the first five miles, a per-mile fee (that varies by location) will apply.
Can someone else use my AAA towing?
Only AAA Members are entitled to towing service. If you're a passenger in a friend or family member's car and the vehicle needs a tow, however, you're entitled to tow service for that incident.
*Certain restrictions apply to these services. Review your Membership terms for full details. Review reimbursement instructions to request a reimbursement.