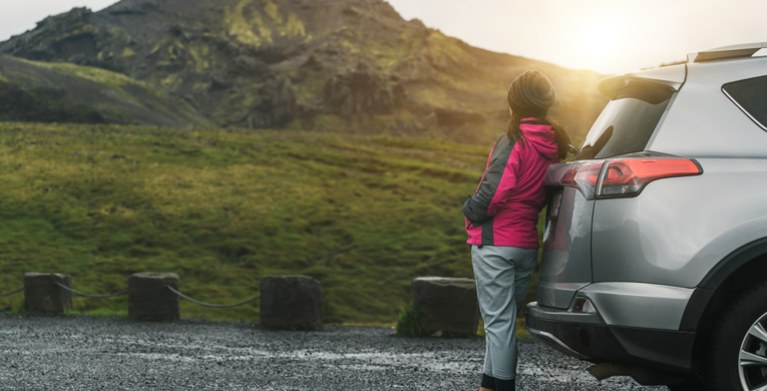 AAA Car Insurance
Coverage you can count on.
Manage your existing policy
AAA Auto Insurance offers many ways to save you money
Get a customized insurance quote
Frequently asked questions about auto insurance
---
Does car insurance cover the car or the driver?
It might cover both, depending on your policy.
Some policies protect the car. If you have an accident and your car gets dinged—or worse—optional collision coverage will help pay to repair or replace it. Comprehensive insurance, which is another optional coverage, applies for non-crash-related hazards. So if a storm floods your car, a squirrel gnaws on your wiring, or loose bricks fall onto your hood, comprehensive coverage will help pay for the repairs. And liability coverage, which is required in most states, pays for the damage to another driver when you are responsible for an accident.
Other policies may help pay for medical costs if someone gets hurt in a crash. If another driver hits you, for example, their liability coverage may extend to your accident-related injuries. And depending on the state you live in, your health care provider can secure a lien for the full amount owed for bodily damages.
Does car insurance cover a cracked windshield?
Yes, In many cases it does.
If another driver hits your car and cracks your windshield, that driver's liability coverage pays for your repairs.
If you cause a car crash that cracks your windshield, and you have optional collision coverage, you can file a claim with your own insurance company.
If your windshield gets cracked from something other than a car crash—like a falling tree branch, a rogue baseball, or debris from the freeway—you're protected if you have optional comprehensive coverage.
Is car insurance cheaper if you park in a garage?
Does the cost of car insurance go down when you have a baby?
No, having a baby doesn't affect your insurance rates.
Are convertible cars more expensive to insure?
Not necessarily. Convertibles do tend to have extra parts—such as the mechanisms that control the top—which might cause your rate to creep up a bit. But overall, your rate depends on a range of factors, including the model you have. Insurance for some convertibles is actually quite affordable.
Hardtops, for example, are less expensive to insure. For one thing, thieves have more trouble getting into a hardtop than a soft-top. And soft-tops can tear and let rain in, causing damage, while hardtops tend to offer better weather protection.
If you have a high horsepower sports car, you'll have a blast on the road—but you'll also pay more for auto coverage. In fact, any pricey car usually comes with higher insurance rates. 
Does the cost of car insurance go down when you own your car?
Owning your car is cause for celebration, but it won't automatically cause your insurance rates to drop. However, when you finance your car, your lender might require you to carry a policy with lower deductibles—and thus higher premiums. So if you're willing to raise your deductibles, you may be able to lower your monthly payments.
Talk to your insurance agent, who can help you make any changes while ensuring that you're adequately protected. Your agent will also remove your lender from your policy. That way, if you have an accident and need to file a claim, the money will go to you—and not your lender.
Does AAA cover rental car insurance?
Yes and no. Depending on the policy you choose, AAA covers car rentals if your insured vehicle is out of commission due to breakdown, repair, servicing, or loss, and also leisure rentals (with certain limits). However, there are policies with reduced coverage that do not extend to leisure travel, so check with your agent. 
Should you have any questions about rental car coverage, talk to your AAA insurance agent for more information.
Does AAA cover windshield replacement?
Yes, comprehensive coverage from AAA includes windshields. Also, keep in mind that AAA Members save 10% on auto glass repair or replacement from any Safelite AutoGlass repair facility or mobile service.
Does AAA insurance cover Uber drivers?
If you're a rideshare driver, your standard AAA coverage is in effect when you're not working and your rideshare app is turned off. When you are working, insurance provided by the rideshare company—like Uber, for example—takes over. It's important to know that your rideshare company's policy should offer minimal protection—usually just liability coverage.
Outside of California, you can purchase a rideshare endorsement from AAA that provides extra coverage while you're working. This extra protection comes into effect when you're logged in to your app but not yet matched with a customer, when you've been matched with a rider but haven't yet picked them up, and while the customer is a passenger.
What is the AAA grace period for insuring a new car?
If someone has an existing insurance policy with AAA (or any other insurance company), they have a 14-day to 30-day grace period to insure their new car, depending on the type of policy. However, if an individual purchases a new car and has never had an insurance policy before, they need to purchase insurance before they drive off the lot.
Can I pay AAA Auto Insurance with a credit card?
Absolutely! AAA accepts credit card payments for your auto insurance premium.
Can I pay my AAA Auto Insurance online?
Yes, you can pay your bill online in mere moments. You can also use the AAA Mobile app to pay your bill. Simply log in and, on the home page, scroll down to Account Actions. Just beneath that, under Insurance, click on "Pay Your Insurance."
*Average savings from September 2021 survey of customers from the states of CA, NV, UT, AZ, WY and MT who switched to AAA Insurance within the past year and reported saving money.
Products and their features may not be available in all states. All policies are subject to policy terms, underwriting, guidelines, and applicable laws. Multipolicy and other discounts vary based upon eligibility. Discounts not cumulative; certain restrictions apply. Insurance premium does not include the price of Membership.
Insurance products in Arizona are offered through AAA Arizona Inc., License #8301727 and Sunstate Insurance Agency, LLC, License #17203444. Insurance products in California are offered through AAA Northern California Insurance Agency, License #0175868, in Montana by AAA Montana, Inc., License #9756, in Nevada by AAA Nevada and in Utah by AAA Utah. The provider of AAA Auto and Home Insurance is CSAA Insurance Group, a AAA Insurer.
Contact an insurance agent