Smart Home Tips to Adjust to the "New Normal"
AAA Smart Home Security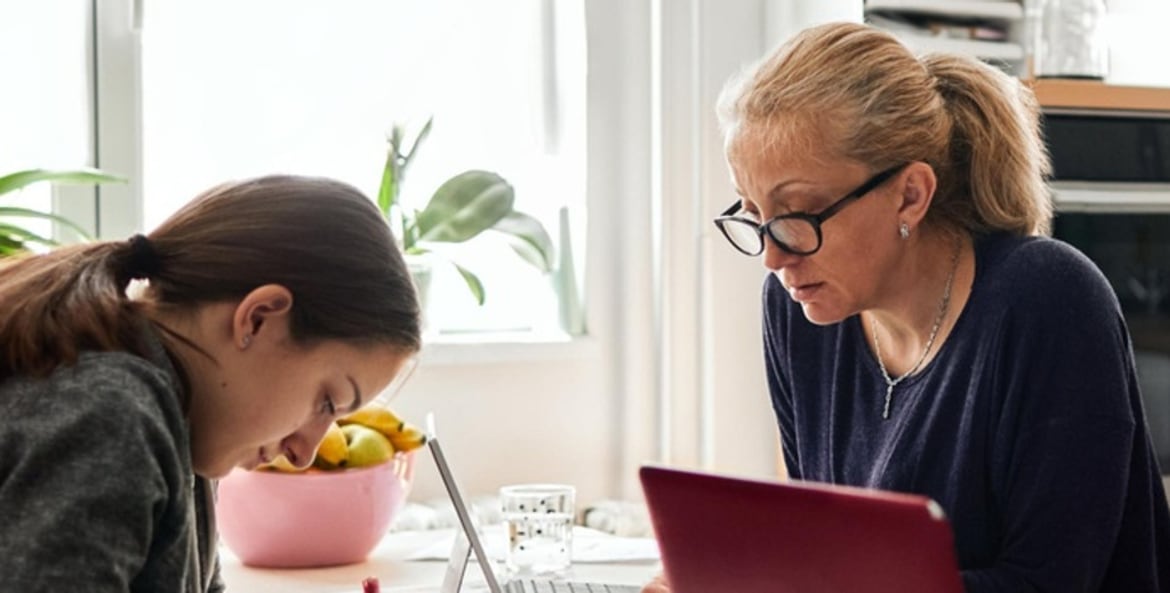 You may find yourself in what we're calling the "new normal." Many people are spending far more time at home, and smart homes can help you stay safe and hands-free.
Significant changes have occurred in nearly every aspect of the daily lives of people around the globe. If you're like many others, it's also changed the way you look at your own home. Consider these smart home tips to make your home hands-free friendly and productive.
Leverage Your Smart Devices
You can avoid touching shared surfaces in your home whenever possible using smart home devices. Consider relying more heavily on home devices you can control with voice commands, helping to keep you and your smart home cleaner.
You can also use your devices to do basic functions to help avoid touching common surfaces. Light switches and doorknobs are some of the most handled surfaces in your home. You can tell your smart system to switch lights on and off and lock and unlock your door to reduce contact.
You can use touchless disarming to unlock the door and turn on the lights when you arrive home. Or you can call out voice commands to your smartphone, like "Hey Alexa, unlock the front door."1
You can even automate several actions at once and enact them simply by saying, "Start the home scene." Scenes enact multiple automated actions at once, such as arming your system, turning on lights, and dial up or down the thermostat, with a single voice command.
Smart appliances also let you tell them what to do without touching them. The more items you control with a smart system, the more you minimize contact.
Let Your Video Doorbell Answer the Door
Being at home can mean more deliveries of essential items, but social distancing may discourage you from answering the door. A video doorbell can help you keep your packages safe while you stay inside, and even communicate with socially-distant guests and delivery people from a remote location.
Video doorbells can enable contactless delivery and help you maintain six feet between you and whoever comes calling. An alert on your smartphone can notify you when someone is at the door.
You can see and speak with whoever is at the door using your cellphone or control panel. The doorbell's two-way audio component can help you even ask delivery people to leave packages by your door. (A motion sensor can alert you to porch pirates, too.)
Smart Home Tips for Productive Parenting
Working from the comfort of your home may have sounded like a fantastic idea at one time. However, it can be an entirely different story when faced with the challenges of distance learning. Get more done by developing a practical routine and working smarter with virtual babysitting.
"Routines are my key to maintaining work-life balance when working from home," said Carlos Semidey, Associate Product Marketer at AAA Smart Home. "It can be easy to work 24/7, but committing to a scheduled workout regimen and family dinner time each day helps separate the workday from home."
But don't get too carried away with routines - remember that it's normal to have an aberration or two. When asked about his typical daily routine, Sumanta Chakraborty, Director of Product at AAA Smart Home, said he didn't have one anymore because the "kids are waking up at 10 or 11, having breakfast at lunchtime, lunch at three, not sleeping till midnight sometimes. My wife and I are working 14 hours a day!"
AAA Smart Home's Digital Marketing Lead Ashley Pohlman was not available for comment. The mother of two was on a bike ride with her children, as she promised she would do promptly after work and before sundown.
Joy Okere, Manager of Enterprise Analysis, has two simple yet profound pieces of advice. "Take a lunch break and take a walk."
Bonus tip for parents! Keep your young ones occupied and engage them in distance learning that helps them navigate the changing world with this self-guided lesson, Staying Safe During COVID-19: A Guide to Physical Safety and Emotional Wellbeing.
School-aged children learn how to be safety leaders during the COVID-19 pandemic, and you learn how to talk to them about wearing a mask, or handling difficult emotions that rise up with their different back-to-school routine. AAA partnered with Playworks, a national nonprofit committed to leveraging the power of play to transform children's physical, social and emotional health to create this content.
The lesson is all-inclusive, giving your child fun games, quizzes, videos and tips to be your household safety advocate. Check it out!
An Extra Set of Eyes: Security Cameras
With or without a routine, you may have to watch your kids while trying to finish your work. Depending on your preferences or specific health concerns, bringing a babysitter into your home may not be an option. If this is the case, there are ways to make childcare easier while telecommuting.
A smart home camera can serve as a virtual babysitter to check on your children, whether they're playing inside or outdoors. For example, you can open a browser tab to live view camera footage and see what's going on in the other room, or simply stream it on your phone. Of course, no camera is a substitute for attentive parenting.
Indoor cameras with two-way audio can let you talk to them from the other room too. A wellness camera in mom or dad's house can help you look out for and communicate with an elder loved one, even if they can't get to the phone.
In conclusion, there are a number of ways you can better adapt your house to the unique time we're living in. With hands-free entry, voice commands, automation scenes and security cameras, we can feel smart (not stuck) at home.
Editor's note: This post was originally published in Aug 2020 and has been revamped and updated for comprehensiveness.
Get started protecting your home today!