New Orleans Red Beans and Rice
Comfort food, rich with tradition and nostalgia, this dish is the soul of New Orleans cuisine.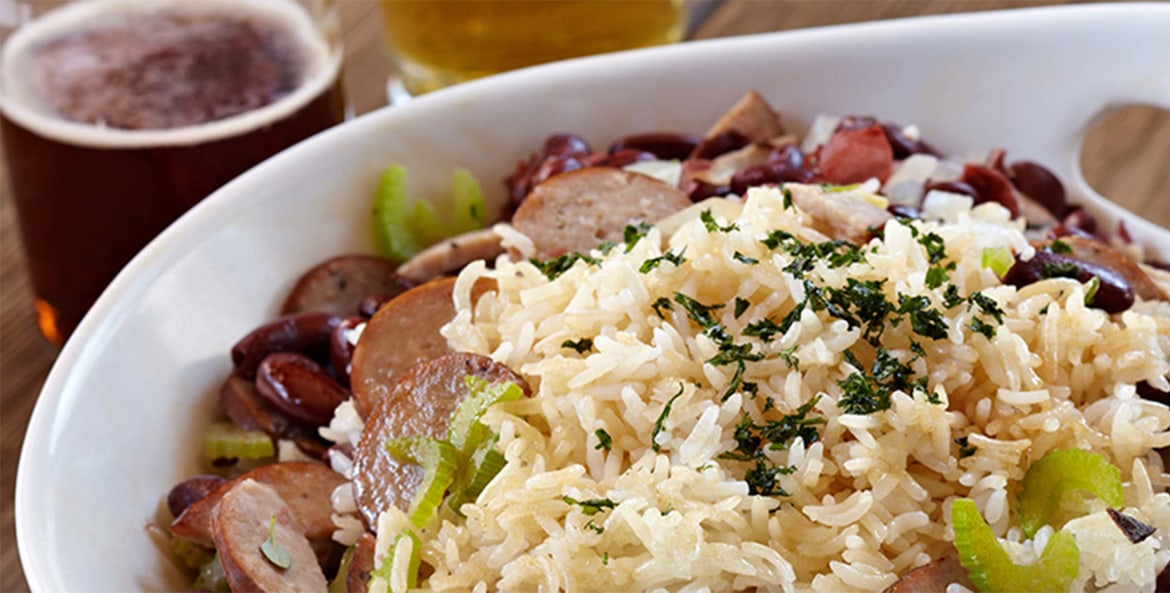 History of New Orleans Red Beans and Rice
No one knows for certain how red beans and rice became a staple in New Orleans, but the two top theories are that red kidney beans first arrived in the city either with West African slaves or with refugees fleeing a revolution in Haiti in the 1790s.
In Louisiana, red beans and rice are often served for dinner on Mondays, a tradition born in the days before washing machines. In the 19th century, Monday was laundry day and the ladies of the house had to clean all of the dirty clothes by hand, leaving little time for cooking.
Housewives put the beans on the stove to boil until they were tender, then added the quintessential Cajun/Creole trinity—a sautéed cooking base of diced onions, green peppers and celery—and the ham bone leftover from Sunday's dinner.
New Orleans red beans and rice was a favorite dish of the city's favorite son. Louis Armstrong would often sign letters and autographs with, "Am red beans and ricely yours, Louis."
This red beans and rice recipe is shared by Viking, in celebration of upcoming voyages along the Mississippi River in 2022.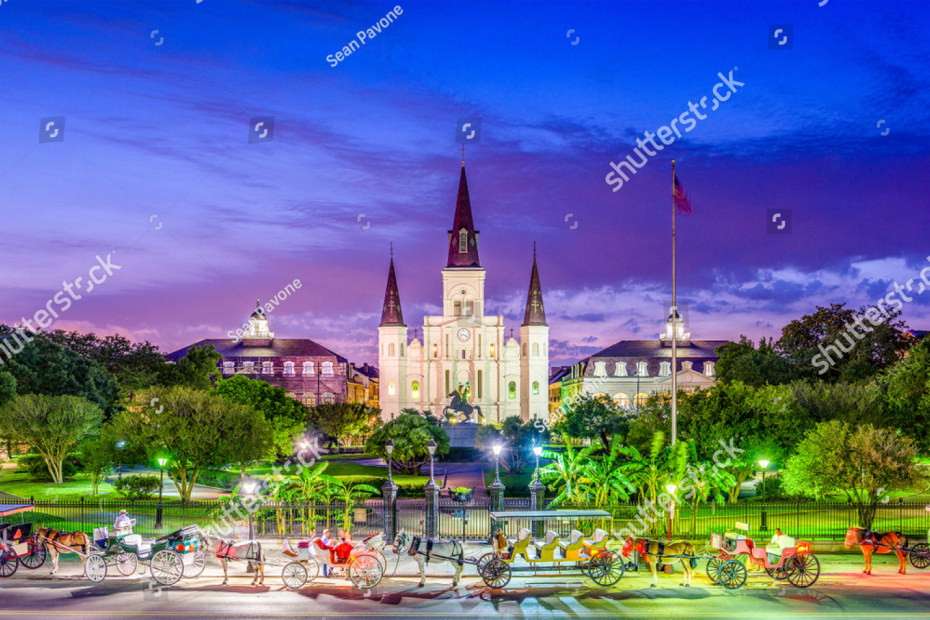 New Orleans Red Beans and Rice Recipe
INGREDIENTS
1 lb dried red kidney beans
2 T bacon drippings or butter
½ lb andouille sausage, cut into 1-inch-thick slices
½ lb smoked beef sausage, cut into ½-inch-thick slices
2 med yellow onions, diced
2 T garlic clove, crushed
1 T Creole seasoning
1 tsp black pepper
Pinch red pepper
2 cups low-sodium chicken broth or vegetable stock
6 cups water
1 ham shank
6 oz tasso ham
1 T fresh thyme leaves, or 1 tsp dried thyme
2 bay leaves
1 small yellow onion, finely diced
1 medium green bell pepper, finely diced
1 stalk celery, finely diced
3 cups cooked white rice, hot
1 bunch green onions, chopped
Crystal Hot Sauce (or equivalent) to taste
DIRECTIONS
Rinse and sort beans. Place in a large bowl, cover with water to 2 inches above level of beans; let soak overnight. 
The next day, cook bacon drippings and sausages in a stockpot over medium heat until lightly browned. 
Add onions, garlic, Creole seasoning, and black and red pepper; stir to combine. Cook until onions are translucent, 4-5 minutes. 
Add chicken broth, water, ham shank, tasso, thyme and bay leaves; bring to a boil. 
Drain soaked beans; add to stockpot. Boil 5 minutes, reduce heat to low; simmer 2-3 hours or until soft. 
Remove ½ cup of beans from pot and mash into a purée; return to pot, stirring to combine. 
Remove ham shank, shred meat, discard bone and return meat to stockpot. 
Remove and shred tasso; reserve; discard bay leaves. 
Stir remaining onions, pepper and celery into rice.
PLATING
Serve about 1 cup beans with ¼ cupC rice, garnishing with shredded tasso and green onions; offer hot sauce to taste.
Makes 10 servings.