How to Winterize Your Boat
Get your water vessel ready to ride out the colder months in seven easy steps.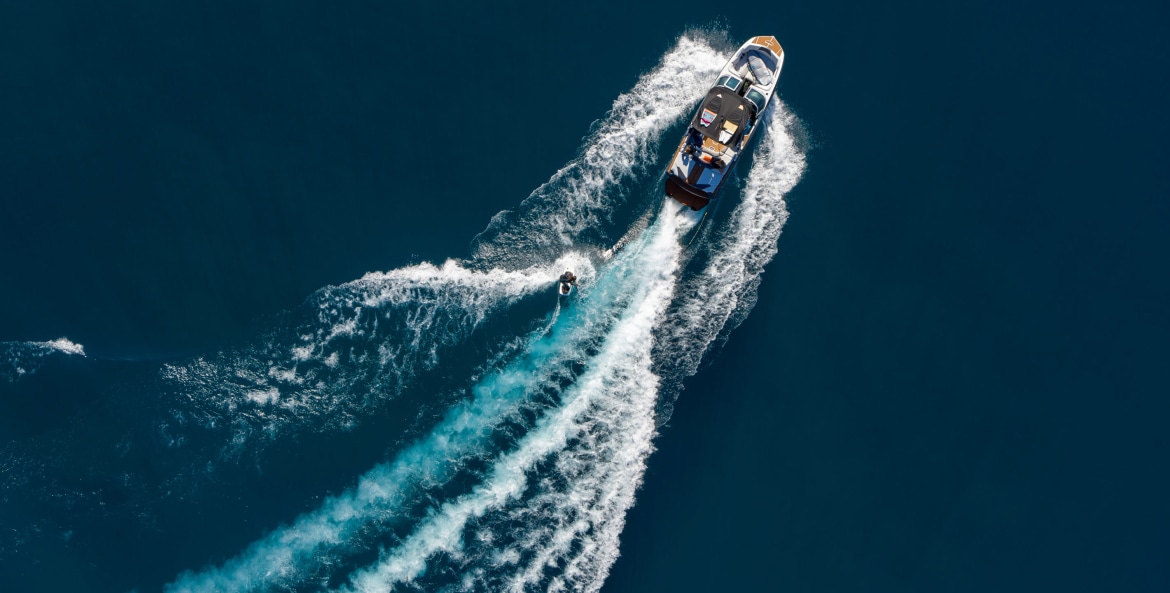 As winter approaches, it's important to prep your boat for freezing temperatures. If you don't winterize your vessel, you could face some nasty surprises—like corrosion, a cracked engine block, burst pipes, and more—come spring. 
If you've decided to skip this pre-winter ritual because you live in a warmer climate, keep in mind that every state experiences dips below freezing. Any freeze may be fleeting where you live, but the resulting damage to your boat could cost hundreds, or sometimes thousands, of dollars. So follow these seven steps to save yourself a bit of grief and regret the next time you want to enjoy a day on the water.
1. Prep the hull.
If you have a fiberglass boat, check the hull for any stress cracks, especially near the bow eye. If you spot any cracks, a pro can repair them. Additionally, be sure to inspect the hull for blisters in the gelcoat. If you find any, use the corner of a small chisel to puncture the blister and drain it. Then, sand it smooth, wipe the area with rubbing alcohol to remove debris, and patch it with an epoxy-based filler. Scrape any barnacles from the bottom of your boat, and give it a good power wash to remove lake or sea scum and debris.
2. Change the oil.
Moisture can accumulate in engine oil causing mischief ranging from poor fuel economy to engine failure. So changing your oil regularly—including pre-winter storing—is a savvy move.
3. Drain the motor.
When water lingers in your engine it can freeze and expand, potentially cracking components. To prevent such a calamity, which can be costly to repair, you'll need to drain your engine prior to tucking your boat away for winter. 
If you have an inboard or sterndrive engine:
Use water muffs to connect a garden hose to your cooling system before flushing your engine with clean water to remove any saltwater or debris, which can cause corrosion.
Refill with a mix of water and marine-grade antifreeze. (Follow the antifreeze directions for the proper ratio.) Then, run the engine for a while to circulate the antifreeze, which will provide a protective layer against freezing.
Remove the hose and let the engine drain completely.
If your boat has an outboard motor:
Suds up the motor with soapy water.
Idle the motor and flush the inside with fresh water. (Your motor may have an attachment for a garden hose.)
After flushing, rest the motor vertically to let all the water drain out.
4. Fog the engine.
To protect your engine's innards from rust and corrosion, coat them with a fogging lubricant.
Remove the flame arrestor and, while running the engine at a fast idle, spray fogging oil down the carburetor. Then, with the engine stopped, carefully remove the spark plugs and spray some fogging oil into the cylinders.
Check your owner's manual for the recommended fogging product. If your boat has a fuel-injected engine, fogging oil—which is pretty sticky—can get caught in an injector. For these motors, two-cycle oil works best.
5. Safeguard the battery.
Batteries can freeze, and you definitely don't want that. To protect your battery during wintertime, store it in a cool, dry spot. If your battery has to be in the cold, at least make sure it's fully charged, which will help it withstand a freeze.
6. Treat the fuel.
When fuel just sits there, it degrades, potentially clogging the carburetors and fuel injectors. To prevent this from happening, add a fuel stabilizer to your tank, then idle the engine for about 10 minutes to help the stabilized fuel circulate through the engine.
7. Protect your investment with AAA.
Whether you have a fishing boat, a pontoon, or a performance boat, you'll want to protect it. Boat insurance policies ranging from standard coverage to a package with all the bells and whistles. 
Boat insurance covers you against events like personal property loss, accidents, and damage on land or water. AAA also offers personal property coverage, compensating you if your on-board belongings get damaged or lost while out on the water. 
Liability coverage pays for damages if your boat collides with another watercraft or causes injuries. Meanwhile, if you or your passengers get hurt while on your boat, medical payments coverage will take care of the bill based on your policy limit, and uninsured watercraft coverage endorsements pay your medical bills (up to your policy limits) if an uninsured vessel strikes your boat and you get injured.   
Depending on the policy you select, you may qualify for lower deductibles over time. Talk to your AAA agent to customize your watercraft policy.
The content provided in this article is for informational purposes only. AAA of Northern California, Nevada & Utah makes no representations as to the accuracy or completeness of the information contained in this or any article on the AAA website.