How to Winterize Your RV
Hanging up your RV keys for the season? Prep your RV in six easy steps before winter's bite.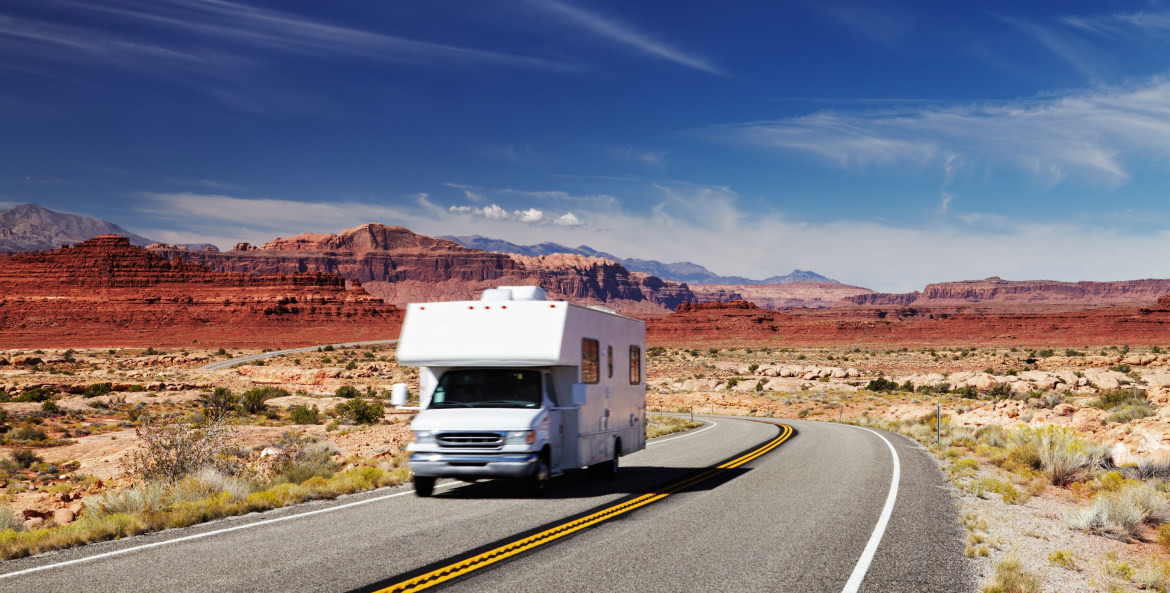 Wintertime can be rough on your RV. Even if you plan on parking your RV in a garage, water lingering in your plumbing can freeze and expand, damaging pipes, tanks, and fittings. 
Luckily, winterizing your RV can help you avoid costly repairs come springtime.
And if you're tempted to skip winterizing because you live in a warmer climate, keep in mind that every state experiences below-freezing temperatures. Take the following six steps so you won't have any regrets.
1. Inspect Your Roof
The last thing you need is water leaking into your RV. Check the roof for cracks or holes. If you find some, ask your RV manufacturer or authorized dealer which sealant is recommended for your particular vehicle.
2. Protect Your Battery
Disconnect your battery and store it in a warm, dry location.
3. Drain the Water
It's important to drain the water out of your RV's systems including:
Water tanks: Drain the fresh water holding tank so it doesn't breed bacteria or freeze. Then, drain your black and grey water tanks. Clean the black water tank using a cleaning wand or a special black tank cleaning product if you don't have a built-in tank flushing system. For bonus points, lubricate your termination valves with some WD-40.
Water heater: Turn your water heater off and make sure it's cool and not under pressure. Then, remove the drain plug and release the pressure relief valve, allowing the water to drain out. Next, open all of your faucets—both hot and cold, including the shower and toilet valve—to drain any remaining water out of the system. And don't forget the valves outside your RV. Open the low-point drain lines, both hot and cold. Once the water has completely flowed out, recap the drains and close the faucets.
4. Protect the Water Lines
The next step is to protect the lines from freezing when the temperature drops. You can use either antifreeze or pressurized air. 
Option 1: Antifreeze
Make sure to buy RV-specific antifreeze, which is nontoxic and pink. Regular automotive antifreeze is usually toxic and intended for engines, not plumbing. For most RVs, two or three gallons of antifreeze should do the trick. Follow these steps for best results.
Remove water filters. If your RV has any inline water filters, remove them so they don't get damaged by the antifreeze.
Bypass your water heater, otherwise it will fill up with antifreeze and you'll need twice as much product to do the job. Most RV manufacturers install water heater bypass systems, but if your RV doesn't have one, buy a water heater bypass kit. 
Get set up. Install a water pump converter kit or disconnect the inlet side of the water pump (the line coming from the fresh water holding tank). Then, connect a clear piece of tubing to the inlet side of the pump and place the other end into a container of antifreeze. 
Flush the lines. Turn on the water pump to start pressurizing the system, then follow the product instructions to circulate the antifreeze. 
Come spring, you'll need to de-winterize your RV by replacing the water filters, taking your water heater out of bypass mode, and letting fresh water run through it for several minutes to flush out the antifreeze.
Option 2: Compressed air
After draining your system, another way to protect your water lines is to blow air through them to force any remaining water out.
Connect the compressor. Connect your RV's blowout plug to the hose of a quality, portable air compressor using a special blowout adapter (available at most RV parts suppliers).
Begin pumping. Set your compressor to 30 psi and pump air into your pipes. Pump for 30 seconds, pause for a few seconds, and then pump for another 30 seconds, and so on.
Check your faucets. During this process, open your hot and cold faucets, two faucets at a time—such as your sink and toilet—to check whether water is still coming out. Finish with the low-point drains. Once nothing but air is coming out, continue pumping air for five more minutes.
Shut off the air compressor and disconnect the blow-out adaptor.
Pour a small amount of antifreeze into each trap. Pour a cup of antifreeze into the sink and shower drains, and a few cups into the toilet bowl.
Drain your water filter or water filter canister to prevent freezing and breakage.
5. Shut off the Breakers
Turn off the circuit breakers for the heat, air conditioning, and electricity.
6. Safeguard Your Investment
If you're living in your RV, full-timer coverage offers liability protection that's similar to a homeowners policy. Your insurance agent can also talk to you about emergency expenses coverage, which kicks in if you need a place to stay while your RV is being repaired. 
Campsite/vacation liability coverage is a great option if your motor home is parked and being used as a second residence.
Why choose AAA?
AAA total loss replacement coverage can potentially save you thousands of dollars. If your RV is a newer model and is damaged beyond repair in its first five model years, this coverage pays for a brand-new replacement RV that's similar to your previous one.
What's more, depending on where you live, RV service is either included with or can be added to your AAA Membership, providing extra peace of mind with services such as emergency fuel delivery, tire changes, locksmith service reimbursement, battery service, and winching and extrication services.
The content provided in this article is for informational purposes only. AAA of Northern California, Nevada & Utah makes no representations as to the accuracy or completeness of the information contained in this or any article on the AAA website.