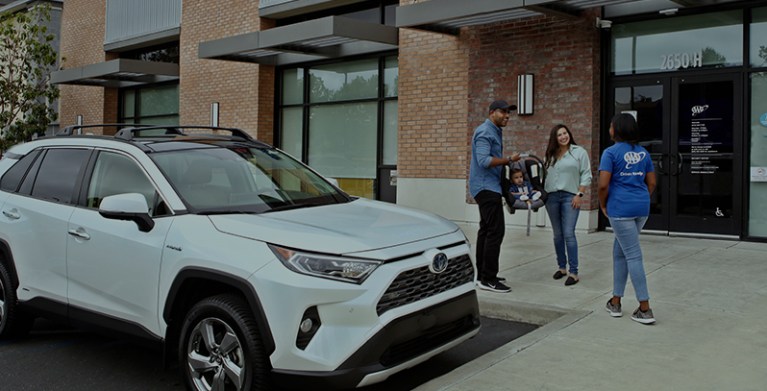 Car Seat
Installation Help
Let our AAA nationally certified child passenger safety
technicians take the worry out of car seat installations
Look to AAA to help you install your child safety seat correctly. 
Over the years, manufacturers of child safety seats have made significant strides to make them safer. Parents and caregivers, for their part, do their best to install and use them properly. Yet the fact remains that a majority of car seats and booster seats are installed and used improperly, preventing the child safety seat from doing its job.
Let a AAA nationally certified child passenger safety technician take the worry out of it. Schedule your free 1-hour car seat inspection by calling a AAA location near you. You don't have to be a AAA Member to take advantage of this life-saving service.
At your AAA car seat inspection appointment, we'll check to see if the seat has been recalled and ensure you're using the correct seat based on the age, weight and height of your child. Then, we'll teach you how to correctly install your seat and properly harness your child in it.
To expedite your scheduling experience, please be ready to provide information about your:
Car seat (make/model /model #/date of manufacture)
Vehicle (make/model/year), and 
Child (age/weight/height).
Phone Number

In-Person Car Seat

Inspections Offered

Online/Virtual

Car Seat Inspections

Offered

Language Availability 

(510) 336-7100

Tagalog
Phone Number

In-Person Car Seat

Inspections Offered

Online/Virtual

Car Seat Inspections

Offered

Language Availability

(916) 560-0501
Phone Number

In-Person Car Seat

Inspections Offered

Online/Virtual

Car Seat Inspections

Offered

Language Availability

(559) 323-5400
Phone Number

In-Person Car Seat

Inspections Offered

Online/Virtual

Car Seat Inspections

Offered

Language Availability

(559) 323-3000

Hmong
Phone Number

In-Person Car Seat

Inspections Offered

Online/Virtual

Car Seat Inspections

Offered

Language Availability

(925) 808-6201
Phone Number

In-Person Car Seat

Inspections Offered

Online/Virtual

Car Seat Inspections

Offered

Language Availability

(650) 301-1400

Cantonese
Phone Number

In-Person Car Seat

Inspections Offered

Online/Virtual

Car Seat Inspections

Offered

Language Availability

(925) 479-7840
Phone Number

In-Person Car Seat

Inspections Offered

Online/Virtual

Car Seat Inspections

Offered

Language Availability

(916) 478-7500
Phone Number

In-Person Car Seat

Inspections Offered

Online/Virtual

Car Seat Inspections

Offered

Language Availability

(916) 351-2600

Tagalog
Phone Number

In-Person Car Seat

Inspections Offered

Online/Virtual

Car Seat Inspections

Offered

Language Availability

(559) 587-4611
Phone Number

In-Person Car Seat

Inspections Offered

Online/Virtual

Car Seat Inspections

Offered

Language Availability

(510) 670-4380
Phone Number

In-Person Car Seat

Inspections Offered

Online/Virtual

Car Seat Inspections

Offered

Language Availability

(831) 635-3900

Spanish
Phone Number

In-Person Car Seat

Inspections Offered

Online/Virtual

Car Seat Inspections

Offered

Language Availability

(209) 223-6900
Phone Number

In-Person Car Seat

Inspections Offered

Online/Virtual

Car Seat Inspections

Offered

Language Availability

(209) 824-6100
Phone Number

In-Person Car Seat

Inspections Offered

Online/Virtual

Car Seat Inspections

Offered

Language Availability

(209) 726-7440
Phone Number

In-Person Car Seat

Inspections Offered

Online/Virtual

Car Seat Inspections

Offered

Language Availability

(831) 645-1900

Spanish
Phone Number

In-Person Car Seat

Inspections Offered

Online/Virtual

Car Seat Inspections

Offered

Language Availability

(650) 623-3200
Phone Number

In-Person Car Seat

Inspections Offered

Online/Virtual

Car Seat Inspections

Offered

Language Availability

(510) 360-3300
Phone Number

In-Person Car Seat

Inspections Offered

Online/Virtual

Car Seat Inspections

Offered

Language Availability

(510) 350-2042

Chinese Mandarin
Phone Number

In-Person Car Seat

Inspections Offered

Online/Virtual

Car Seat Inspections

Offered

Language Availability

(707) 781-6700
Phone Number

In-Person Car Seat

Inspections Offered

Online/Virtual

Car Seat Inspections

Offered

Language Availability

(925) 288-3700
Phone Number

In-Person Car Seat

Inspections Offered

Online/Virtual

Car Seat Inspections

Offered

Language Availability

(650) 216-3100
Phone Number

In-Person Car Seat

Inspections Offered

Online/Virtual

Car Seat Inspections

Offered

Language Availability

(916) 724-0320
Phone Number

In-Person Car Seat

Inspections Offered

Online/Virtual

Car Seat Inspections

Offered

Language Availability

(916) 574-8700
Sacramento (University Village)
Phone Number

In-Person Car Seat

Inspections Offered

Online/Virtual

Car Seat Inspections

Offered

Language Availability

(916) 379-1300
San Jose (Brokaw Commons)
Phone Number

In-Person Car Seat

Inspections Offered

Online/Virtual

Car Seat Inspections

Offered

Language Availability

(408) 436-7300
Phone Number

In-Person Car Seat

Inspections Offered

Online/Virtual

Car Seat Inspections

Offered

Language Availability

(408) 551-4900

Spanish
Phone Number

In-Person Car Seat

Inspections Offered

Online/Virtual

Car Seat Inspections

Offered

Language Availability

(925) 314-2600

Farsi, Urdu
Phone Number

In-Person Car Seat

Inspections Offered

Online/Virtual

Car Seat Inspections

Offered

Language Availability

(707) 528-5900
Phone Number

In-Person Car Seat

Inspections Offered

Online/Virtual

Car Seat Inspections

Offered

Language Availability

(209) 536-2540
Phone Number

In-Person Car Seat

Inspections Offered

Online/Virtual

Car Seat Inspections

Offered

Language Availability

(209) 656-3060
Phone Number

In-Person Car Seat

Inspections Offered

Online/Virtual

Car Seat Inspections

Offered

Language Availability

(707) 451-7150
Phone Number

In-Person Car Seat

Inspections Offered

Online/Virtual

Car Seat Inspections

Offered

Language Availability

(707) 551-3500

Spanish
Phone Number

In-Person Car Seat

Inspections Offered

Online/Virtual

Car Seat Inspections

Offered

Language Availability

(925) 274-8437

Hindi, Udru, Gurjati
Phone Number

In-Person Car Seat

Inspections Offered

Online/Virtual

Car Seat Inspections

Offered

Language Availability

(831) 768-4540

Spanish