Motorhome vs. Trailer: What's Right for You?
Each type of RV has its perks, and understanding the differences can help you make the best choice.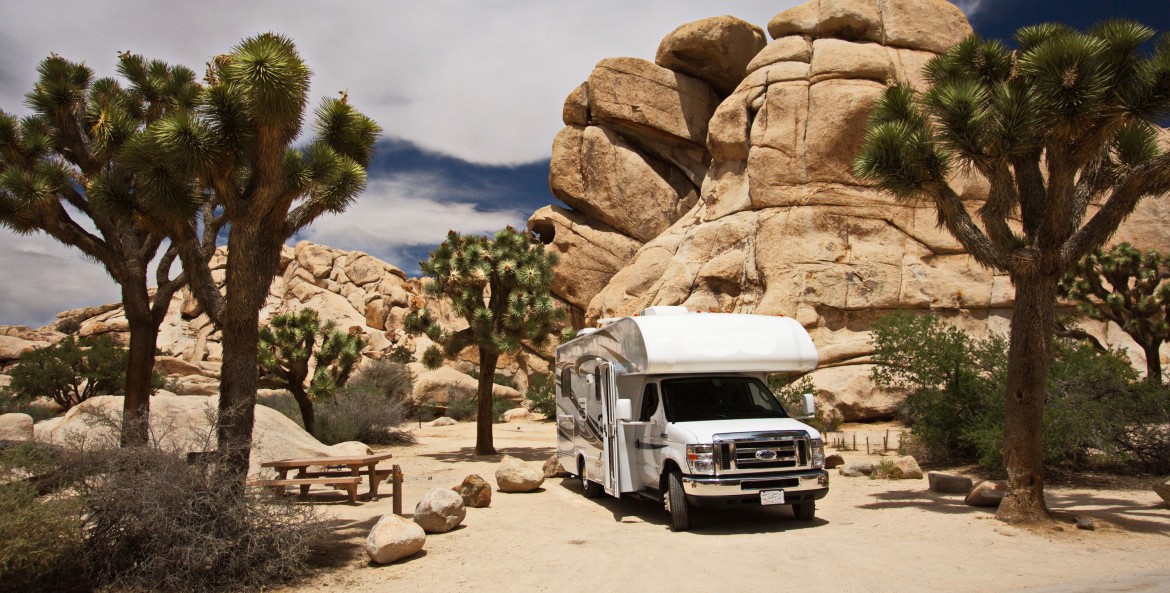 Cruising around the country in a recreational vehicle (more affectionately referred to as a RV) opens up a whole world of adventure and possibility, providing the freedom to stop and stay wherever your heart desires. On Monday you could be situated in a lush valley, surrounded by breathtaking mountain ranges. And come Friday, you might be living beachside, eating dinner alfresco with an ocean view. 
But which type of RV is best for you? 
There are several different styles of RVs, but the first step is choosing between two main types—a motorhome or a travel trailer. A motorhome, which has a built-in engine, is drivable with a driver's "cockpit" and living space all under the same roof. A travel trailer, on the other hand, is designed to be towed by your vehicle. Consider the following questions as you shop around.
What is your budget?
Motorhomes are pricier than travel trailers, one reason being that motorhomes are generally more spacious. Some Class A motorhomes—those ranging from 26 to 45 feet—accommodate comforts like a king-size bed, a large living room, and a full kitchen with appliances.
And because a motorhome is a vehicle, it's more expensive to maintain than a trailer. Motorhomes need oil changes, tune-ups, and sometimes even pricier maintenance such as transmission rebuilds—all of which can add up.   
If you're planning a months-long road trip, or you need enough space for your family, a comfortable, roomy motorhome might be worth the splurge. But if you only plan to use your RV a few times a year, a nicely-equipped trailer might make more sense.
Where will you go?
Some national and state parks have RV size restrictions, so if you have a large motorhome, you might not be able to enter a park. Each national and state park has its own restrictions, so it's a good idea to familiarize yourself with the rules at your dream destinations.
What kind of vehicle do you own?
If you're considering a trailer, you'll need a vehicle with a little more muscle as a small car may not be up to the task. Depending on the size of your trailer, a mid-size vehicle should do the trick, though SUVs or trucks should be able to tow most travel trailers.
Are you a confident driver?
When driving a motorhome, you have to get used to its size, especially when checking your blind spot, turning, and switching lanes. But once you adjust, it's similar to driving a car. 
A trailer can be a bit trickier to control when switching lanes and such. If your trailer starts to sway, you'll need to know how to respond. You'll also need to hitch and unhitch it from your tow vehicle and crank it up to its fully-extended position. 
To help build your skills, many RV dealerships offer classes for both motorhomes and trailers.
What kind of RV insurance does AAA offer?
Your RV is an investment that you want to protect. Whether you have a vintage travel trailer, a pop-up trailer, or a spacious motorhome packed with modern comforts, award-winning AAA insurance agents can help you find the right coverage.   
RV owners should consider getting:
Liability coverage, which pays for injuries or property damages your RV might cause. If you have a drivable motor home, most states require that you at least carry liability insurance while traveling on their roads. If you have a trailer, it may be covered under your auto policy's liability coverage. However, your auto insurance may not cover your trailer's full value, so be sure to ask your agent whether you need additional coverage. 
Uninsured and underinsured motorist coverage, which covers damages, other than punitive or exemplary damages, for bodily injury to an insured person, and is legally entitled to recover from the owner or operator of an uninsured or underinsured motor vehicle. The bodily injury must be caused by accident and arise out of the ownership, maintenance, or use of the uninsured motor vehicle.
Uninsured motorist property damage coverage, which pays for damage to your RV if your RV is damaged by another vehicle which does not have liability insurance—or doesn't have enough—to cover the damage.
Comprehensive coverage, which covers your RV for damage caused by fire, hail, vandalism, and other non-collision events.
Collision coverage, which pays for physical damage to your RV or trailer caused by an accident with another insured driver, even if you were at fault.
AAA also offers extra protection for RVers such as:
Personal effects coverage, which pays to replace furnishings or personal belongings that get damaged while in your RV.
Full-timer coverage, which provides liability coverage that's similar to a homeowners policy when your RV is parked and being used as a home.
Emergency expense coverage, which comes in handy if your RV gets damaged and ends up in the shop, covers expenses like hotels and alternate transportation if you're left without your home on wheels.
Total loss replacement coverage, which can save you thousands of dollars if your relatively new motorhome is damaged beyond repair. Total loss replacement coverage handles the cost of a brand-new replacement RV, similar to the one that got damaged.
Does RV insurance include towing?
Depending on your carrier, you may need to purchase a separate towing plan. But as a AAA Member, towing comes standard with roadside assistance offered in AAA Premier (excluding Arizona), AAA Plus RV & Motorcycle in Arizona, and AAA Plus RV in Utah. With top-of-the-line coverage from AAA, you're entitled to service around the clock, 365 days of the year, wherever you roam throughout the US and Canada.
The content provided in this article is for informational purposes only. AAA of Northern California, Nevada & Utah makes no representations as to the accuracy or completeness of the information contained in this or any article on the AAA website.