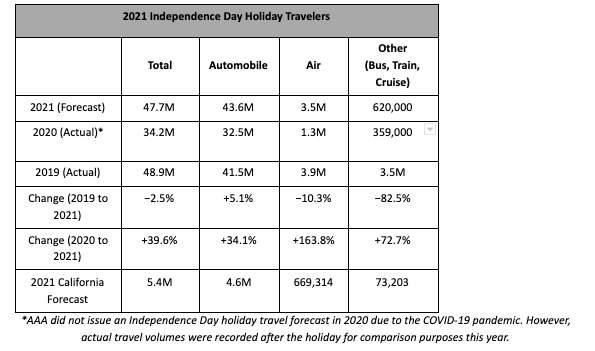 Independence Day Travel Rebounds to Second-Highest Travel Volume on Record
More than 47 Million Travelers are expected to travel for the holiday, a 40% increase from last year.
WALNUT CREEK, Calif. (June 22, 2021)— A year after COVID-19 shutdown summer travel, Independence Day (July 1-5) travel volumes are expected to nearly fully recover to pre-pandemic levels. In fact, this will be the second-highest Independence Day travel volume on record, trailing only 2019.

"We saw strong demand for travel around Memorial Day and the kick-off of summer, and all indications now point to a busy Independence Day with travel in full swing this summer," said Sergio Avila, AAA Northern California spokesperson.

Road trips will continue to dominate this summer with an expected 43.6 million travelers driving to their destination.

Travelers: Prepare for Higher Prices
While AAA found average airfares have declined 2% compared to last Independence Day, travelers can expect to find higher prices for hotels and car rentals as demand climbs. Higher gas prices also won't deter travelers as more than 91% of holiday travel will be by car.

Know Before You Go
Updated guidance. Some local and state travel restrictions may still remain in place. Travelers who are not vaccinated should continue to physically distance, wear a mask, and get tested for COVID-19 before and after travel. Regardless of vaccination status, masks are required on planes, buses, trains, airplanes and other forms of public transportation traveling into, within, or out of the United States.
Plan ahead. Exercise caution while traveling. Researching your destinations has never been more important.
Be prepared. Drivers should ensure their vehicles are road-ready before embarking on a road trip. Visit a AAA owned or Approved Auto Repair Center for a pre-trip inspection. AAA expects to rescue more than 460,000 stranded motorists at the roadside this holiday weekend.
Avoid traffic. Avoid travel on Thursday and Friday afternoon, along with Monday mid-day as nation-wide traffic volumes are expected to increase by 15% for the holiday.
Available resources. Use TripTik.AAA.com to plan your road trip and help determine which rest stops, gas stations, restaurants, and hotels are open along your route. Refer to the new AAA Digital TourBook guides. Seek the advice of a knowledgeable travel agent to help plan their trips this summer. To get started and to learn more, click here.
Methodology:
AAA's projections are based on economic forecasting and research by IHS Markit. For the purposes of this forecast, the Independence Day holiday travel period is defined as Thursday, July 1 through Monday, July 5. When the Fourth of July falls on any day of the week other than a Wednesday, it is considered to be a five-day holiday period. The travel forecast was prepared the week of June 1, 2021.


In cooperation with AAA, IHS Markit developed a unique methodology to forecast actual domestic travel volumes, using macroeconomic drivers such as employment, output, household net worth, asset prices including stock indices, interest rates, housing market indicators, and variables related to travel and tourism, including prices of gasoline, airline travel and hotel stays. For the 2021 Independence Day holiday travel forecast, IHS Markit also examined changes in the IHS Markit containment index regarding COVID19–related restrictions and activity.