Guy Fieri's Ringer Burger
Grab these simple ingredients and grill up a delicious Guy Fieri Ringer Burger at home.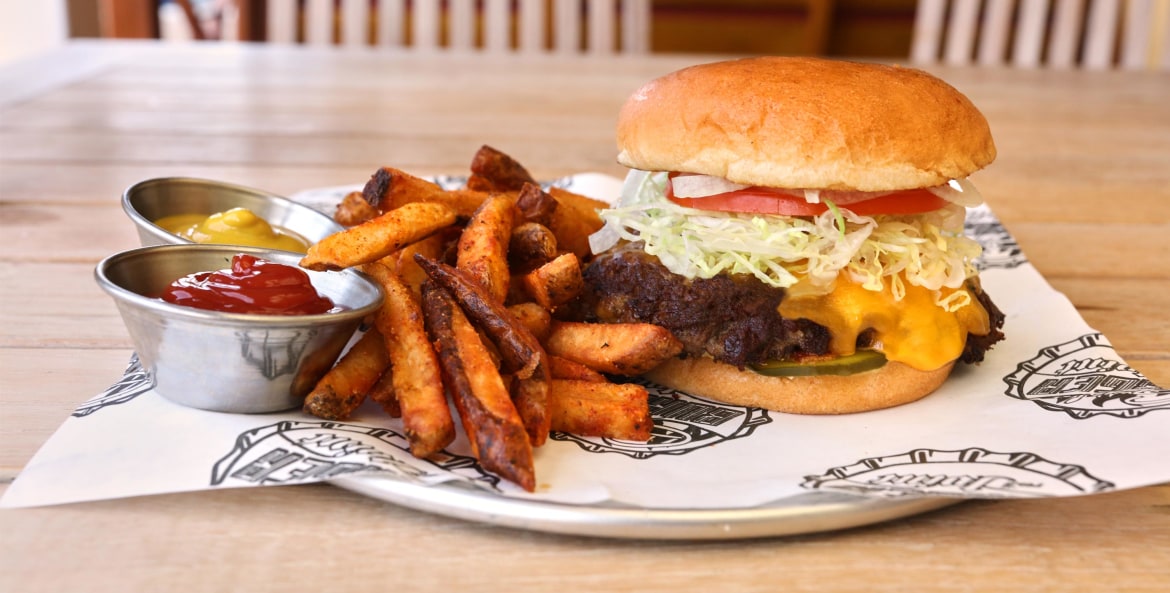 The History of the Hamburger in America
Like most American foods, the burger has immigrant roots. In the 1840s, German emigrants sailing on the Hamburg-America Line ate minced, salted beefsteak—a recipe borrowed from the Russians. The dish became known as the Hamburg steak.
In 1873, Delmonico's restaurant in New York City advertised a hamburger steak on its dinner menu for 10 cents. In 1904, the hamburger made its national debut at the St. Louis World's Fair.
In 1916, a fry cook named Walter Anderson created a short, squat bun made specifically for hamburgers. Five years later, he opened White Castle, the world's first burger chain.
Richard and Maurice McDonald opened McDonald's Bar-B-Q in 1940. Eight years later, the brothers renovated the restaurant, refocusing the menu on their 15-cent hamburger. 
By 2001, hamburgers made up 71% of all beef served in commercial restaurants. Today, more than 40 billion burgers are served every year in the U.S. 
Guy's Burger Joint found its way onto Carnival Cruise Line ships when it debuted on Carnival Liberty® in 2011. The restaurant is designed to mimic a roadside burger stand in California. It's one of the most popular specialty dining venues among cruise lines and some fans even plan their trips around ships that have the venue.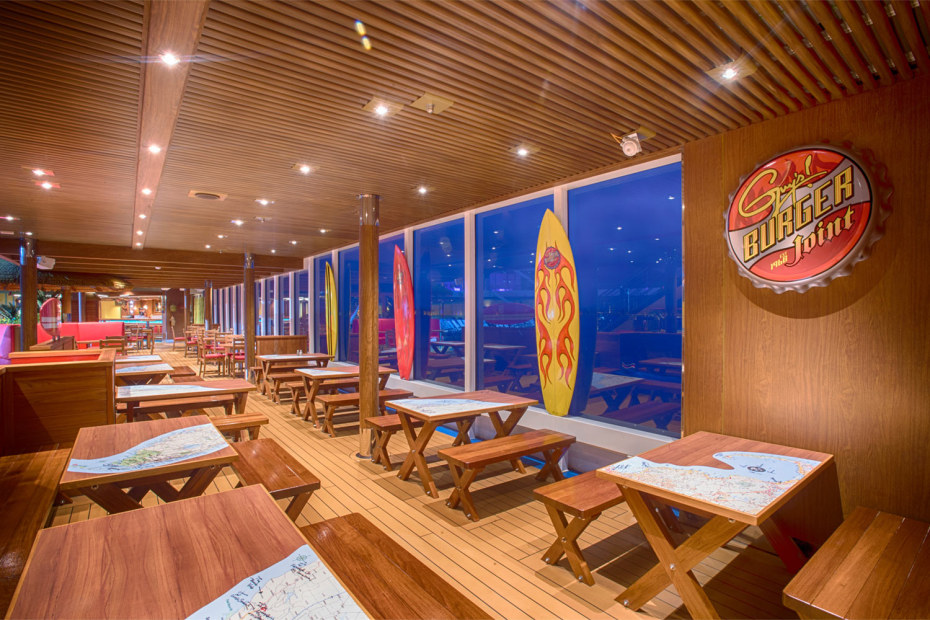 Guy Fieri's Ringer Burger Recipe
INGREDIENTS
For the burger:
5 ounces ground beef (80/20 blend)
½ ounce cheese sauce (e.g., Velveeta)
½ ounce thinly sliced sweet onion
1 ½ ounces finely shaved iceberg lettuce
1 slice of American cheddar cheese
1 thin slice beefsteak tomato
3 paper-thin slices of kosher dill pickle
2 tablespoons Donkey Sauce (recipe below)
1 large crispy onion ring
1 tablespoon Guy Fieri Brown Sugar Bourbon BBQ Sauce (available in stores), or equivalent BBQ sauce
kosher salt, for seasoning
For the bun:
1 soft hamburger bun, split in half
2 tablespoons unsalted butter
¼ teaspoon garlic paste
For the Donkey Sauce:
1 cup mayonnaise
¼ cup roasted garlic
1 teaspoon yellow mustard
4 dashes Worcestershire sauce
¼ teaspoon kosher salt
4 pinches ground black pepper
DIRECTIONS
Making the burger:
Heat a flat-top grill or cast-iron pan over very high heat. Form the ground beef into a tight ball and season with salt. Place hamburger ball on grill to sear for 45 seconds, then flatten with a heavy spatula to about 1/3-inch thickness.
Cook for 90 seconds to develop a crust on the first side of the bottom. Flip and cook on the second side for one minute to develop another crust. Add cheese sauce to the top of the hamburger and top the cheese sauce with a slice of cheese. 
Combine the garlic and melted butter. Brush the inside of bun halves with the mixture and toast on the grill or pan for 3 to 4 seconds, until golden and crisp. Flip and toast for 3 to 4 seconds so the outsides are also lightly toasted.
Making the Donkey Sauce:
Combine ingredients in a bowl and mix well.
That's it — you just made donkey sauce!
Put it all together:
Smear Donkey Sauce on the sliced side of both bun halves.
Layer the base with pickle slices and the burger patty.
Top burger with crispy onion ring, BBQ sauce, sliced onions, tomato and lettuce.
Here's the tough part: place the top half of the bun on top.
Fancy bonus! Nope, none this time. This just isn't a fancy-folks recipe … it's for everybody.