The first thing I noticed upon entering the Aftel Archive of Curious Scents―a small perfume museum tucked away at the end of a residential driveway in Berkeley's Gourmet Ghetto―is that it's fragrance-free. This is somewhat surprising: A museum that's home to more than 300 natural essences, such as lemongrass, bitter almond, frankincense, and linden blossom, doesn't have a scent of its own. But as I soon learned, there is a world of olfactory experiences awaiting discovery.
Artisan perfumer Mandy Aftel first opened the Aftel Archive in July 2017, giving visitors an opportunity to explore the vast world and history of perfumery first-hand―from the raw materials that make up a perfume's individual components to finished fragrances, including her own line of all-natural items.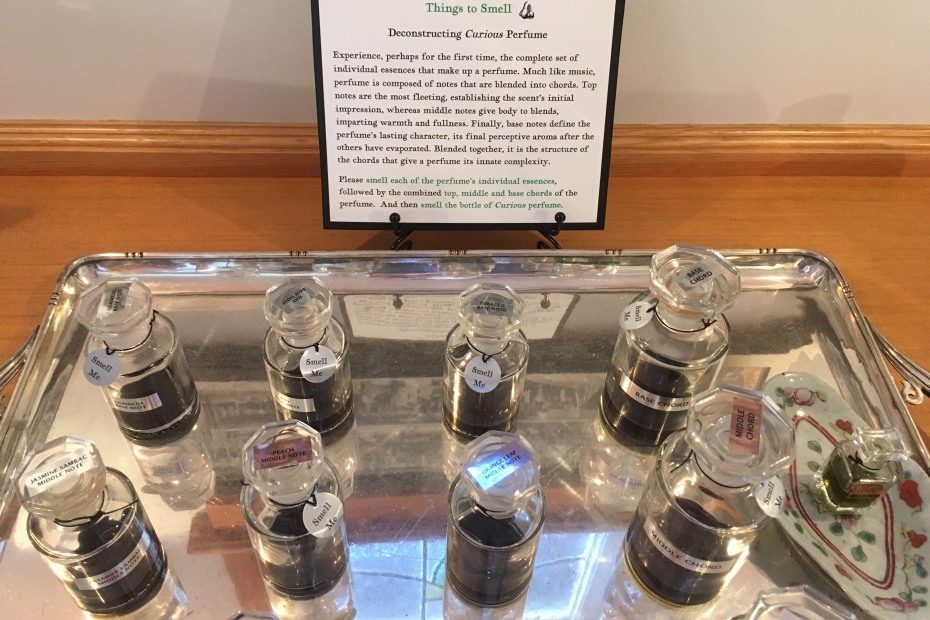 The Archive is currently open on Saturdays only, and for a $20 entry fee, each visitor gets an hour (the ideal amount of time) to peruse the collection. You receive a few items upon entry: instructions on "making the most of your curious visit," a strip of wool to help reset your sense of smell when it fades ("Others use coffee beans, but I find this works much better," Aftel tells me), and three individual scent strips to take home samples from a large "perfume organ"—a long, multi-row display of dozens of stand-alone scents such as fir, dill, lime, coffee, and even butter.
If you find you have questions while, say, browsing the display on civets―long-bodied and short-limbed cat-like creatures―and their role in ancient perfumery, either Aftel, her son, Devon, or her husband, Foster, is onsite to assist. Otherwise, you're free to explore on your own, and there's ample exploring to do.
One of the best things about the Aftel Archive of Curious Scents is that it's a fully interactive experience. Drawers are meant to be opened, lids to be lifted and sniffed, and books picked up and read. There's no particular order to the displays, so you may find yourself digging through the contents of a tabletop oak apothecary cabinet and handling fragrant patchouli leaves and pieces of Virginia cedarwood, and then moving on to browse a cabinet of curiosities with things like 18th-century star-, diamond-, and crescent-shaped facial "beauty patches" (temporary beauty marks). Fifteen minutes later, you're perusing the pages of books like Spices and How to Know Them, Vegetable Gums and Resins, and A History of the Use of Incense from the comfort of a sunny window seat.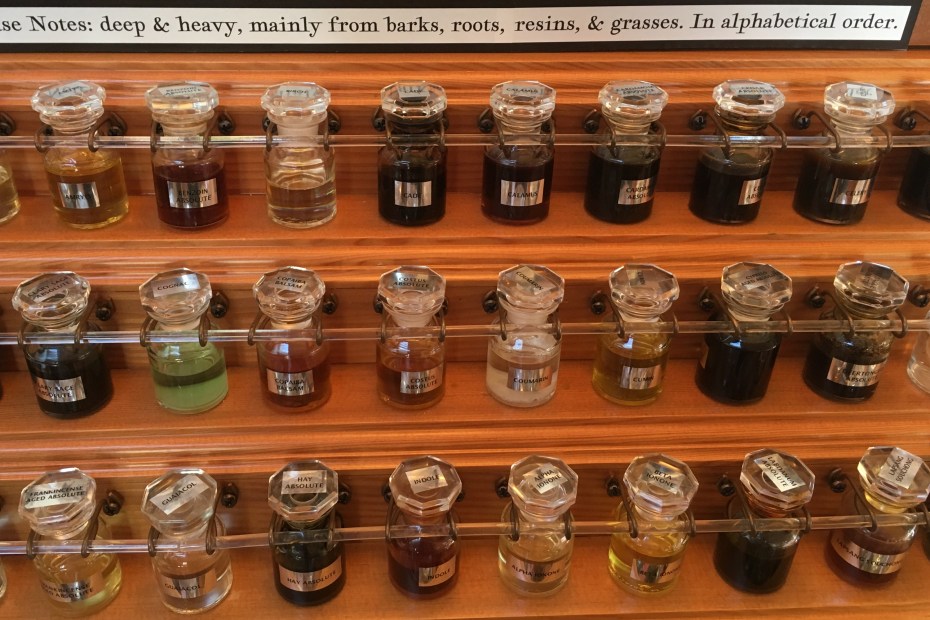 The museum is a fascinating walk through the realm of natural aromatics, sometimes contrasting them with synthetic versions of the same fragrance―as in the case of vanilla, rose, and jasmine―and other times comparing ancient and modern versions of the same bottled scent. It's an educational experience as well. I learned how to "deconstruct" a perfume's scents into top, middle, and base notes, and that hyraceum, the petrified excrement of small hyrax mammals, can help balance out a perfume that's too sweet with its own complex fragrance. 
Before leaving, visitors get two complimentary pieces of chocolate for sampling, each with a spritz of one of six Aftelier Perfumes Chef's Essence Sprays―concentrated flavors that include pink pepper, blood orange, and fresh ginger. These Futurist-style enhancers transformed a simple tasting into an unusual and elevated experience, and provided the perfect end to a delightful delve into Aftel's sensory world.