When Walt Disney agreed to fill 94,000 square feet at the 1964 New York World's Fair with an exhibit to honor Unicef, he told his engineers to build "a little boat ride." He then asked his songwriters, brothers Richard and Robert Sherman, to compose a tune that would unite all cultures under a single sonic umbrella. As Walt put it, offhandedly: "It's a small world, after all."
Fifty-four years after the attraction opened in Flushing Meadows, N.Y., It's a Small World and the ride's theme song continue to repeat a simple homily. "We're all the same under the moon and stars," says Lisa Robertson, former Disneyland staffer and author of Babes in Disneyland, a guide for visiting the park with young children. "That's a powerful message."
That message begins before the ride does, as visitors wait in line beneath the iconic facade, an architectural Babel of turrets and minarets, onion domes and pagoda roofs. Disney art director Mary Blair's whimsical design features a parade of wooden dolls that march out from beneath its cuckoo-clock face every 15 minutes. That clock has both marked and passed the time for the quarter billion Disneyland passengers who have collectively sailed a distance equal to 200 circumnavigations of the actual planet.
For the first 10 million It's a Small World passengers in New York, the ride was a revelation. They boarded the first waterborne people mover—now a theme-park staple—which propelled as many as 4,000 guests per hour along an indoor canal snaking past seven virtual continents and more than 100 miniature countries, each peopled by mechanized dolls singing the catchy song in five languages.
After two seasons at the fair, the ride was moved wholesale to California's Disneyland, where it took up permanent residence, much as its song did in the brains of everyone who ever visited the Happiest Place on Earth—and a great many who didn't, including Indira Gandhi. At the New York State Theater in 1966, hundreds of schoolchildren serenaded the visiting prime minister of India by singing "It's a Small World." And so it proved to be. Visibly moved, Mrs. Gandhi responded, in the words of one eyewitness, by "throwing each of them a smile."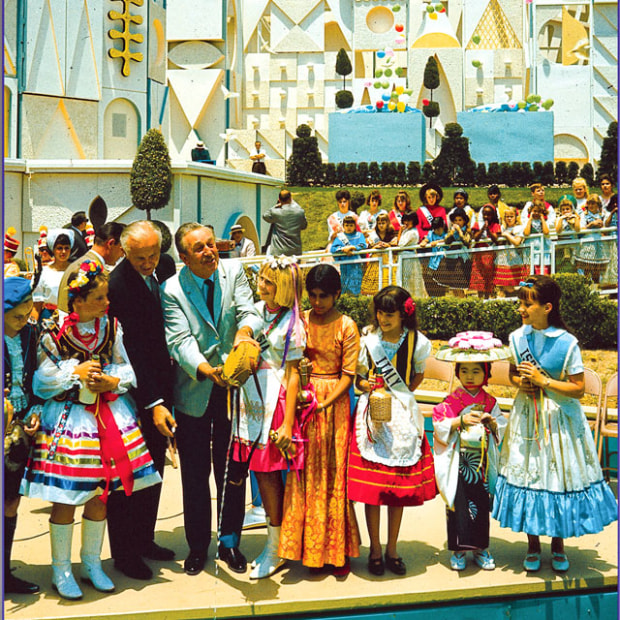 As its name implies, It's a Small World is the planet as pop-up book, conveyed in a candy-colored visual shorthand of sombreros, turbans, and Tyrolean hats. Every icon of 20th-century travel poster art is on display—grass skirts, tartan kilts, lederhosen, magic carpets, beefeaters, yodelers, leprechauns, Chinese dragons, and a Mountie—offset by lights and glitter and the singing of 300 dolls, each dressed in a native costume sewn from authentic indigenous materials.
All these elements conspire to make It's a Small World an ongoing self-fulfilling prophecy. Yes, the world often comes to the ride: King Hussein of Jordan, Chinese president Li Xiannian, Romanian dictator Nicolae Ceausescu have all heard—if not necessarily absorbed—the ride's message. But the ride also came to the world. It's been replicated in Disney parks in Orlando, Hong Kong, Tokyo, and Paris, with the Sherman brothers' tune perhaps the closest we have to a musical Esperanto.
More than fifty years on, as its theme song plays and the clock parade starts again, the ride seems not just to have shrunk the world but to have telescoped time itself—a half century passed in quarter-hour intervals, measured out in the march of wooden dolls.