A creaking garden gate, a faded playbill, a tin plate abandoned on a parched floor: Ghost towns across the West stoke the imagination. Whether lonely places long forgotten or beloved destinations stubbornly preserved, such relics spirit us back to a time of endless possibility, when fortunes waited to be raised from the ground. Note: Many roads close in the off-season; check current conditions.
Bodie, California
Tins of coffee and spices still line the mercantile shelves in Bodie, California, one of the largest ghost towns in the country. More than 200 buildings present a snapshot of the days when it was a gold-mining boomtown of nearly 10,000. (When you're done visiting Bodie, hop on Highway 395 and see more nearby secret wonders.)
Masonic, California
Nine miles off the highway and down a passable dirt track, Masonic, California, seems to echo with bygone energies. Take a walk past crumbling cabins and stone walls that testify to the Mono Basin's short-lived gold boom. A skeleton of the tram system used to transport ore from the mine to the mill peeks above a rock outcropping, while the mill's wooden remains line the hillside.
Berlin, Nevada
A 30-stamp mill towers above the silver- and gold-mining town of Berlin, Nevada, abandoned by 1911 and preserved as part of Berlin-Ichthyosaur State Park. Peek into a house window to see a vintage radio atop a dresser or an old washboard next to a dusty rocker. Placards provide an account of local life.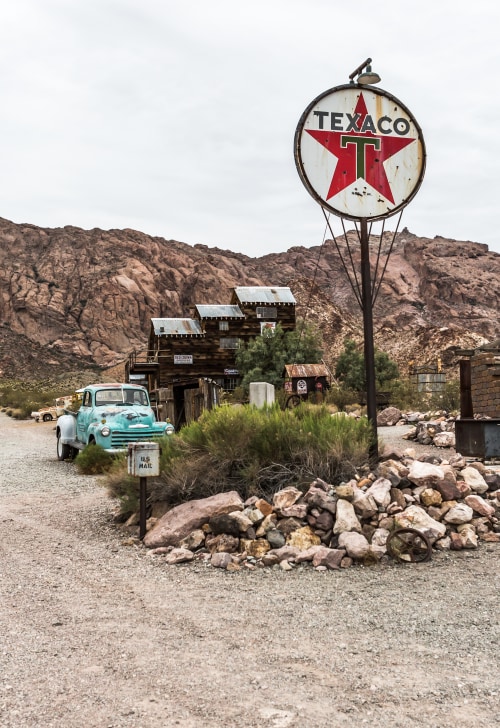 Nelson, Nevada
Just 45 minutes south of bustling Las Vegas, the quiet remains of the Techatticup Mine in the scenic Eldorado Canyon belie the area's often debaucherous and tumultuous history. Techatticup is the oldest and richest mine in Southern Nevada, and it got its start in 1775 when Spaniards uncovered gold. It wasn't until the mid 1800s when prospectors and miners took over the area. Shootouts, murders, and general lawlessness quickly followed, but disputes about ownership and labor didn't stop the mine from producing millions of dollars in copper, lead, gold, and silver. Now, Eldorado Canyon Mine Tours will take you inside the Techatticup Millsite and Savage Mine, and you can amble past abandoned buildings and cars on your own.
Frisco, Utah
At the height of silver mining in Frisco, Utah, you could read the Frisco Times, carouse in more than 20 saloons, and recover from a gunfight—common in this rip-roaring town of around 6,000—at the local hospital. The mine collapsed in 1885 (between shifts, miraculously killing no one), and by 1920, Frisco was deserted. Along with wooden shacks, the lonely cemetery, and the mine itself, five fascinating charcoal kilns—beehive-shaped stone structures as big as houses—await exploration.
Golden, Oregon
Founded in 1890 and abandoned by 1920, Golden, Oregon, was the rare dry mining town, with two active churches and not a single saloon. All that remains at this state heritage site is a few photogenic buildings and, perhaps, the spirits of former residents. But those grave markers outside the church? Props used in filming Gunsmoke.
Gilmore, Idaho
Until the mine's power plant exploded in 1929, Gilmore, Idaho, housed more than 600 souls who endured harsh winters to extract silver and lead ore. It boasted a railroad line, restaurants, even a "lady barber." Today, you can view surviving structures and take spectacular photos of rusted siding against sagebrush and sky.
Custer and Bonanza, Idaho
During the off-season in the former gold-mining town of Custer, Idaho, the boarded-up buildings exude ghost-town loneliness. In Custer's sister city, Bonanza, just over a mile away, weathered structures and a small graveyard invite meditative exploration. Both sites are part of Land of the Yankee Fork State Park and Historic Area.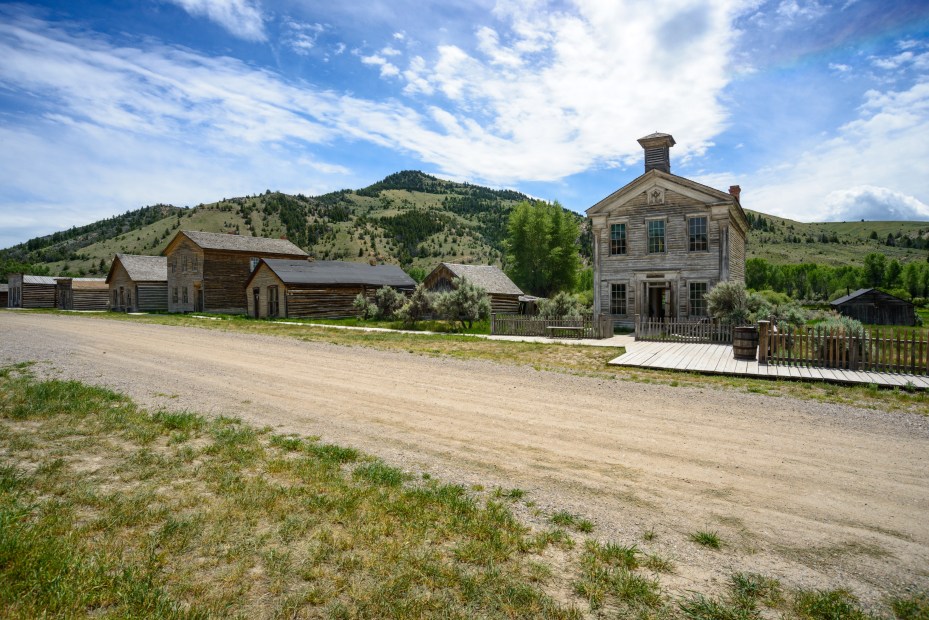 Bannack, Montana
After gold was discovered nearby in 1862, Bannack became Montana's first territorial capital. Today, the state park's meticulously preserved buildings include the Hotel Meade, where wallpaper clings above the curving staircase. 
South Pass City, Wyoming
South Pass City sprang up in 1867 when word got out that the Carissa Mine struck a rich vein. The town's population quickly swelled to 2,000 people and more than 30 mines sprung into operation. Today, South Pass City is one of Wyoming's largest historic sites. Visitors can explore 24 abandoned structures and more than 30 period room exhibits. Intrepid visitors can also tour the Carissa Mine or the English Tunnel by candlelight. Summer weekends are busier (we recommend reserving tours in advance), but they are also host to living history demonstrations, lectures, and movies. Open daily from May 15 to Oct. 15.