Whidbey Island lies just 35 miles north of Seattle, but it seems much farther. In part that's because access from the mainland is limited to one bridge and two ferries. But it also has to do with the hush of the island's oldgrowth forests, the cheer of its small-town parades, and the briny freshness of shellfish pulled from the water just yards from your table.
Outdoors
Straddling the strait that separates Whidbey from Fidalgo Island to the north, Deception Pass State Park is a wonderland of woods, dunes, lakes, and wetlands. Keep an eye out for pods of orcas as you picnic, swim, or poke around tide pools. Along the 3.5-mile Hoypus Point Natural Forest Area hiking loop, you'll encounter colossal Douglas firs as well as a much younger man-made marvel: the 1935 steel bridge that soars over the strait itself. 
On an island with no shortage of driftwood-strewed beaches, family- and dog-friendly Double Bluff Beach stands out. Its vast, flat expanse of sand—two miles long and up to half a mile wide at low tide—allows for long, solitary walks and terrific beachcombing. On clear days, the views stretch to Seattle's skyline and even to lofty, snow-topped Mount Rainier.
The cries of eagles, the splashes of harbor seals, the rattling calls of kingfishers: Nature provides the sound track for the 2½-hour guided paddles offered for all skill levels by Whidbey Island Kayaking along the island's southeast shore.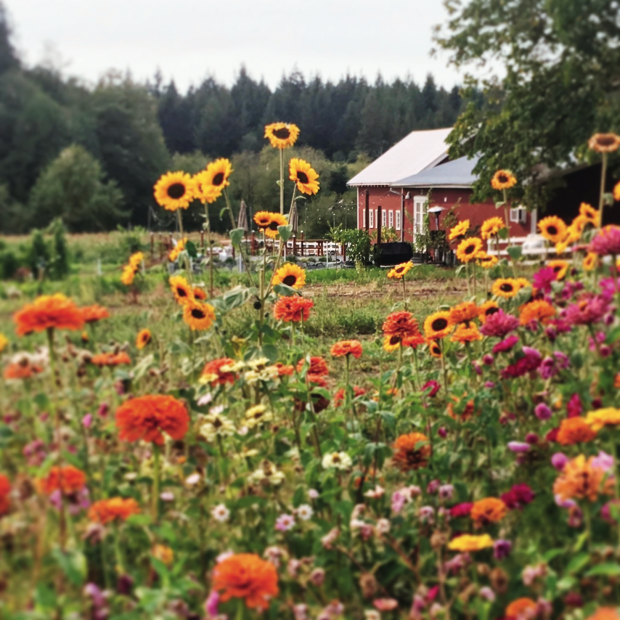 Eats
You'll find top-notch java at Seabiscuit Bakery and regionally sourced breakfast and lunch fare such as chocolate babka and a terragon chicken sandwich. 
Front Street Grill has plenty of satisfying lunch and dinner options, but you can't go wrong with fresh oysters or the local Penn Cove mussels, which can be ordered in any one of nine different preparations. 
Thursday through Sunday in the summer, dinner guests at the Orchard Kitchen sip champagne and nibble hors d'oeuvres in the garden—the restaurant sits on a five-acre organic farm—before moving to communal tables for a stellar four-course meal. The ever-changing menu might include seasonal mush rooms with pork belly or a plum napoleon with ginger-mascarpone cream.
Shops
A heady fragrance permeates Lavender Wind and the many goods—from lotions and soaps to jams and sachets—made from its namesake plant. In blooming season (June to August) at the company's farm outside town, you can pick your own bouquets or bring a picnic to free Saturday afternoon concerts.
You might not know you need a Victorian purple silk jacket or a 1960s lava lamp. But you can find those and myriad other vintage treasures at the Red Rooster Antique Mall and Mutiny Bay Antiques, across the street from each other in Freeland.
Sights and Events
During Oak Harbor's July 4 celebration, fighter jets and helicopters from the nearby naval air station roar overhead to kick off a daytime parade of 120-plus contingents, including the brass and class of a Navy marching band. At night, a rousing, 22-minute fireworks spectacle lights up the waterfront sky.
The Whidbey Island Fair delivers tons of country fun, with logging competitions (speed sawing, axe throwing, and more), carnival rides, 4-H critters, and live music. Don't miss the exhibits of blue-ribbon winners in the domestic arts—everything from cakes and pickles to dahlias and quilts.