AAA's road trip planner, TripTik, now includes the latest Covid-19 travel restrictions, in addition to giving you directions and helping you find gas stations (and the latest prices for fuel), hotels, and points of interest. TripTik can get you off the interstate and onto the back roads, help you avoid tolls, and show you the scenic route. You can also customize your route so it's appropriate for travel on foot or by bicycle.
While the detailed trip planning features in TripTik are for AAA Members only, the information about restrictions, reopening status, and Covid-19 case numbers are available to the general public, helping everyone travel safely during this time.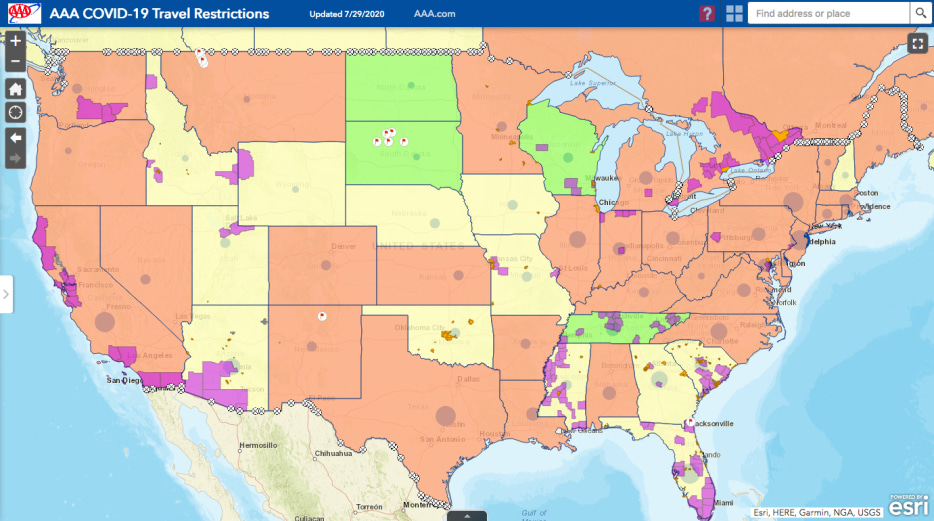 Here's what you can find when you explore the Covid-19 travel restrictions map:
Color coding shows you which states, Canadian provinces, counties, and cities have travel restrictions.
Double click on a region to learn the specifics of a region's restrictions. Embedded links take you to that region's coronavirus-pandemic restrictions website.
Flag icons show you where there's a health checkpoint. They may indicate national parks, tribal lands, or other areas with restricted access. Click the icon to learn more.
Select or deselect items on the right hand navigation to choose what information is displayed on the map. For example, you can display case numbers by city or county, or show roadway checkpoints only.
Please remember the Centers for Disease Control and Prevention continues to caution against travel, both internationally and within the United States. Many states currently require visitors to undergo mandatory testing or quarantine.
For those who do choose to travel, the CDC recommends that people wear a face mask in public, wash hands frequently, and keep six feet from others. With the number of coronavirus cases rising across the country, check the areas you plan to visit before you travel.