What the Best Smart Locks Have in Common
AAA Smart Home Security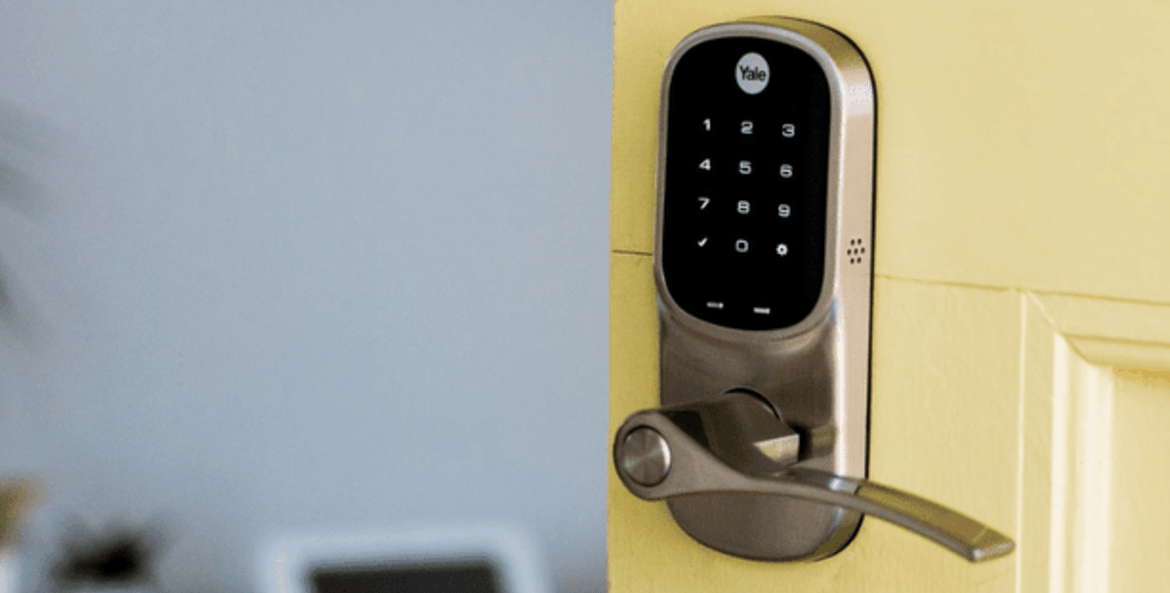 What the Best Smart Locks Have in Common
The best smart locks are not simply gadgets that open and close doors. High quality smart locks can help make your home more secure and convenient. For example, a smart lock can add to your peace of mind by telling you when your door is unlocked, and even locking itself.
But not all smart locks are created equal. The best digital deadbolts share certain traits that let you manage access to your home by deciding who can enter, and when. They do this without compromising your cybersecurity, too. Learn how they work and what to look for, in our comprehensive guide.
Are smart locks worth it?
If you've ever struggled to open your door with a child in tow, an armful of groceries, or in the dark, you know how critical it is to be able to safely enter your home. No one wants to fumble with or drop their keys when pressed for time or needing to enter the home quickly. And if you've ever lost your keys, you want to be able to revoke access codes immediately (and for free) via a smartphone app.
Are smart locks worth the money and time they cost? The short answer is a resounding yes. But why? And how do you choose the smart lock that will give you the best experience? Learning how they work and what makes them safe will help you choose.
How do smart locks work?
If you're new to smart locks you might be wondering how they function. Simply put, they replace a keyed lock with a digital or electronic door lock. They aren't hardwired, so they get their power from batteries. If they are monitored professionally, they can help you detect and respond to a burglary.
The best smart locks should not have a keyhole (so even a skeleton key can't pick them) but should have a keypad that lights up in the dark. This keypad is for entering codes that will unlock the door, based on the settings the homeowner controls. These codes can work 24/7 or only during set schedules. They can be changed at any time from a smartphone or desktop.
Smart locks use different communication technology to connect with other electronic or security devices. Our smart locks operate on Z-Wave, a network expressly for smart home technology, for minimal competition between connected devices. Z-Wave also has military- or bank-grade AES-128 bit encryption. Plus, if your smart home uses Z-Wave, each device –including locks–acts as a repeater, strengthening the security system's network.
Are smart locks safe?
You should worry whether less, not more, with the right kind of smart lock. Not every smart object can be hacked, but many can. Research any smart device you bring into your home, as well as the company selling or manufacturing it. The best smart locks and deadbolts have extensive security features that deter or prevent hackers and intruders alike. We mean someone with online access to your data (we'll call them a hacker) or a person physically tampering with your lock (a potential intruder).
Keeping your digital door lock safe from hackers
The best smart locks come from companies who scrupulously safeguard your data and their software. They should invest in password encryption and software to prevent misuse of the APK (Android Package Kit) used to download their smart lock app. While APKs make apps available for the mass of Android devices, they can also be used to sneak into the app that controls the smart lock. Know that these extra steps might cost the company a bit more and result in a higher price tag. So don't be scared away by a higher cost for a reputable brand, since this up-front investment might save you time, money and headaches.
Other kinds of hacks include device spoofing, where a hacker imitates your IP address to gain access to your data. Yet another is a replay attack, where an encrypted message is compromised so that it can be used again to confuse and exploit your system. Sound complicated? It is. Fortunately, AAA Smart Home has in-house cybersecurity testing so you can relax knowing a security professional has tested your device.
And don't forget cybersecurity best practices - like using strong passwords, updating all your apps right away, and using a pin for voice commands.
Safeguarding your smart lock from intruders
There should be ways to prevent an intruder from abusing your smart lock when they're near your home. There should be an option to enable a voice pin, so that no one can command your smart speaker to unlock your door without a secret code word. For top-notch convenience and safety, they should have auto relock traits to lock automatically behind you. (Ours can also lock with a single tap.)
If you're concerned about "screwdriver attacks" when someone pries the lock off with a flathead screwdriver, consider a security camera that can alert you to someone lingering at your lock for over 30 seconds. This will send you a recorded clip so you'll see if someone is attempting to pick your lock - smart or not. (It's worth noting this is a vulnerability traditional locks share with their smarter counterparts.)
What is the best smart lock for my door?
Rather than looking for the lowest price point possible, consider researching the locks on your list and ensuring they have a stellar track record. We like smart locks that are durable, low-profile and difficult to hack.
If your door has one hole, you'll want a smart lock with a lever. If it has two, you may prefer a smart deadbolt, with a door knob that doesn't have a keyed hole. This way, the likelihood of anyone being able to pick your lock is non-existent. Look for a smart lock with a warranty, and a rubber gasket to protect your door's finish. This is especially important if you are researching smart locks for apartments, where you could be charged for any damage to your door upon moving out.
With regard to the actual hardware of the smart lock, check for an ANSI (American National Standards Institute) rating of a 1-3. The ANSI ratings are created by the BHMI (Builders Hardware Manufacturers Association) which concerns itself with safety codes and regulations of hardware used by commercial building companies.
Ready to test one out?
AAA Smart Home smart locks are available with or without levers, in a matte nickel or mahogany shade. You can have our Professional technicians add them to your system during your installation, and they're easy to install yourself. Start with a control panel and connect a smart lock today, or whenever you're ready. Give our team of security consultants a call at 877-505-1473.
If you already have a system and are ready to install one yourself, you can view our self-install support site and even call our Member Experience team at 800-669-7779.
Informational purposes only
The content provided in this blog post is for informational purposes only, and is not intended to be an offer to sell any AAA Smart Home product or service. A3 Smart Home LP makes no representations as to the accuracy or completeness of the information contained in this or any blog post on the AAA Smart Home website.
Z-Wave is a trademark of the Z-Wave Alliance. Reference to third parties and their products are for identification only. A3 Smart Home is not associated or affiliated with the Z-Wave Alliance.
Get started protecting your home today!