Get the Facts on Motorcycle Insurance
You're passionate about your ride, so show your bike some love with customized coverage.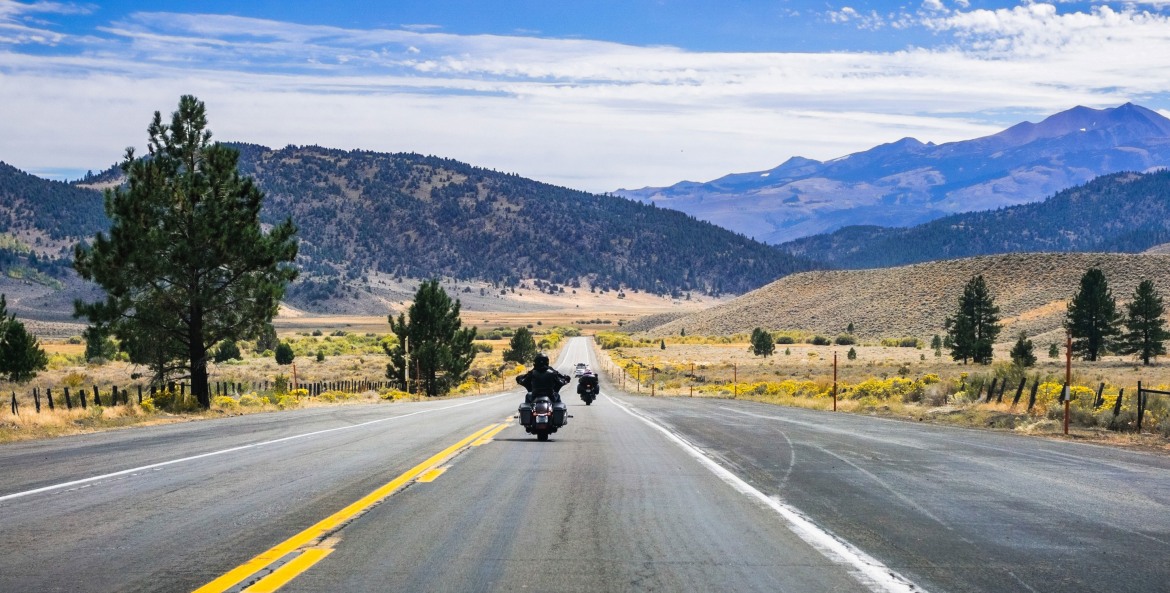 There's nothing quite like hopping on a motorcycle and hitting the open road—hearing the motor's rumble as you lean into a curve and fresh air swirls around you. Motorcycles evoke a spirit of independence and rebellion, but that doesn't mean you should skip buying insurance. 
If you already have insurance for your car you might think you're covered, but your auto policy doesn't apply to your two wheels. Motorcycle coverage can protect you, your passengers, and your bike, whether you're embarking on an epic adventure or just getting around town.
What's included in motorcycle insurance?
A full-coverage motorcycle policy includes collision and comprehensive insurance, as well as any coverage required in your state such as: 
What are my state's requirements for motorcycle coverage?
States have their own liability insurance requirements for bodily injury (to pay for medical bills, lost wages, legal fees, and funeral costs) and property damage. 
The following bodily injury (or death) requirements are to one person / to two or more persons:
Alaska: $50,000 / $100,000 bodily injury; $25,000 property damage
Arizona: $25,000 / $50,000 bodily injury; $15,000 property damage
California: $15,000 / $30,000 bodily injury; $5,000 property damage
Montana: $25,000 / $50,000 bodily injury; $10,000 property damage
Nevada: $25,000 / $50,000 bodily injury; $20,000 property damage
Utah: $25,000 / $65,000 bodily injury; $15,000 property damage
Wyoming: $25,000 / $50,000 bodily injury; $20,000 property damage
What is the difference between collision and comprehensive motorcycle coverage?
If you have an accident—whether with a car, another motorcycle, or a lamp post—collision coverage pays to repair or replace your bike, minus your policy's deductible. This type of policy usually pays up to your motorcycle's current value. 
If your bike gets damaged by something other than a collision—like a fire, storm, or vandals—comprehensive coverage kicks in. Comprehensive coverage also saves the day if thieves swipe your bike. 
Collision and comprehensive policies generally pay only for the cost of factory or standard parts. So if your bike has crash bars, special wheels, or a custom paint job, ask your agent about coverage for those add-ons.
Can I get insurance for my scooter?
It depends on the carrier, but several insurance agencies offer coverage for scooters and other two-wheeler cruisers, sport bikes, touring bikes, trikes, vintage and custom bikes, and low-speed vehicles. 
Can I cancel my motorcycle insurance in the winter, when I don't ride?
In some states, a registered motorcycle must be insured. So if you drop your coverage, you'll be asked to surrender your registration and plates or face fines.
But even if you can legally drop your insurance, it's a good idea to keep your bike protected year around. 
"Canceling a motorcycle policy while in the off-season may subject the owner to greater risks," says Matthew Dudash, a AAA representative in Utah. "For example, there is still a chance that the motorcycle could be damaged while in storage—the bike gets knocked over while in the garage—or even worse, the motorcycle could be stolen, which would subject the owner to a greater risk with no coverage."
And keep in mind that, even in winter, you may be tempted to ride. 
"Owners would not be able to take advantage of those unseasonably warm days that may come, where going for a ride may sound like a great idea," Dudash says.
If you're concerned about overpaying for coverage when your bike sits idle, fear not. According to Dudash, depending on where you live, it's fairly common for insurance companies to base the cost of annual coverage on the average number of months the bike is traditionally ridden. So if you were to cancel coverage for the months your bike is in storage, "the total savings may not be worth the additional exposure, especially when you add in cancellation fees that some carriers may charge," he says.
What is uninsured/underinsured motorist coverage?
There are lots of drivers out on the road who don't carry liability coverage, perhaps because they can't afford it or don't have a driver's license. If you're hit by someone who doesn't have insurance, or doesn't have enough, your own uninsured/underinsured motorist policy acts as a safety net, swooping in to pay for your losses. This coverage comes in two types: bodily injury to cover medical bills and property damage to cover damage to your bike.
What is medical payment/personal injury protection coverage?
If you have an accident, the medical payment or personal injury protection (PIP) endorsement may pay any medical bills for you or a passenger, in your insured vehicle who sustains an injury, regardless of fault. Rules vary by state, so talk to your agent. 
Can I just get the required liability coverage, or do I need motorcycle insurance?
If you rely on your motorcycle for everyday transport, you should consider getting coverage. That way, if you have an accident, your collision coverage will kick in right away, and you won't have to wait for the other driver's liability insurance to pay your repair bills. Or, if your bike is stolen, your comprehensive coverage will help you replace it.
If your motorcycle is valuable (i.e., you have a classic or custom bike or a brand new Italian sport motorcycle) protecting your investment with full coverage is also a smart move.
Why choose AAA Motorcycle Insurance?
Shopping for motorcycle insurance? Award-winning AAA insurance agents can help you find the right coverage for you. Motorcycle coverage is designed by people who know about riding the open road, and claims are handled by adjusters who deal specifically with motorcycles. Visit your local AAA office to speak to an insurance agent in person, call us at (855) 424-9496, or request a quote online to get started. 
The content provided in this article is for informational purposes only. AAA of Northern California, Nevada & Utah makes no representations as to the accuracy or completeness of the information contained in this or any article on the AAA website.