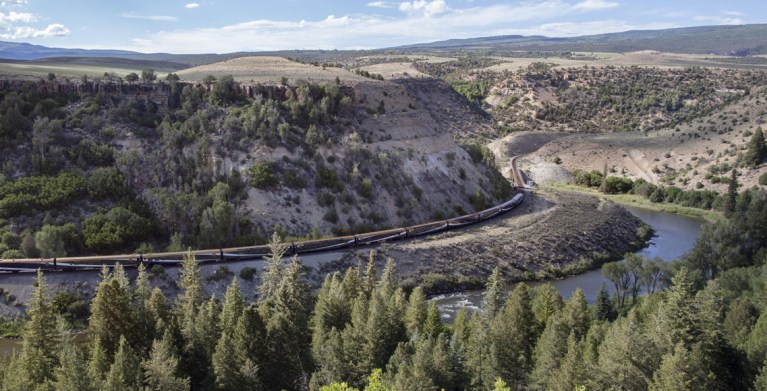 Rockies to
the Red Rocks
AAA Exclusive Member Benefits with Rocky Mountaineer
Save $100 per couple on the Rockies to the Red Rocks packages of 4 days or longer.▼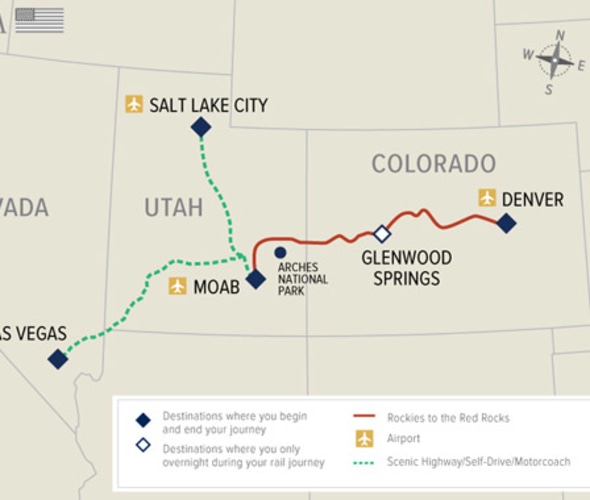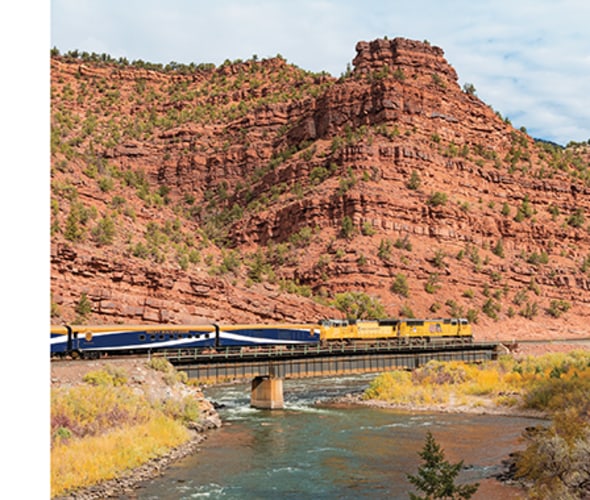 The Route
Rockies to the Red Rocks is filled with highlights best seen by train, including Ruby Canyon, Mount Logan and the Continental Divide. You can travel west from Denver to Moab or east from Moab to Denver. Consider extending your journey with an excursion to Salt Lake City or Las Vegas. Ask your AAA Travel Agent about available packages.
Day 1: Moab to Glenwood Springs
Get comfortable and meet our Hosts as you depart from Moab in the afternoon, where you'll set out on your journey to Glenwood Springs. As you begin your journey, enjoy dinner and a beverage while taking in the scenic views of Mount Garfield and the stunning rock formations lining the cliffs in Ruby Canyon. Then take in the stunning mountain views as you cross the Utah-Colorado border before arriving in the resort town of Glenwood Springs. Sip on our signature cocktail as you approach your overnight destination. Disembark and reminisce about your day in the comfort of your cozy hotel room.
Day 2: Glenwood Springs to Denver
Leave beautiful Glenwood Springs rested and relaxed as you continue heading east for another day of extraordinary views towards Denver. Wake up and warm up to a two-course hot breakfast while watching the morning light bounce off the rugged canyons as you tour along the Colorado River. Then celebrate crossing the continental divide with a sparkling wine toast while cutting through 6.3 miles of mountain in Moffatt Tunnel. Enjoy a three-course regionally-inspired lunch as Hosts captivate you with stories of the region as you take in the views of picturesque Byers Canyon and Gore Canyon. Sip on our signature cocktail as you approach the vibrant city of Denver. Arrive and explore the "Mile High City".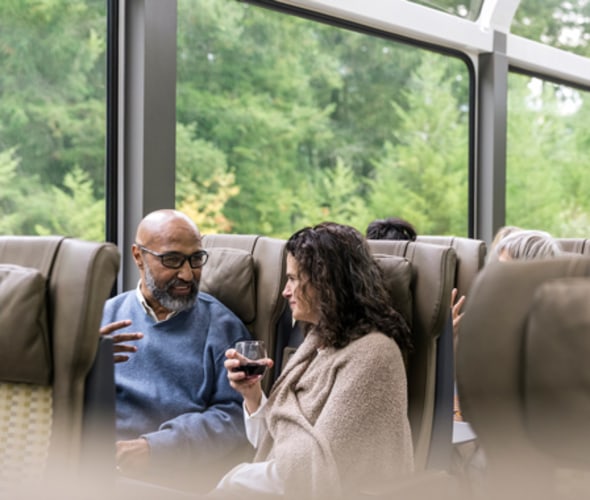 ▼The AAA Member benefit savings values of $150 USD per couple on Rocky Mountaineer Canadian routes and $100 USD per couple on the US route (Rockies to the Red Rocks) are applicable to SilverLeaf Service or GoldLeaf Service bookings on Canadian routes and SilverLeaf Service and SilverLeaf Plus bookings on the US route, for qualifying 2023 packages of 4 days or longer. Offer is available in conjunction with Rocky Mountaineer in-market offers. $150 savings on Canadian routes and $100 savings on the US route are valid per couple in USD. $75 or $50 per guest based on double occupancy. Single traveler receives same savings per person ($75 or $50 USD). Additional conditions apply.
*"Southwest Escape" ("Offer")applies only to new bookings on packages (including 2-day rail) to travel on Rockies to the Red Rocks in 2023. Dates are subject to change without prior notice. Booking must be made between March 20 and April 11, 2023, to qualify. Advertised offer is per person, and will be automatically added to the booking. Offer can not be combined with any other in-market offer, unless specified. Offer has no cash value, is non-transferable, cannot be deferred to a later trip or retroactively applied. Offer is not applicable to Custom Groups or Group Tour Block bookings. Offer is capacity controlled and may be modified, withdrawn or amended without prior notice. Deposits are required at the time of booking and full payment of the balance must be made 60 days prior to travel. All figures advertised are expressed in USD. Value of advertised Offer is per couple. All bookings are subject to the full booking terms and conditions which are available at rockymountaineer.com. Additional conditions apply.
Contact us to book your Rocky Mountaineer experience
When you book through AAA Travel, you get:
Best Price Guarantee***
Complimentary Expert Travel Agent Services
Exclusive AAA Member Benefits
All of your AAA Member benefits can be combined with travel partner offers, promotions and sales to save, see and do more.
***See full Best Price Guarantee terms and conditions.