While 37 states have approved marijuana for medical use and 21 states—including Alaska, Arizona, California, Montana, and Nevada—have approved it for recreational use, it is illegal in all 50 states, not to mention dangerous, to drive under the influence of the drug. Here's why, plus tips for staying safe on the road.
How Marijuana Affects Driving
Driving requires various physical and mental faculties. You may think you can do these things on autopilot, but when under the influence of cannabis, your sensibilities and reaction time can be compromised. THC, which is the psychoactive substance in marijuana, can alter your perception, coordination, reaction time, and more, according to the Centers for Disease Control and Prevention and the Insurance Information Institute. 
"Marijuana use impairs your ability as a driver to react to others on the road, to protect yourself, and to prevent crashes from happening that maybe you didn't cause," explains Jake Nelson, AAA's director of traffic safety advocacy and research. "If somebody cuts you off on the freeway and you're sober, you [may be able to] handle your vehicle in a way and react quickly enough to avoid getting into a crash that could possibly injure or kill you or somebody else. Whereas if you are under the influence of cannabis, that might not be the outcome that you experience." 
In other words, it's not safe to drive if you've ingested or inhaled any form or any amount of cannabis. While the effects can depend on your previous use and tolerance, Nelson adds, getting behind the wheel in any circumstance isn't worth the risk and can put you in legal peril. 
Increased Risk of Fatal Crashes 
Since the legalization of marijuana, researchers have found an increase in fatal crashes involving cannabis use. The percentage of drivers in Washington who tested positive for THC after a fatal crash doubled to 18 percent in 2017 from 8.8 percent before the state legalized recreational marijuana use in 2012, according to research from the AAA Foundation for Traffic Safety. 
More recently, National Highway Traffic Safety Administration (NHTSA) research found that the pandemic also led to an increase in driving under the influence. From mid-March 2020 to July 2020, about two-thirds of drivers that were injured or involved in a fatal crash tested positive for a substance, including marijuana, alcohol, and opioids. The report also found that the prevalence of marijuana increased by 50 percent after mid-March 2020 compared to the previous six months. 
The risks and impairment increase when cannabis and alcohol are combined. More than 30 percent of drivers who drink alcohol and use marijuana at the same time said they drove within two hours of consumption, according to a 2022 study from the Insurance Institute for Highway Safety. Drivers who use both alcohol and marijuana also report being more likely to engage in risky driving behavior in general, including intentionally running red lights, speeding, texting, and driving aggressively as opposed to those who don't, according to the AAA Foundation for Traffic Safety's annual Traffic Safety Culture Index from 2021.
Marijuana Impaired Driving Laws
Aside from the increased risk of getting into a fatal crash or injuring yourself or others on the road, there are legal consequences as well. While a AAA Foundation for Traffic Safety survey found that nearly 70 percent of Americans believe they won't get caught if driving while under the influence of cannabis, they could get a marijuana DUI and face $10,000 in fines or more. 
The California Driver's Handbook also notes that you may be arrested and have your license suspended for a period of time. Laws across the U.S. vary, but you can look up the laws in your state with the Governors Highway Safety Association's Drug Impaired Driving database.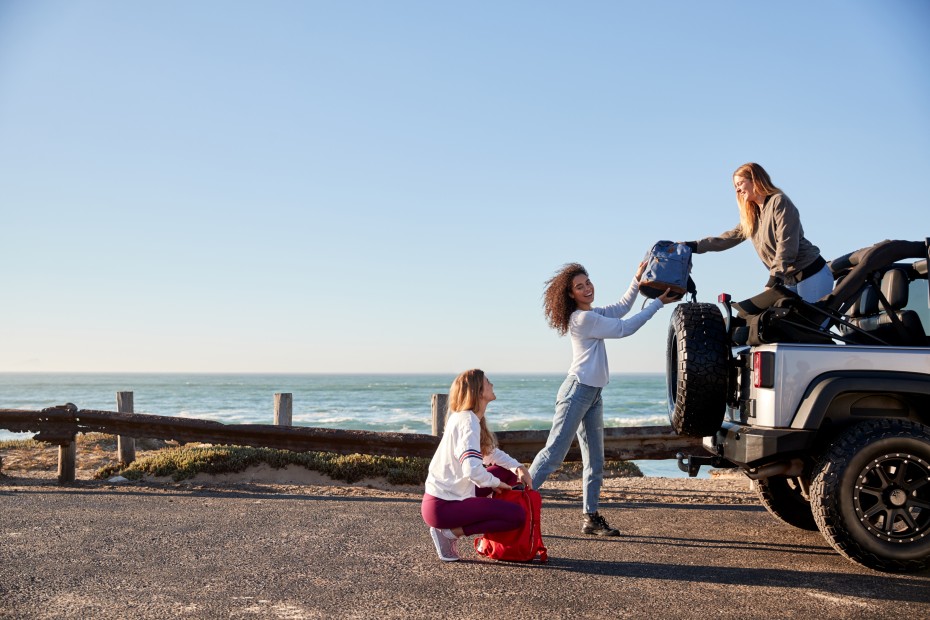 How to Stay Safe
The best way to keep yourself and others safe is to avoid any mind-altering substances before getting behind the wheel. That means no alcohol, marijuana, or other drugs, including prescription or over-the-counter medications that may impact your ability to drive.
A common mistake is thinking you're okay because you don't feel anything, Nelson says. While more research is needed, the Colorado Department of Public Health and Environment recommends waiting at least 6 hours after smoking marijuana and at least 8 hours after eating or drinking marijuana before driving. You also want to avoid being a passenger if the driver is impaired. 
"If you've used you shouldn't drive, period. And obviously, if the person who is driving has used you shouldn't be a passenger in their car," Nelson says. "If you're the passenger and you've not used marijuana, then offer to drive; get everyone to safety." 
If you have used any substance that can impair your driving, you can also rely on public transportation or rideshare services such as Uber or Lyft. 
"If you're going to use, you shouldn't drive," Nelson says. "And if you know that you have to drive, you shouldn't use. You really have to separate these two activities."