Being trapped in a vehicle after an accident is a terrifying predicament. Knowing how to get out of your vehicle in an emergency situation can mean the difference between life and death, and bring you serious peace of mind on the road. 
A detailed AAA study noted that vehicle escape tools are critical components to escaping your car in an emergency. Researchers evaluated six different tools intended to quickly aid passengers trapped in a car following an accident and found that having an accessible escape tool can save lives—under the right circumstances.
Josh VanWynsberghe, automotive systems engineer at AAA headquarters in Heathrow, Florida, is a researcher who contributed to the study, and he notes that state of mind also plays a pivotal role.
"Accidents can happen in any place, at any time," he says. "In an event where every second matters, you can put yourself into a good position to survive by staying calm and executing a plan."
Know what type of windows you have.
Most safety plans involve breaking a window to create an escape route. The problem? This is easier said than done since auto glass is built to withstand impacts. According to VanWynsberghe, all vehicles on the road today have two kinds of windows: tempered and laminated. The study found that many escape tools were able to break tempered windows, but none was able to penetrate laminated glass.
Naturally, then, it pays to know what types of windows you have and where.
Even if your car has side windows made of laminated glass, for instance, the rear window may be tempered. It just depends on the type of vehicle. Thankfully, according to VanWynsberghe, almost all vehicles on the road today have tempered glass somewhere. Drivers can determine the type of glass in each window by checking for a label in the bottom corner. If this information is not included or there is no label at all, AAA advises contacting the vehicle manufacturer.
"It shouldn't be too difficult to track down what kind of glass you have," says VanWynsberghe. "That becomes valuable information in helping you formulate an escape plan."
Know which tools to buy.
The study concluded that, contrary to popular belief, headrests are not very good at breaking automobile windows, laminated glass or tempered. Other hard objects, including rocks and cell phones, are also unlikely to be effective. A reliable vehicle escape tool is best.
Most vehicle escape tools come in one of two forms: spring-loaded and hammer style. Spring-loaded tools stand the best chance of working under all conditions; whereas hammers can be challenging to use underwater and are less effective on tempered glass. 
Many tools also have the added benefit of seatbelt-cutters to simplify getting out of a seatbelt in the event of a crash.
VanWynsberghe notes that several escape tools have other bells and whistles too, such as LED flashlights, knives, or USB chargers. He said that while these functions can be helpful in certain situations, they do not improve the performance of the tools themselves, and therefore are non-essential.
"With an escape tool, all that matters is, 'Will it break the glass so I can get out?'" he says.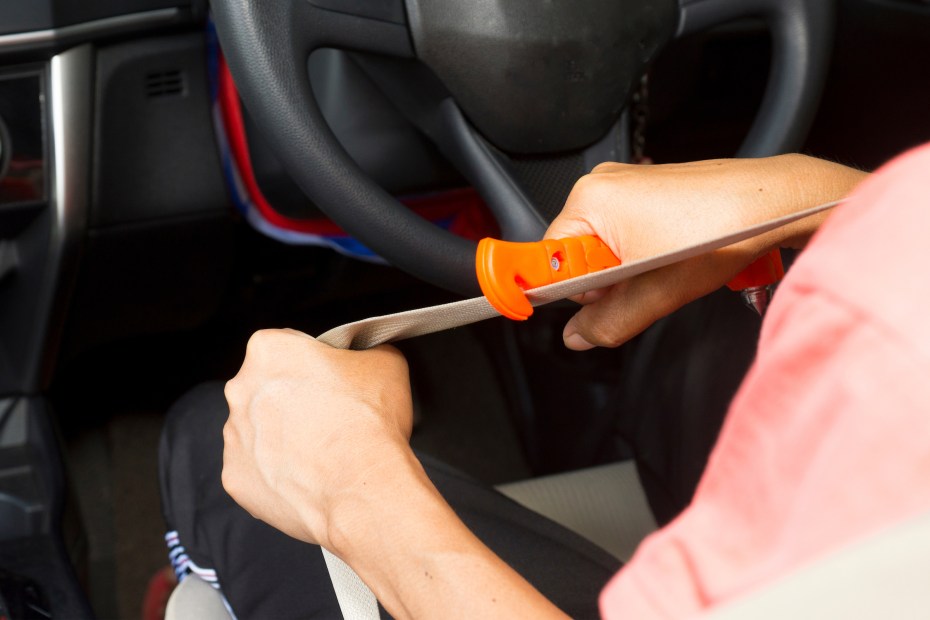 Be prepared.
Once you've chosen your tool, VanWynsberghe says it's important to make sure the device is stored in a secure location and won't get jostled around in the event of an accident.
He added that, particularly in situations where the vehicle is underwater, it's critical to free all passengers from their seatbelts before breaking any glass. "Water rushes in very quickly once you break a window," he says. "It's up to you to plan accordingly for that."
Stay S.U.R.E.
In general, AAA experts advise that drivers (and their passengers) consider following a series of rules dubbed S.U.R.E. if they're ever trapped in the car:
Stay calm
Unbuckle seat belts
Roll down window or break
Exit vehicle
Of course, S.U.R.E. is easier to talk about than to do, but following the protocol to the best of your ability enables you to focus on urgent concerns first, then divert valuable energy to peripheral problems along the way. 
VanWynsberghe notes that unless the damaged vehicle is equipped with OnStar or a similar communication system, it's best to hold off on calling the police until you have exited the vehicle safely. "Our instinct is to call 911 immediately," he says. "In most of these cases, you get out first, then call."