Dirt and spilled food can affect a car seat's performance—but cleaning it can, too. Improper cleaning methods and harsh chemicals can weaken straps, rust buckles, and damage plastic. Here are some tips for handling messes without sacrificing your kids' safety.
Car Seat Cleaning Basics
Talk to any car seat safety expert, and they will tell you that the number-one rule when it comes to cleaning is: Follow the guidelines in the user's manual. "There are some things people don't really consider—like how cleaning methods and chemicals can affect the performance of the car seat," says Angela Knudson, a community impact program specialist for AAA Northern California, Nevada & Utah and a certified child passenger safety technician who works with parents and families to help keep them safe and prepared on the road. "So the rule of thumb is to always follow the cleaning instructions provided by the manufacturer for your specific car seat."
Misplaced your manual? Most companies have them available on their websites as PDFs. Or you can call the customer service number to request a replacement—and ask any questions about cleaning, including whether that garden hose spray-down of your soiled seat last year may have caused invisible damage.
1. Prevent messes.
The simplest solution is to avoid a mess in the first place. While that's easier said than done, there are a few tricks. The first is to restrict certain foods in the car: dairy products that will smell, sticky or gummy foods that are hard to clean, and crumbly snacks that trickle down underneath the seat into the locking mechanisms. Consider using spill-proof containers and solutions such as the ChooMee silicon cap that can be attached to squeezable food pouches and slow the flow.
Unfortunately, the main reasons car seats are deep-cleaned are more unpleasant: vomit and urine. But there are ways to mitigate these messes, too. Alisa Baer, M.D., a pediatrician and co-founder of The Car Seat Lady, suggests outfitting a motion-sickness prone child with a large bib that goes over the straps and lap once the child is buckled in—like the terry cloth Neat N'Cozy or the waterproof Bumkins Super-Sized SuperBib. For potty-training, Baer stresses not setting up your child for failure: "If the child might possibly fall asleep or you might possibly hit traffic and not be able to find a place to stop, put the child in a diaper or Pull-Up." While some car seat manufacturers sell compatible seat liners (such as Britax and Diono), most third-party products are not safety tested for use in car seats. An acceptable alternative is a small, thin chux pad (like those used for puppy training) placed right underneath the child.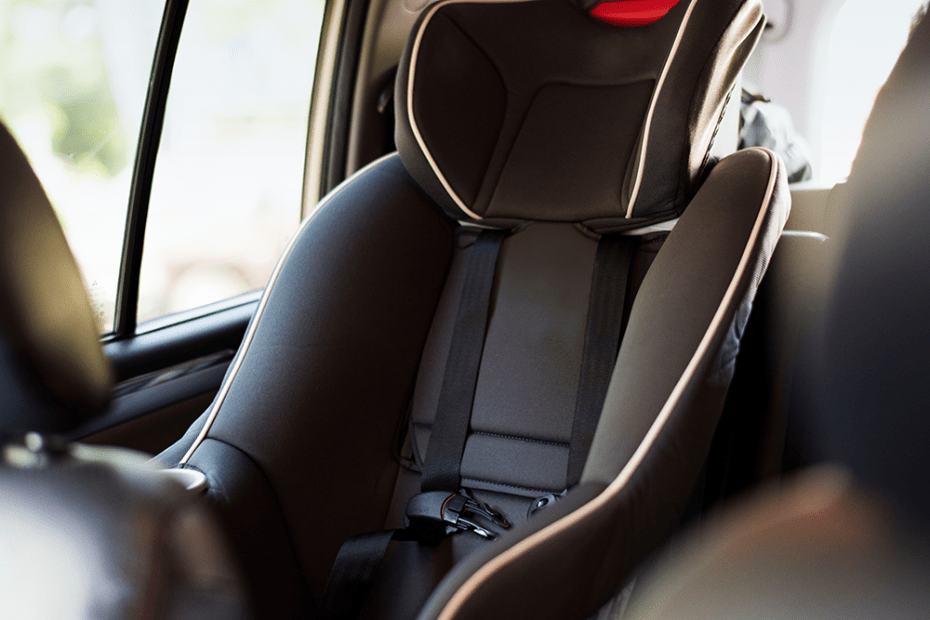 2. Clean the cover.
Most car seats feature a fabric cover that can be machine-washed with cold water and mild soap, but removing and replacing it can be tricky. Rather than trying to remember where to clip the cover to the frame and how to rethread the straps, take photos and videos as you work to reference later. Nearly all seat covers must be air-dried, so be sure you've allowed yourself enough time to complete this process before your child needs the seat again.
If you're on the go and need to spot clean, water or unscented baby wipes are safe options. Don't ever use Febreeze, Lysol, Clorox, or vinegar on any part of the seat, as these can strip fire retardant, affect the integrity of the fabrics and plastics, and irritate your child's skin.
3. Clean the straps and buckle.
When it comes to safety, a car seat's straps and buckles are very important—and should be kept clean. But cleaning them is tricky. The webbing material of the straps includes elastic microfibers that help cushion the wearer from force in an auto accident. Submerging the straps in water can weaken the material and reduce effectiveness. Use a damp cloth or clean toothbrush (sans toothpaste) to spot clean. For bad stains or persistent odor, check with the manufacturer to see if replacement straps are available. Some seat models allow the buckle to be removed, rinsed with warm water, and hung immediately upside-down to dry thoroughly to prevent rust.
"I don't care if the child is sitting against a bunch of yuck, but I would care if the straps and buckle are yucky," says Baer. "This is a harness that your child's life depends on. Think of it that way, and treat it accordingly."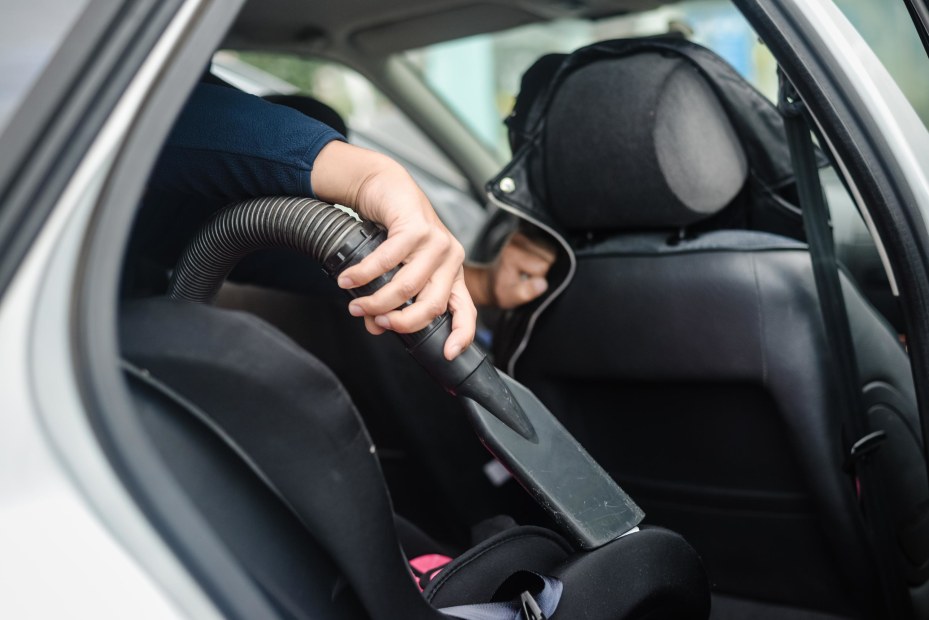 4. Clean the plastic frame and base.
Under the fabric cover of a car seat, there are myriad plastic crevasses that can harbor messes. Completely removing the seat from the car and shaking it out is a great first step. A vacuum with a long, thin attachment can also be handy. But Baer's favorite tools are a toothbrush and a flat-head screwdriver wrapped in a rag. Do a dry first pass on the frame and base to dislodge debris, then wet the toothbrush or wrap the screwdriver with a wet rag for a deeper second pass. Don't use cleaner; plastic cleans up well with just water. And be sure to thoroughly dry any metal parts.
5. Assemble and inspect.
Check your manual, photos, and videos to make sure you properly reassemble your car seat, including the threading of straps. This is also the perfect opportunity to check and adjust the seat's settings: Does your child need the shoulder or crotch straps moved? For rear-facing kids, the straps should come from at or slightly below the shoulders—like a backpack strap. For forward-facing kids, the straps should come from at or above the shoulders.
According to Knudson at AAA, only 1 in 4 car seats are installed correctly. Once you've returned yours to the car, get some peace of mind by scheduling an online safety inspection. This service is free for both Members and nonmembers. Using Google Hangouts on your mobile device, a nationally certified child passenger safety technician will coach you through a visual inspection. They will check the installation, incline angle, proper harnessing, and more. If any corrections need to be made, the technician will coach you through what to do.