As temperatures dip, there's no better time for warming up with a rich, steaming cup of hot chocolate. From oat milk infusions* to hand-whipped cream topped with sprinkles, these delights aren't just for kids. Sip on these nine incredible cocoa drinks across the West to delight your taste buds and invite some extra hygge (that quality of coziness and contentment that the Danes embrace) to your day. 
Ducrey Chocolate Maker, Missoula, Montana
Since opening in 2020, Ducrey has become a favorite among chocolate aficionados. Choose from cold sipping drinks made with Ducrey chocolate and strawberry syrup, traditional hot chocolate steamers, or the cafe's signature sentinel, a hot sipping chocolate with a shot of espresso, house-made organic whipped cream, and a drizzle of huckleberry syrup. 
Paramount Cafe, Cheyenne, Wyoming
While away the afternoon among the works of local artists on the ground floor of a historic former theater. With occasional live music to boot, Cheyenne's Paramount Cafe has much to offer, including a hot chocolate that inevitably draws crowds. Made with Ghirardelli chocolate and steamed milk and topped with a healthy pile of whipped cream and a simple chocolate drizzle, it's the kind of drink you'll want to savor. Add a shot of salted caramel or raspberry syrup, or opt instead for the hot snow, a just-as-decadent drink featuring gourmet white chocolate as its main ingredient.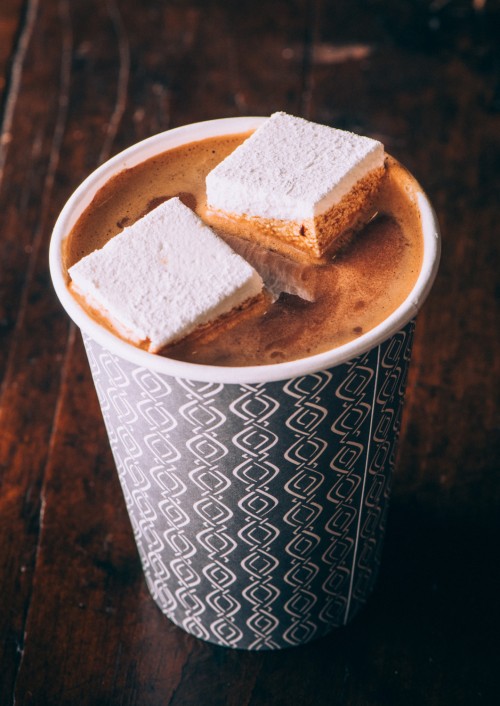 Dandelion Chocolate, San Francisco
Ever since Dandelion sprung up inside a San Francisco garage in the early 2000s, the company has been taking the Bay Area by storm with its single-origin dark chocolates. Swing by their 16th Street factory (or any of their other SF outposts, as well as ones in Los Angeles and Las Vegas) to enjoy a rich, subtly sweet hot chocolate made with 70 percent Camino Verde Ecuadorian chocolate that adds notes of brown sugar and cinnamon. It's exquisitely delightful as is, but you won't regret adding a couple of Dandelion's homemade marshmallows when they're available. 
Toasted Mallow, Gilbert, Arizona
It's no secret that chocolate and marshmallows are a dynamic duo, so it only makes sense that this small-batch marshmallow bar would have a hot cocoa that's as gourmet as its artisan confectionery. Toasted Mallow's standard hot chocolate is a heavenly cup of heated chocolate topped with freshly made marshmallow fluff. During the holidays, the family-owned business also sells everything from little gingerbread-shaped vanilla mallows to sugary churro-flavored confectionaries for topping off your mug. The rest of the year, try dipping one of the shop's campfire s'mores or cookies and cream marshmallows into the mix for some extra flavor complexity. 
The Stove, Henderson, Nevada
A lively breakfast and brunch spot overlooking the Las Vegas Valley, the Stove is known as much for its helpings of Belgian waffles and brioche French toast as it is for its hot chocolate. The restaurant offers two distinct versions: a traditional hot cocoa made with Abuelita Mexican chocolate (the name means "granny") melted in steamed milk and topped with marshmallow beneath a blanket of whipped cream, and the lavish unicorn variety, which adds a rim of chocolate lined with colorful sugar sprinkles and fluffs of cotton candy on top to the ensemble. 
Hatch Family Chocolates, Salt Lake City, Utah
Hatch entices with its huge selection of hand-dipped chocolates and pastries that are made with recipes passed down over four generations, but it's their hot chocolate that keeps customers lingering during Utah's colder months. The combo of steamed milk and cream, milk or dark chocolate, and a dollop of house-made vanilla whipped cream is the perfect antidote for fighting off the chill. Need an energy burst? Hatch's Choco's mocha adds a double shot of espresso for some extra buzz.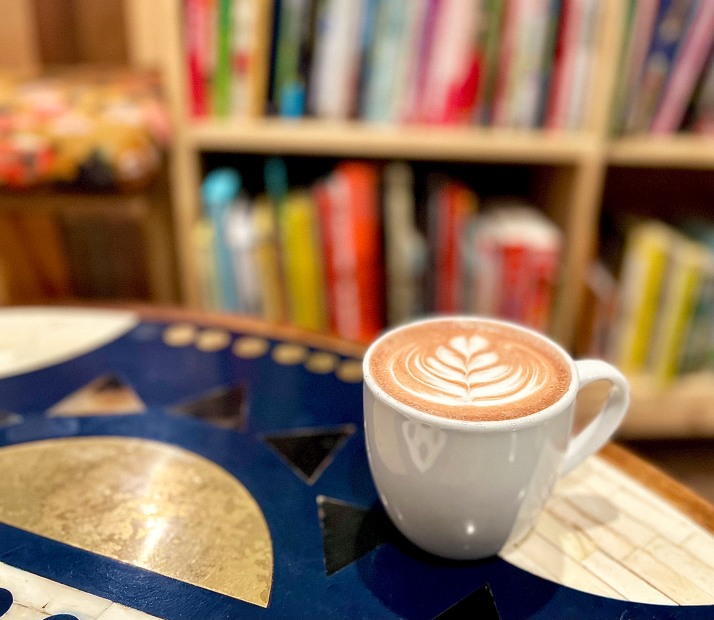 Cuppa Tahoe, South Lake Tahoe, California
Part cafe, bookstore, and community work space, Cuppa Tahoe is the perfect place to savor an afternoon with the latest Anthony Doerr novel and a frothy cup of hot choc. Owner Sandra Santané is originally from the Netherlands and insists on using real European chocolate—in this case, dairy-free Valrhona cocoa, produced in the French village of Tain L'Hermitage—for this sought-out beverage. Not only does European chocolate boast a higher cocoa content than its American counterpart, but it's also made with creamier and richer European butter. With a drizzle of caramel and/or shot of peppermint syrup, you can really make the drink your own. 
Taste, Provo, Utah
Whether it's sampling chocolates from around the globe or sharing chocolate fondue with friends, at Taste, cocoa is front and center. This curated marketplace is hailed for its hot chocolate, whipped together in a lush combination of artisan chocolate, French cocoa powder, and whole milk. There's also a selection of seasonal hot cocoa flavors, such as chai, candied orange, and pumpkin pie. Thick sipping chocolates, iced chocolate drinks, and cacao tea round out the drink menu. 
Ranger Chocolate Co., Portland, Oregon
Shop for bags of dark chocolate cherries and chocolate brittle wafer bars in Ranger's Central Eastside factory, then mosey on over to their cafe counter for one of the best hot cocoas in town. Although Ranger's regular hot chocolate is a treat in itself, especially when flavored with a hint of honey lavender or rose, it's the cafe's Oregon hot chocolate—a mix of Ranger chocolate sauce paired with their in-house doug-fir and hazelnut syrups—that's an absolute must.
*Editor's note: In addition to cow's milk, dairy alternatives such as oat, almond, soy, and coconut are available at most of the included establishments.