We live in an instant gratification world—giant stores, factory-assembled and mass-produced products, and two-day delivery of online purchases means most things are easily acquired quickly. One exception: a handmade, authentic Western hat. 
That's because these hats are made to order using traditional techniques and technology that date back to the cowboy headpieces of the 1800s.   
"You don't find many businesses that do things the way they were done a century ago," points out hatmaker Tom Hirt, of Tom Hirt Custom Hats. "People come and see me because they want something that is authentic and made the way it was 100 years ago." 
Hirt and other western hatmakers create unique, made-to-order pieces that fit customers' precise head size and shape, along with their preferences. The result: A hat that's flattering, practical, and allows its wearer to connect to history. "Cowboy hats are part of our heritage and we need to keep that alive," says Laura Wortman, owner and hatmaker at Montana Peaks Hat Company.
Look no further than these five shops to find a hat made with an eye to history—and personalized to suit your look and hat-wearing needs. 
Tom Hirt Custom Hats in Canon City, Colorado
"Everything is custom made, one at a time, to fit a customer's needs," says Hirt. Most orders are cowboy or brimmed hats, made with fur felt from beavers, although Hirt can use other furs and craft other styles, too. Each hat he makes is sewn and finished by hand. Little has changed since the store first opened in 1912. The only machinery in Hirt's shop—other than an electric iron—is a vintage Singer sewing machine. "If you went to a hat shop in 1880, it would probably look just like mine," says Hirt. 
"Most of my customers are tried and true hat wearers from all avenues of life," says Hirt. That includes cowboys, ranchers, and country musicians, although Hirt has also made hats worn in movies (including the classic western Tombstone) and by notable figures (such as President Ronald Reagan). 
Tom Hirt's studio sits outside of Canon City, Colorado. If you're in the area, and want a handmade hat, you can set up an appointment at his studio or meet him in Penrose, a nearby town, at a coffee shop to talk about what you want—or you can reach out by phone or email.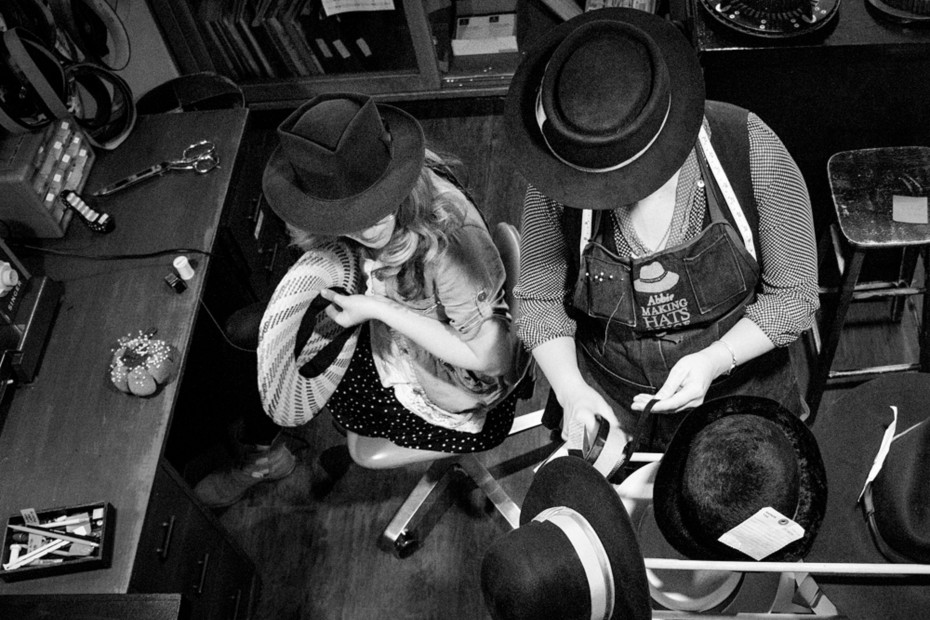 Paul's Hat Works in San Francisco
Since she started in 2009, Abbie Dwelle has made all of the hats in Paul's Hat Works with tools from the 1800s to the 1940s. But the real magic happens when a customer walks in the door. 
"I teach [customers] about hats," she says. Visit the shop in person, and she'll have you try on hats—and lots of them. "I can see them reacting to putting on the style. I see how comfortable they are with the silhouettes. Through [this process] we glean what style will suit them," she says. 
Paul's Hat Works offers less common styles, including straw hats in two varieties: Fino Montecristis and Cuenca straw hats, which are hand-woven in two different regions of Ecuador. There are many imitations out there, she says, but the real ones—lightweight, flexible, and pale-colored—are harder to find. She also makes brimmed hats from beaver or rabbit fur felt that are warm enough to get you through a damp summer in the city.
Watson's Hat Shop in Cave Creek, Arizona
"When you walk into Watson's Hat Shop, it is like taking a step back in time," says Emily Watson, who owns the store with her husband Eric. Sounds of old equipment and the smell of leather and steamed hats greet you as you walk in the door. 
"Because we build the hats from beginning to end, we have endless possibilities. We stick to just the traditional brimmed hat categories such as western hats, panama hats, and fedoras," she says. Most customers, Watson says, arrive at the store (or reach out from afar) with a style in mind. "If I am helping a client design their hat from scratch, the process takes 30 minutes to an hour," she says. "Together we carefully select the shape and style that best suits their facial features and lifestyle. I look at everything from shoulder width, jawline, length of the face, and beyond. After style comes color, accessories, and fitting." 
The hats at Watson's are made from 100 percent beaver fur felt. They're heirloom-quality, and can be worn in the rain, snow, and harshest of environment, says Watson. The care and quality shows in the results. "When customers see their hats for the first time and try them on, it's like they are greeting an old friend who has never left," she says.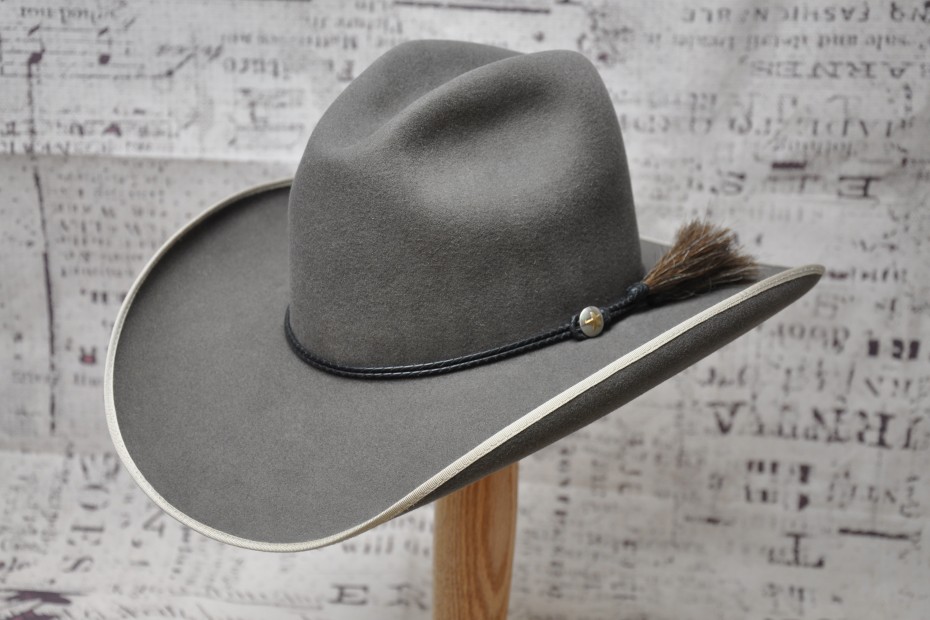 Rand's Custom Hats in Billings, Montana
Since 1973, Ritch Rand has been busy creating hats that suit customers down to the last detail.  "If it doesn't fit, we fix it or make it a new one," says Rand. A hat that's designed around you—personalized to your height, weight, and build, and with your name on the inside—can change the way you carry yourself, says Rand. Customers don't buy hats from Rand Hats as part of a passing trend, he says, but to wear forever—on the day they get engaged, on work days and weekends, and vacations, too.
Montana Peaks Hat Company in Pendleton, Oregon
Don't be fooled by the name: For the past decade, Montana Peaks Hat Company has been in Pendleton, Oregon, after stints in Montana and Arizona. Owner Laura Wortman and her partner, Richard "Lionchoker" Blackburn, make hats for customers around the world. 
"A hat is an individual sort of thing," says Wortman, who describes hats as an extension of people's personality. "We work with all customers to make sure they're happy with the look and fit of their hat." That means getting the shape and proportions just right for the customer's face and preferences. Not nearby? No problem—Montana Peaks sends portable head shape-measuring equipment to customers to ensure fit. 
"One of our goals is to make each hat better than the last," says Blackburn, crafting hats in the style and color a customer desires. "Another goal is to find the next generation of hatter," he adds—a project that they're still working on.