Twenty-five miles away from the glitzy Roman palaces and Venetian lagoons of the Las Vegas Strip, easygoing Boulder City, Nevada, offers a gentler take on the surreal. Leaving Vegas and driving southeast through Henderson and stretches of open desert, you arrive at a laid-back town of 15,840. Instead of neon boulevards, you find kids playing in grassy parks, trees shading neat-as-a-pin neighborhoods of historic homes, and locals greeting each other at down-home diners.
Boulder City's old-time vibe is a delightful surprise to visitors but hardly an accident. The town owes its existence to Hoover Dam, one of America's man-made wonders eight miles up the road. Built with enough concrete to pave a two-lane road from San Francisco to New York City, the dam soars 726.4 feet high, far taller than the Washington Monument. It holds back Lake Mead, the country's biggest reservoir. To house the workers building the huge structure, the federal government designed and erected Boulder City on a site described by Franklin D. Roosevelt during the dam's 1935 dedication as having been "a cactus-covered waste." These days, the 408 residential and commercial buildings constructed between 1931 and 1942 make up the Boulder City Historic District, Nevada's largest concentration of sites on the National Register of Historic Places.
Step back into the past at the small but engaging Boulder City/Hoover Dam Museum in the heart of town. You'll hear recorded reminiscences from some of the tough-as-nails folks who at first lived in tents and shacks offering the barest shelter from temperatures that could hit 120˚F. Pick up a free map at the museum to take a self-guided tour, and you'll see the houses that came later—craftsman dwellings faced in earth-tone brick, tiny art deco bungalows, and Spanish colonial revival homes with red-tile roofs—as well as Bicentennial Park, a seven-acre oasis of lawns and graceful Arizona ash trees.
Antique shops cluster on and near Nevada Way, the town's commercial hub. Goatfeathers Emporium, a 10,000-square-foot store, holds everything from bronze cowboy-boot bookends to a 1958 pink tulle prom dress.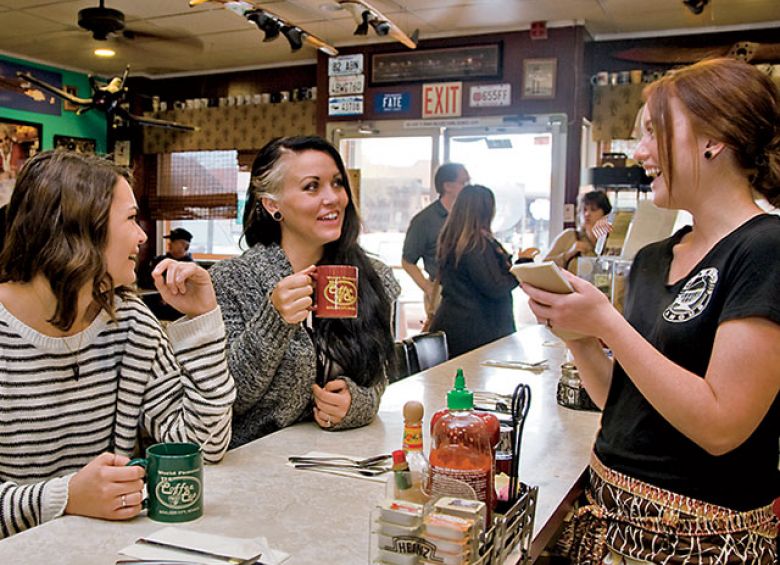 Eats aren't lacking either. The Coffee Cup Cafe packs 'em in with breakfast fare such as omelets bulging with pork chile verde or peanut-butter-and-bacon waffles. Order a burger piled with cheddar, bacon, and beef brisket at the Dillinger, in a 1940s bank building, or try the pub grub and a pint of Powder Monkey Pilsner at the Boulder Dam Brewing Co.
The area surrounding Boulder City has other lures. On the outskirts of town, the Nevada State Railroad Museum offers seven-mile excursions on a vintage train through scenic desert. On the paved, 34-mile River Mountains Loop Trail that links Boulder City with Lake Mead, Hoover Dam, and the Las Vegas Valley, hikers and bikers often spot roadrunners, bighorn sheep, and other wildlife. Those in search of waterborne relaxation can hop aboard the Desert Princess for a meandering cruise on Lake Mead. A Mississippi-style paddle wheeler in the Nevada desert? Surreal, yes, and a nice way to experience Boulder City's sweet, throwback charm.