When it comes to landmarks, Las Vegas cranks the dial to 11, creating attractions that win international renown. But beyond the marquee destinations there's a Vegas that's toned down, nuanced, and equally memorable. Put the two sides together and you've got the city's ultimate package deal.
Star: Fremont Street Experience
If your daily life involves standing cheek by jowl with thousands of fellow humans, some sober, under a canopy of 12.5 million LED lights, you may skip the Fremont Street Experience. Otherwise this boisterous pedestrian zone is required viewing, at the very least to see just what civilization is capable of these days: the world's biggest video screen, a quarter mile of pulsating pixels that, every hour starting at dusk, organize into captivating free shows set to thundering music. As thrill seekers fly overhead on zip lines, onlookers taking in the newest show hear hits by homegrown stars Imagine Dragons and watch as a city explodes in flames and the sky melts like a heavenly lava lamp.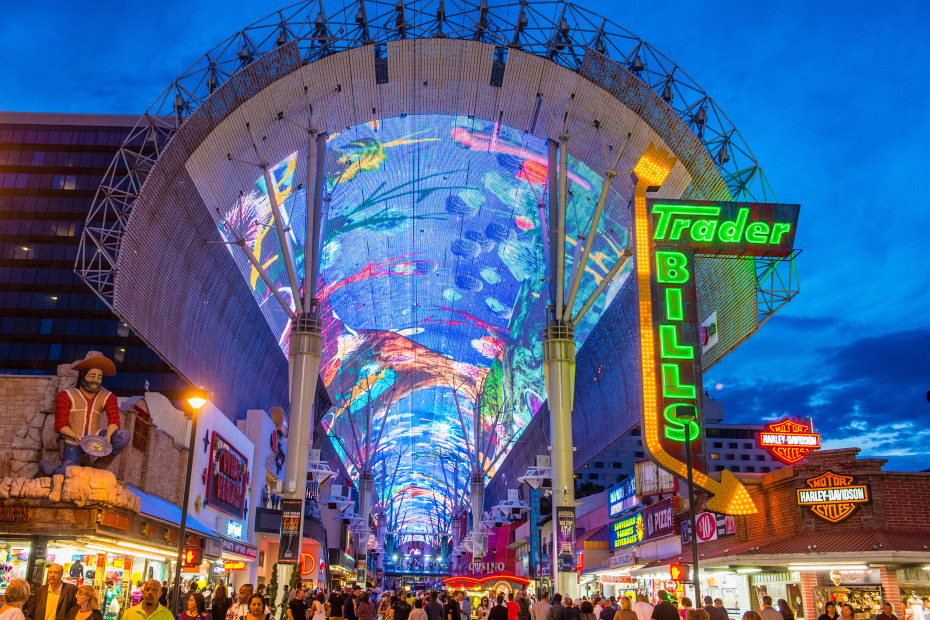 Secret: James Turrell's Akhob
Any art requiring viewers to sign a waiver is off to a good start. Hidden amidst the $50,000 bags at Louis Vuitton Maison at CityCenter, James Turrell's free Akhob installation offers one of the most remarkable experiences in Vegas—a two-chamber perceptual deprivation room that lacks edges or any sense of depth. In groups of no more than six, guests enter a rounded, featureless white room. Slowly, subtly, the lights start to change, as though the quality of the universe were gently shifting. One minute you're within a snowstorm, then inside a cloud, then undersea. The mind's focus turns inward, creating an internal experience as much as an external one—soothingly trippy, if such a thing is possible.
Star: Hoover Dam
The pictures don't do it justice, partly because the dam thing won't fit in the frame. To visit this concrete behemoth is to behold not just an engineering marvel, but a historical one. The surprisingly elegant construction conjures a different era in the United States, when massive public works projects happened regularly and deco flourishes made them downright pretty. Park your car and do the walk, one side to the other. Once you stop picturing yourself sailing over the edge, you'll confront the scale of the structure and the reservoir it created: Lake Mead is so heavy that, as it filled during the late 1930s, it moved the crust of the earth, setting off thousands of small earthquakes.
Secret: Black Canyon
A short drive south of the dam, the throngs vanish and it's just you and the tremendous Colorado River. Make arrangements with one of a handful of outfitters and soon you'll be cruising solo or on a tour in a kayak, canoe, or motor boat deep in Black Canyon, designated the Southwest's first National Water Trail in 2014. The 30-mile stretch carves its way from the foot of the dam to Eldorado Canyon, cutting through rugged volcanic rock walls set with rings once used to winch steamboats upstream. With luck, you'll spy desert bighorn sheep grazing and bald eagles alighting on their riverside nests. Anglers regularly hoist monstrous striped bass from the Colorado here, and occasionally swimmers dive in. (Then they commence cursing: The water is breathtakingly cold.) And all along the way, you'll see sublime views of the surrounding Mojave Desert.
Star: Fountains of Bellagio
Leave it to Vegas to make Old Faithful look staid and unambitious. As many as 26 times a day, the 8 1/2-acre artificial lake in front of the Bellagio explodes into a mesmerizing ballet of dancing water. Synchronized with tunes ranging from Sinatra's crooning to Tiësto's high-energy electronic dance music, more than 1,000 pressurized shooters send water geysering hundreds of feet into the air, while 4,792 lights illuminate the sight and nearly as many smartphones dutifully capture it.
Secret: Wetlands Nature Preserve
Vegas might sit in the middle of North America's driest desert, but 20 minutes to the east an oasis appears. On 210 acres of willows, cottonwoods, and meandering waterways, the Wetlands Nature Preserve at the northern tip of 2,900-acre Clark County Wetlands Park boasts 20 crisscrossing miles of flat, lush trails. From the nature center at the main entrance, one path heads east to a gentle stream murmuring through cattails and bulrushes; another leads west to a small pond with banks begging for a picnic. The hiking here is scarcely more strenuous than a stroll through the Venetian, which leaves you with plenty of energy to look for beaver, fox, and coyote. Every drop flowing through the preserve is clean, reclaimed municipal wastewater, a touch of restoration in a city more famous for its consumption.
Star: The Strip
The Strip's embrace of celebrity chefs turned a steak-and-potatoes town into a destination for big-name restaurateurs: Joël Robuchon, Gordon Ramsay, and so on. Perched right at the edge of the Bellagio fountains is Lago by Julian Serrano, an Italian restaurant from the two-time James Beard Award–winning chef. Sleek and colorful, with a mirror-tiled pizza oven for a centerpiece, the place is playfully futuristic, and its sprawling menu features small plates both traditional and contemporary. The boneless quail wrapped in prosciutto and the fusilli coated with lamb ragu are favorites, as is the small, chewy pizza topped with creamy buffalo ricotta and a layer of salty speck.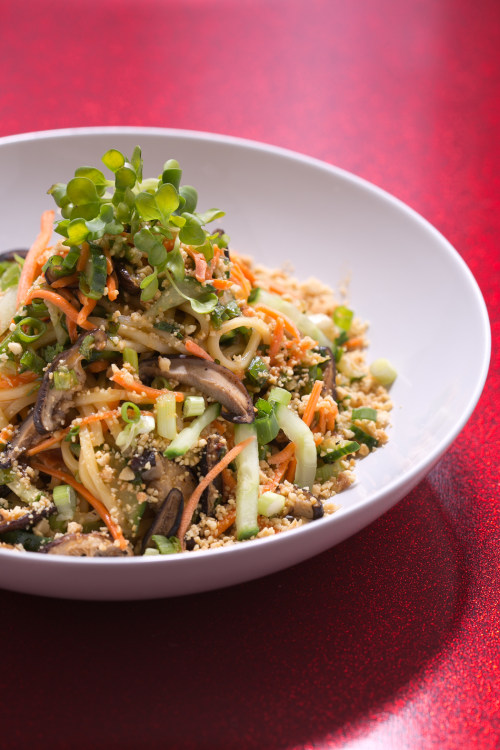 Secret: The Strip Malls
Culinary miracles come in all shapes and sizes, and sprinkled around town are countless strip malls whose plainness belies some lovely gastronomy inside. Take Commercial Center, home to the Cornish Pasty Co., whose savory turnovers come with hearty fillings such as pork with potato, apple, and sage; they pair nicely with the extensive beer selection.