With the Bay Area's wealth of spectacular natural beauty, it's sometimes easy to overlook the small jewels. I, for one, will cop to that charge. But on a recent trip to West Marin, I might have redeemed myself, at least in part, when I stumbled onto one of these gems hiding in plain sight.
The Giacomini Wetlands lie at the southern end of Tomales Bay, literally a stone's throw from the restaurants and shops of charming Point Reyes Station. Part of the Golden Gate National Recreation Area, the wetlands are a vibrant testament to Mother Nature's power to heal herself with an assist from humans. They're also a great spot for a stroll after lunch or shopping in Point Reyes Station.
The wetlands are named for Waldo Giacomini, whose dairy ranch once stood on the site. In the 1900s, dairy farmers in the area—including Giacomini—built levees and converted wetlands into pasture. In 2000, the National Park Service bought the Waldo Giacomini Ranch, intending to return its 550-plus acres to wetlands. Nearly a decade later, after extensive work that included levee removal, the first tidal waters in more than 60 years flowed onto the parcel and the wetlands began the slow process of re-establishing themselves. Since then, native bird, marine animal and plant species have rebounded. Within two years, for example, the number of waterbird species had jumped 66 percent.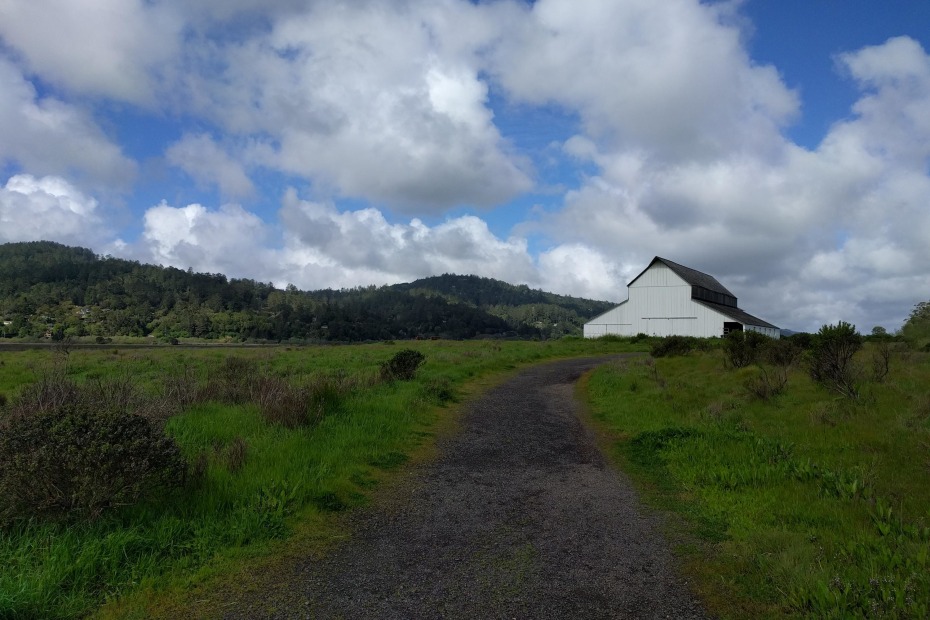 I suppose that I've never seen signs to the Giacomini Wetlands because land access is fairly limited. They are muddy marshes subject to periodic flooding, after all. But as I discovered on my most recent visit to Point Reyes Station, an easy trail from town leads onto Dairy Mesa, a dry, elevated portion of the Giacomini parcel with sweeping views over the wetlands themselves.
At the intersection of 3rd and C streets, I found the trail, passed through a wooden fence and began to walk toward a historic, whitewashed barn about a quarter mile away. The path of crushed granite loops around the mesa, passing a few informational panels and benches with prime views of the bay, marshes, and surrounding hills. I sat on one bench, taking in the green, spring landscape, watching cotton ball clouds drift by and enjoying a mini-concerto of meadow-bird tweets and duck quacks.
The barn proved an unexpected attraction. Although the structure is officially closed to the public, its doors and windows were nonetheless wide open. Peeking inside, I saw evocative reminders of its former function: empty feed buckets in stalls; wood worn smooth from contact with countless cows; shadowy corners where a trace of barnyard scent surely lingered.
From outside the barn, I looked out over the wetlands and the bay in the distance. Standing there, I felt happy that this whitewashed old-timer—a beloved relic, really, of a business that remains important in West Marin—has survived to witness Mother Nature's return.