A one-day road trip through Marin County, just across the Golden Gate Bridge from San Francisco, unfolds like a highlight reel of Northern California, with stops for beachside strolls, farm-fresh cooking, and assorted small-town treasures that line the way.
Mill Valley to Stinson Beach
Once you've fueled your car, caffeinate yourself at Equator Coffees & Teas in Mill Valley. Like the downtown district where it sits, the cafe is a cheerful, relaxed spot. Its shabby-chic decor is done up in salvaged railroad ties and bicycle parts. Grab a cappuccino and a cushioned perch on the patio in front. The people watching is superb, and the coffee is just the jolt you need to get you on the road.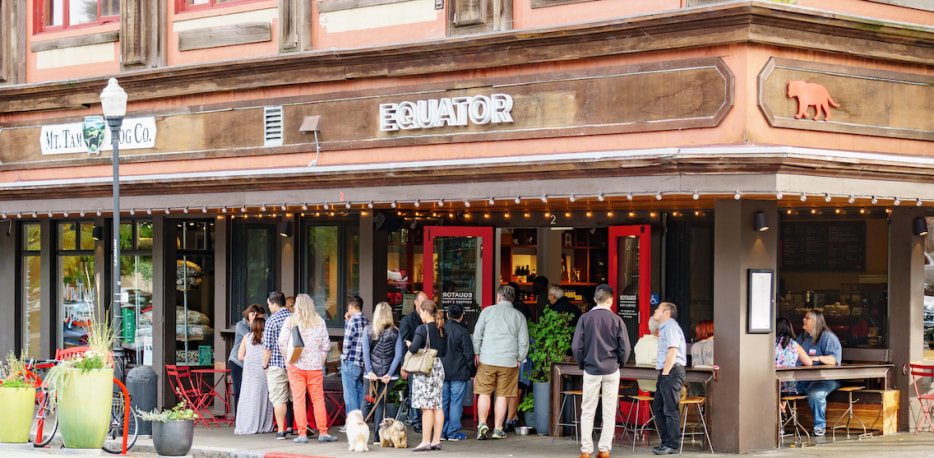 Signs for Stinson Beach lead you out of town into the Marin Headlands and onto Highway 1, as it snakes along the bluffs. The views of the Pacific are unvarnished, but the switchbacks are vertiginous—so leave the gawking to your passengers until you reach the town of Stinson Beach itself.
The hilly peninsula known as the Marin Headlands boasts spectacular views of San Francisco and the Golden Gate Bridge, but this part of the Golden Gate National Recreation Area has so much more to see and do: You can watch for migrating brown pelicans, grebes, egrets, and blue herons at Rodeo Lagoon; take a hike on one of the park's many trails; or explore one of the six named beaches in the headlands. There's also plenty of history on hand, as well: The Point Bonita Lighthouse still shepherds ships safely through the Golden Gate, and it's open to visitors Thursdays through Mondays from 12:30 p.m. to 3:30 p.m. 
Parkside Café is a cluster of small businesses that includes a bakery, a snack bar, and a cozy restaurant serving three meals a day. A fireplace flickers in the dining room, and hearty morning offerings range from a daily quiche special to benedicts. A footpath behind the cafe leads to Stinson Beach, a starkly beautiful stretch that is popular with surfers, swimmers, and sunbathers. It's also great for strolling, all the more so when you kick off your shoes, roll up your cuffs, and let the ocean foam around your feet.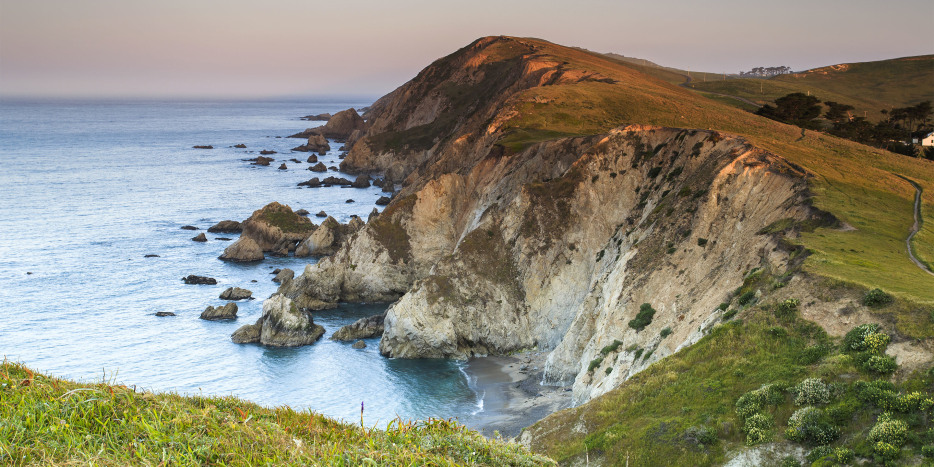 Stinson Beach to Point Reyes
Back on the highway, your route continues along the coast before cutting inland toward Point Reyes National Seashore, an expansive preserve geologically separated from the rest of Marin County by a rift in the San Andreas Fault.
Just past the tiny, unincorporated community of Olema, a turnoff takes you on a half-mile detour to Bear Valley Visitor Center, which houses a museum and a staff of helpful rangers. From here, a network of hiking trails thread into the park, some leading miles back toward the coast. Stretch your legs along the Earthquake Trail, a .6-mile paved loop marked by interpretive signs that explain the region's volatile tectonics, which help shape the rumpled landscape you see all around.
Geologically, the terrain here is still moving. And now you are, too, driving two miles up the highway into Point Reyes Station. "Population 350," a sign reads, but that number is boosted notably by day-trippers drawn to a country-quaint commercial center of clothing stores, antique shops, and homey eateries.
Point Reyes to San Anselmo
On your return trip, plot a leisurely course, retracing your route into Olema, then turning off the highway onto Sir Francis Drake Boulevard. This scenic road is best taken slowly, up over foothills, down through stands of redwoods, and on toward the gentle bustle of San Anselmo, its blocks given over to small-town shops.
Sugarfoot Books Inc. is great for browsing. Longway carries a smart collection of women's and men's clothing. Amphora Nueva is a tasting room and retail store devoted solely to extra virgin olive oils and small-batch balsamic vinegars. You could spend hours window-shopping, but you have a schedule to keep.
San Anselmo to Tiburon
As late afternoon gives way to early evening, ease into the tony bay-side city of Tiburon. Paved walking trails wind along the water, and appealing dinner options abound. Luna Blu gives Old Country cooking a California twist. A patio in back overlooks the harbor, with views that stretch across the bay to San Francisco. Enjoy a bowl of cioppino brimming with fresh salmon, clams, and calamari, as the sun flashes its last light on the water and night falls on your idyllic day.