The first glimpse of the sea can leave travelers to Point Reyes National Seashore slack-jawed. The soothing drive from Highway 101 amid windswept hills and family-owned dairy farms lulls visitors into a gentle calm. But when met with the boundless sight of rolling deep blue waves, the only appropriate response is awe. 
First inhabited by the Coast Miwok, before being discovered—according to many experts—by Sir Francis Drake in 1579, the seashore has attracted centuries of settlers to its wild shores and bountiful land. The rugged peninsula became a hot spot for agricultural operations around the turn of the 20th century, and continues through today with a multitude of dairies scattered throughout the landscape. 
Perfect as a day-trip from San Francisco, or a weekend getaway from almost anywhere in Northern California, the Point Reyes area is an ideal blend of coastal splendor and small-town charm.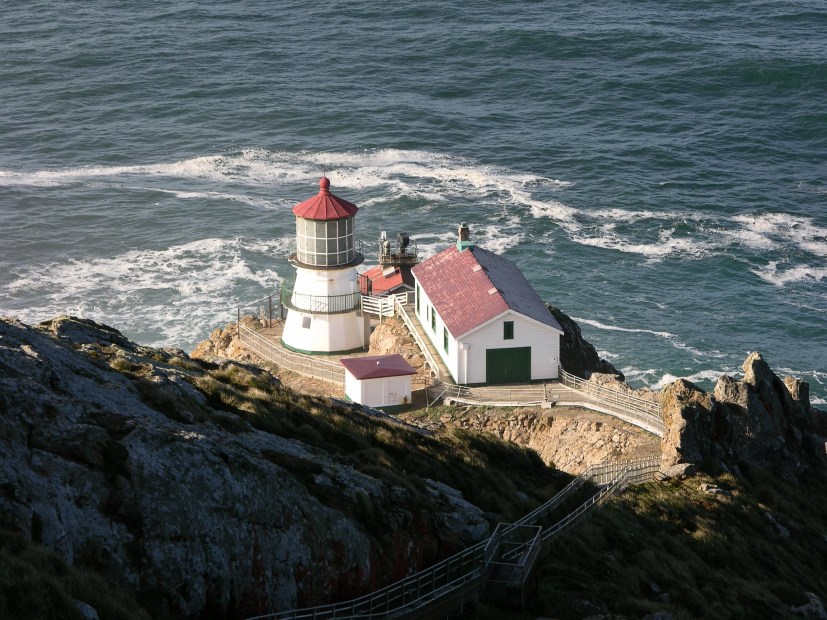 Point Reyes National Seashore
Point Reyes National Seashore has approximately 80 miles of shoreline, most of which visitors can safely enjoy, including Drakes Beach (although seasonal closures for harbor seal pupping may be in effect; check the park site for updates). This wide stretch of beach is an appealing stop for many, due in large part to the striking white sandstone cliffs that line its sandy section, as well as the convenient drive-up access, small café, and visitors center. 
For impressive sweeping views, head all the way to the point and visit the Point Reyes Lighthouse. From 1870 to 1975, the lighthouse remained fully operational and crucial to the area's maritime history. After wandering around the lighthouse—and climbing the 308 steps to the observation deck—explore some of the nearby lookouts on either side of the point. Be warned, however: Blustery weather conditions might require extra layers. Point Reyes is the windiest spot on the Pacific coast and the second foggiest place on the North American continent, often having weeks of fog—especially during the summer months. But it's worth braving the powerful winds for a look at the pristine coastline and the glittering ocean.
A short pit stop to or from the lighthouse is an unusual and somewhat out-of-place collection of trees jutting out of the relatively barren landscape. The Cypress Tree Tunnel leads to the historic KPH Maritime Radio Receiving Station that was once home to a wireless telegraphy receiving station built in the early 1900s. Even though the beautiful Monterey cypresses that arch over the road are nothing more than a quick stroll, and a few Instagram-worthy photo ops, it's still a must-see sight. Just be sure to park in the lot at the end of the road, and not along the tunnel itself, to protect the trees' roots.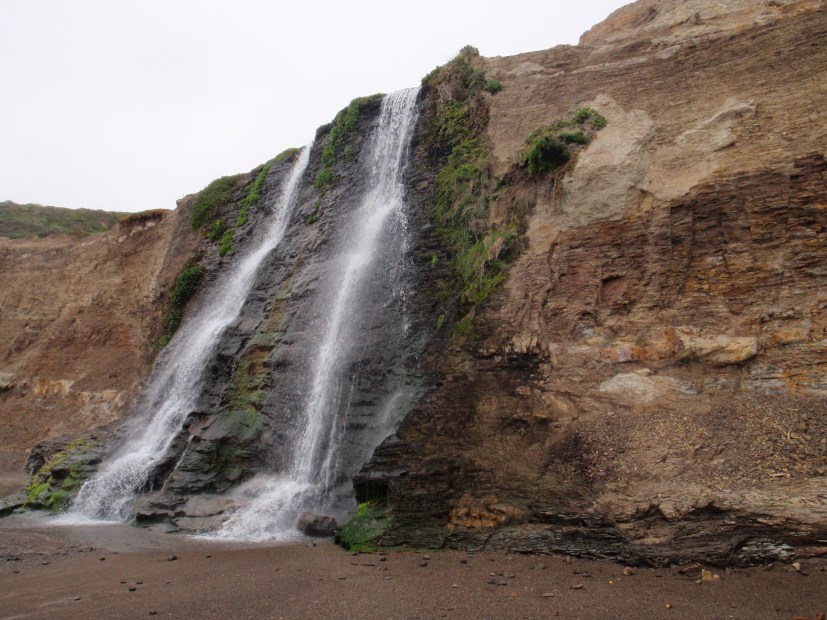 To take in more of the seashore's majesty, consider dramatic Alamere Falls, a rushing ribbon of water that cascades over a 30-foot cliff and down onto the sands of Wildcat Beach. Located in the Phillip Burton Wilderness Area—a rich landscape filled with forested ridges, coastal grasslands, sandy dunes, and rugged shoreline—the hike to the falls is a strenuous 13-mile round-trip trek, so pack plenty of snacks and water. Park rangers request that you stay on the designated main trail (eroding cliffs and poisonous oak abound), and be respectful of wildlife by leaving no trace (drones are prohibited).
The national park is also home to a diverse ecosystem including the protected tule elk, often spotted lazily grazing among the bovine, and northern elephant seals, which belly up to area beaches throughout the year. Visitors can view a colony of the massive pinnipeds from a distance at Elephant Seal Overlook near Chimney Rock. From December to March, however, the greatest number of elephant seals can be found across the headlands during their birthing and mating seasons.
For more information on what to do and see in Point Reyes National Seashore, visitors are encouraged to stop by the Bear Valley Visitors Center where they can learn more about the history, culture, ecosystem, and landscape of the park.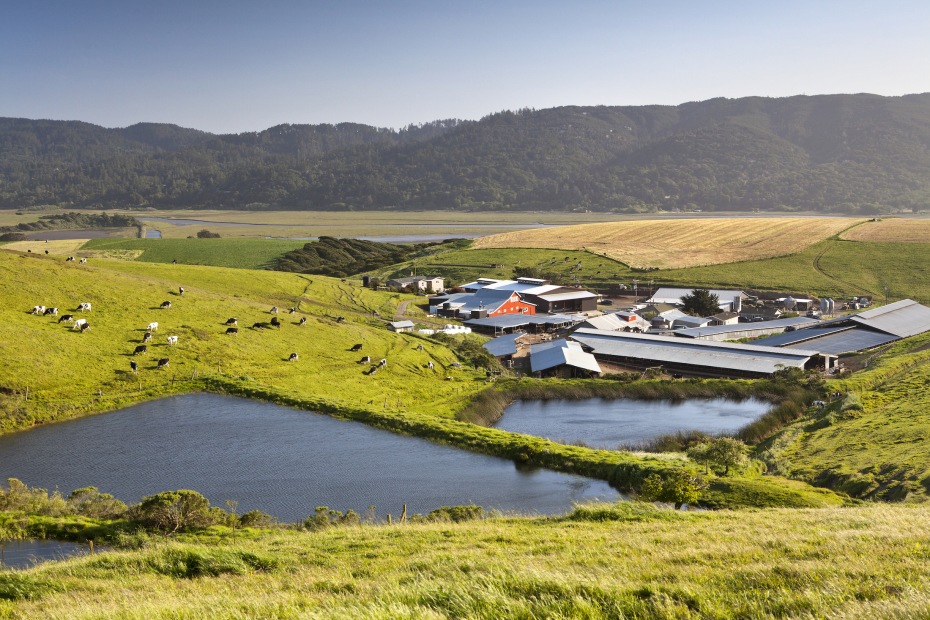 Point Reyes Station
Just off Highway 1, and butted against the national park land, find the small, Marin County town of Point Reyes Station. Owing its name in part to the North Pacific Coast Railroad that once passed through, Point Reyes Station was a buzzing blue-collar community and a comfortable stop for many on the way to timber country in the Russian River area. Today the Station is a quaint, walkable downtown lined with a few eateries, shops, and art galleries.
As a community of active dairy farms, the area boasts an abundance of outstanding cheesemakers. Stop into the increasingly popular Cowgirl Creamery at Tomales Bay Foods to sample some outstanding artisanal cheeses. The helpful cheesemongers guide curd newbies and die-hard aficionados alike through various samples, almost guaranteeing a wedge purchase—or two. While best known for the scrumptious Mt. Tam triple crème, Cowgirl also has the occasional new wheel, such as the Hop Along semi-firm cow's milk cheese washed in organic apple cider, and seasonal releases (a rich and creamy wheel wrapped in wild nettle leaves harvested by Paradise Valley Farm in Bolinas or dusted with different toppings like red pepper flakes or a mix of flower petals). Pick up some picnic accoutrement—crackers, cured meats, and the like—or grab something to-go from the café, like a delicious cheese toasty with mustard, sautéed onions, and gooey Cowgirl cheese melted atop thick-cut levain.
While it's a no-brainer to casually taste and eat cheese in its various forms, you can also learn how it's made a few miles north of town at Point Reyes Farmstead Cheese Co. In addition to learning about the cheese-making process and enjoying a guided tasting, the farm tour lets cheese lovers roam the grounds to meet the herd, discover the history of the farm, and learn about Point Reyes Farmstead's sustainable farming practices. For even more gastronomic discovery, check out the creamery's culinary and education center, The Fork, for hands-on cooking classes, farm dinners, fermentation classes, and more. (All farm tours require a reservation. Visit the website for more details.)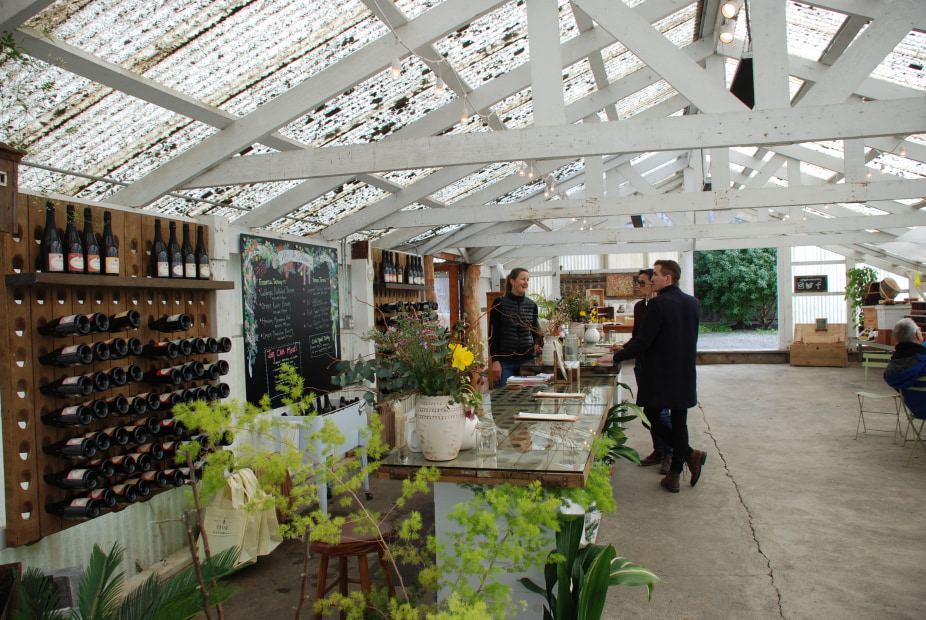 If you're looking to do a little more grazing, wander the main part of town for some light bites such as homemade baked goods and a cup of joe from Fort Bragg's Thanksgiving Coffee Company at Bovine Bakery (they have gluten-free and vegan options, too). Or for something a little different, but just as tasty, grab a cone of buffalo milk gelato soft serve at the deli in Palace Market. For less than two dollars, ice cream connoisseurs can choose from vanilla, chocolate, or a swirled combo. Or find a more substantial sit-down meal at local favorites Cafe Reyes, Sidestreet Kitchen, or Osteria Stellina.
A fun and unexpected detour on your eating journey lies at Heidrun Meadery, a small operation producing some spectacular champagne-style mead. For those unfamiliar with the buzzed beverage, mead is a fermented honey drink that can be brewed in a variety of ways similar to cider and beer or sparkling wine. Pop into the small greenhouse at the back of the property for a flight to taste the terroir of the different kinds of honey used in making the sweet-and-dry suds.
When your palate needs a breather, a shopping spree might suffice. Stop by homey Toby's Feed Barn—a general store with shelves packed with goodies ranging from jewelry to snacks and cookbooks. Be sure to take a peek in the back of the store for a surprising art gallery that features local artists' work. (Toby's also operates a seed shop and open-air coffee stand located on the side of the main general store.) For more unusual wares, peruse Vita Collage's collection of beeswax candles and colorfully patterned throws, or Captain Okō for artisan- and sustainably-made designs and goods.