Need a deep breath in your busy life? A road trip to Tomales Bay is just the thing. The area indulges visitors with luscious cheese, migrating whales, moss-draped oaks, rolling green hills, salty-fresh oysters, and windswept seashore. Roughly 50 miles north of San Francisco, this slim, marshy inlet is surrounded by some of the most peaceful, stress-soothing scenery in Marin County—not to mention the whole of California.
Slow your pace in Point Reyes.
The de facto gateway to Tomales Bay, frontier town Point Reyes Station was once a major stop on the now-defunct North Pacific Railroad. These days, Point Reyes is home to the Tomales Bay Foods emporium, where you can shop for the picnic goods of your dreams, from fresh salads and local olives to still-warm loaves from neighboring Brickmaiden Breads. If you're still not sated, stroll a block over to Toby's Feed Barn, which sells yet more gourmet products, heirloom seeds, strong coffee to go, and even bales of hay.
Across the street from Toby's, Cabaline Country Emporium & Saddlery (look for the horse's head) is a general store where you'll find everything from camping gear to an epic array of cowboy hats. For an even headier experience, browse the tomes at Point Reyes Books and appraise the local artwork, crafts, and jewelry at Leona's.
To stretch your legs more than tiny downtown Point Reyes Station allows, head a mile north on Highway 1 to the Tomales Bay Trailhead. You're likely to see Holstein cows and shorebirds—but dogs are not permitted—on this 2.5-mile loop, which leads to the marshy and often muddy Tomales Bay Ecological Reserve.
If you're thirsty afterward, try a taste of the sparkling meads at nearby Heidrun Meadery, where you can also explore a buzzing bee garden. Back in town, carb-fuel the next leg of your journey with a stop at Bovine Bakery for hearty pastries, calzones, and pizza.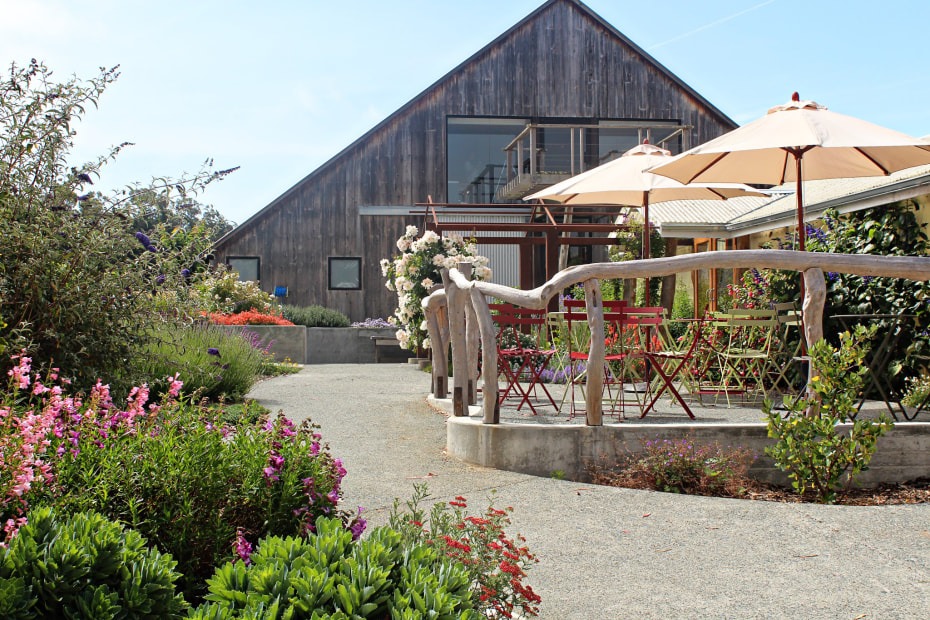 Continue northwest to Inverness.
The bayside community of Inverness was a popular summer getaway for San Franciscans between the late 19th-century through the early 1930s, and again in the decade after World War II—and all these years later, it's still a lovely place to visit.
While driving along Sir Francis Drake Boulevard, the main drag, keep an eye out for two striking local landmarks: a 19th-century clapboard boathouse emblazoned with "Launch for Hire," once the hub for steamboats that ferried summer visitors to their bay-view cabins; and the onion-domed Lipnosky's Dacha, a faithful reproduction of a Russian seaside summer home that's closed to the public.
One of the best ways to experience Inverness is from a kayak on Tomales Bay, rented from Blue Waters Kayaking for increments lasting from two hours to two nights. You can paddle on your own to explore the wetlands or join a guided adventure like the three-hour, nighttime North Bay Bioluminescence tours (various dates year-round, from $174 per person over 13), which lead you to blooms of phosphorescent plankton only visible beneath the water's surface on moonless nights.
Back on land, Tomales Bay State Park is a popular daytime spot for bayside beaching, hiking, and picnicking. Heart's Desire Beach entices with its calm, shallow water and golden sand, but on sunny days, its adjacent parking lot ($8 per-vehicle entrance fee) often fills up before noon. In this event, you can park for free at the Jepson Trailhead (above privately-owned Shallow Beach) and hike 1.5 miles north to Heart's Desire. The Jepson Trailhead also joins the Johnstone Trail to form a three-mile loop that passes the Jepson Memorial Grove, one of the last virgin groves of gnarled, feathery Bishop pines in California.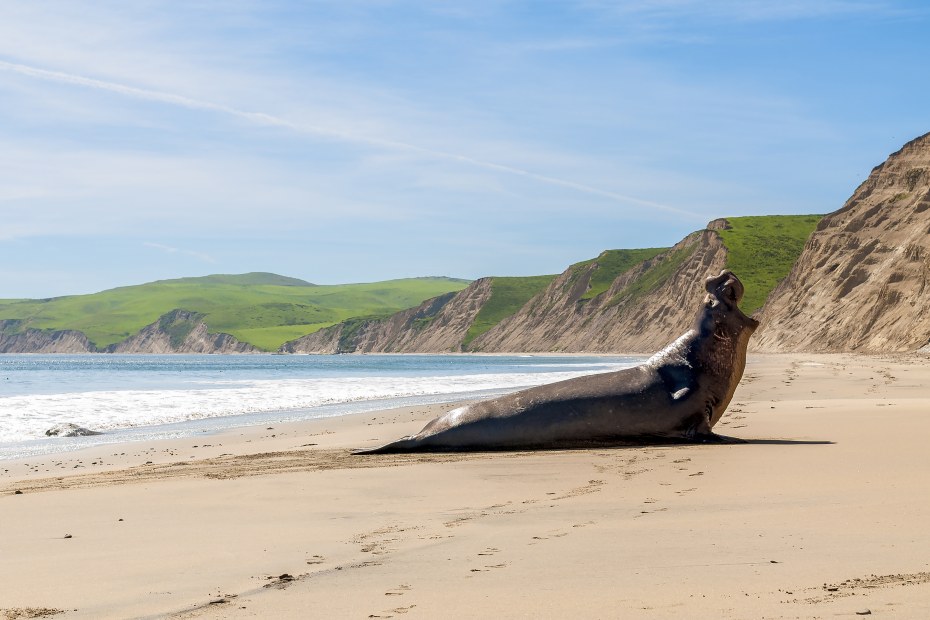 Explore the shore.
Spanning 53,000 acres, the Point Reyes National Seashore is an almost impossibly green, undulating landscape of fiercely protected farmland studded with groves of oaks and ringed by wild, driftwood-strewn coastline. About 85 different types of mammals live in the park, including bobcats, badgers, coyotes, foxes, and dairy cows. More than 50 percent of America's bird species also nest here, so keep an eye out for eagles, owls, cranes, and tufted puffins when exploring the park.
Seven minutes south of Point Reyes Station, the Bear Valley Visitor Center offers natural history exhibits, a well-curated bookstore, and spot-on travel advice. Consult their full map of the park, or, if you'd prefer to hand off the driving for a while, arrange for a five-hour naturalist-led private tour of the park via Point Reyes Tours.
Mid-January to mid-March, and late April to early May, the park's seashore is an enormously popular destination for to spot migrating whales and elephant seals. The best vantage point is at the south end of the shore, generally from the 35-foot-tall Point Reyes Lighthouse. Two nearby spots also offer sweeping views of the migration action: the Elephant Seal Overlook above Drake's Beach and the promontory of Chimney Rock at the end of the one-mile Chimney Rock Trail.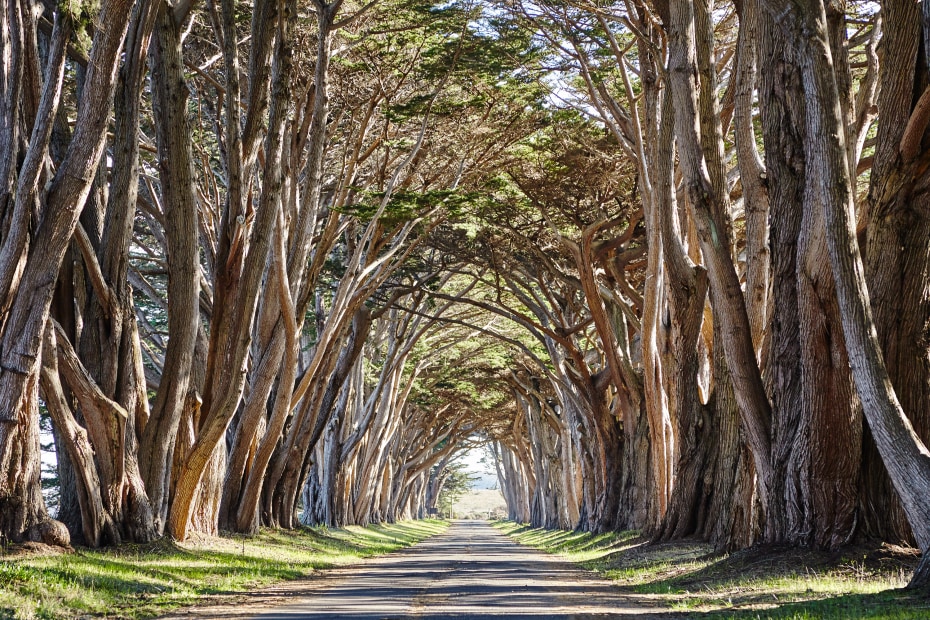 Heading north, the scenery is uniformly stunning, but try not to miss a few key spots. Halfway between Tomales Bay State Park and the seashore, the Instagram-friendly Cypress Tree Tunnel—a dramatically arching stand of Monterey cypress trees—lines the road to the park's North District Operations Center. Back on the coast, Abbott's Lagoon is actually two lagoons surrounded by sand flats and driftwood, where you can do some of the park's best birdwatching. Reachable from a half-mile dirt trail, Kehoe Beach is known for its rocky bluffs, wild surf, and sand dunes.
At the northernmost end of the Point Reyes National Seashore, hundreds of feet above the Pacific, the 9.5-mile-long Tomales Point Trail is a workout for your body and a feast for your eyes. Starting at the end of Pierce Point Road at the Historic Pierce Point Ranch, the hard-packed trail wends through a tule elk reserve and seasonal profusions of wildflowers; late March to late April is peak for deep-blue wild irises.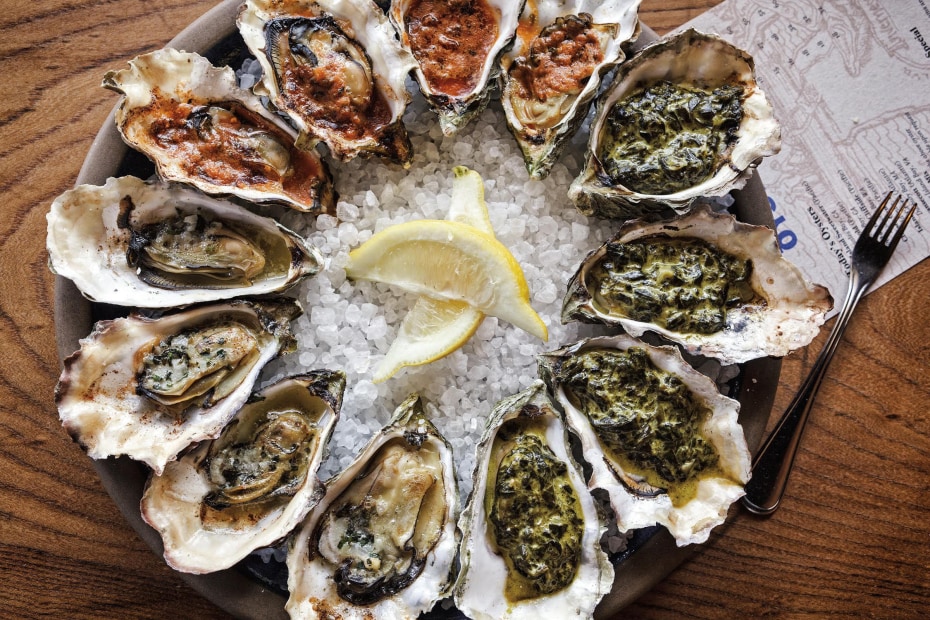 Taste fresh, local oysters.
Along Highway 1, the eastern shore of Tomales Bay is a real pearl—especially for oyster fans. On weekends, head to Tomales Bay Oyster Company (Friday, noon-5 p.m.; Saturday and Sunday, 9 a.m.-5 p.m.) to stock your cooler with local oysters, sauces, ice, and shucking tools and get cracking at one of the bay's parks or beaches.
If you'd rather have a pro do the shucking, swing by The Marshall Store, where you can enjoy your repast at rough-hewn tables set outdoors beside the bay. In addition to oysters served in myriad ways, you can tuck into fish tacos, clam chowder, and smoked-meat sandwiches. Look for dungeness crab, in season November through June.
Sourcing its bivalves from the 250-acre Leali Ranch in tiny Marshall, the Hog Island Oyster Co. offers its shellfish to go, a picnic area for shuck-your-own feasts, and the Boat Oyster Bar, where you can belly up to outdoor, communal tables and pair fresh or grilled oysters with wine, beer, local cheese, and seasonal fare. Reservations are required for the picnic area and the bar.
Originally opened bayside in 1948, Tony's Seafood underwent renovation in early 2019. Helmed by Chef Matthew Shapiro of Hog Island Oyster Co., Tony's oyster preps include BBQ and jalapeño, as well as a fried oyster po'boy sandwich.
What to Expect if You Go
In any season, the Tomales Bay area tends to be 10-15 degrees cooler than the rest of Marin County, largely due to strong winds and fog from the Pacific. Mornings can be chilly (35-45 degrees Fahrenheit), and when it's overcast, short bursts of rain are common. For both comfort and safety, bring an extra layer for warmth, closed-toe shoes for trail hiking, and some seasonally appropriate raingear to this beautiful swath of Northern California.