Best known as a wine destination, Sonoma County offers enough opportunities for excitement and relaxation to fill a year's worth of weekends. Starting 30 miles north of San Francisco's Golden Gate Bridge, this food and beverage mecca has 22 cities and towns, California's second-longest river, 11 state parks, one eponymous lake, towering redwoods, and about 50 miles of Pacific Ocean coastline spread among some of the most beautiful back-road drives in the West.
Where to Taste Wine in Sonoma County
Sonoma County wine country is divided into 18 American Viticultural Areas (AVAs), each offering unique soils and terrain that encourage specific grapes to grow well, including pinot noir, chardonnay, and zinfandel. There are 425 wineries throughout the county, so it's ideal to arrive thirsty.
The Petaluma Gap AVA was named in December 2017, and is known for light-bodied pinot noir, crisp chardonnay, and syrah. You'll find downtown tasting rooms for small-lot wineries like Adobe Road, as well as countryside spots like Keller Estate.
Many of Santa Rosa's wineries are found off the River Road exit of Highway 101. Zinfandel queen Carol Shelton pours her wines in a small industrial park off Coffey Lane. Bucolic Olivet Lane is lined with wineries such as DeLoach, which has a huge veggie garden and friendly sheep. Family-owned Joseph Swan shares its small-lot pinot noir and chardonnay in a rustic cellar set beside its vines.
The Sonoma Valley's Highway 12 is dotted with miles of big-name wineries like Chateau St. Jean, St. Francis, and Landmark, as well as small producers like tasting-room neighbors En Garde and B. Wise.
Sonoma Plaza is surrounded by tasting rooms, including those for WALT Wines (pinot noir), Bedrock Wine Co. (old-vine reds), and Sojourn Cellars (pinot and cab). If you're a bubbly fan, don't miss Sigh, a bar dedicated to sparkling wines and champagne.
Along Sebastopol's Gravenstein Highway (aka the 116), don't miss Merry Edwards' legendary pinot and sauvignon blanc; neighboring Red Car, known for rosé of pinot noir, as well as chardonnay and syrah; and Dutton-Goldfield, which focuses on coastal-vineyard pinot noir.
At the heart of Sonoma County, the Healdsburg Plaza area is home to dozens of tasting rooms, including Idlewild (Piemontese varieties like barbera), Cartograph and Siduri (pinot noir), JCB (sparkling wine and Bordeaux-style blends), and Stonestreet (cabernet sauvignon). Street parking generally gets you three free hours.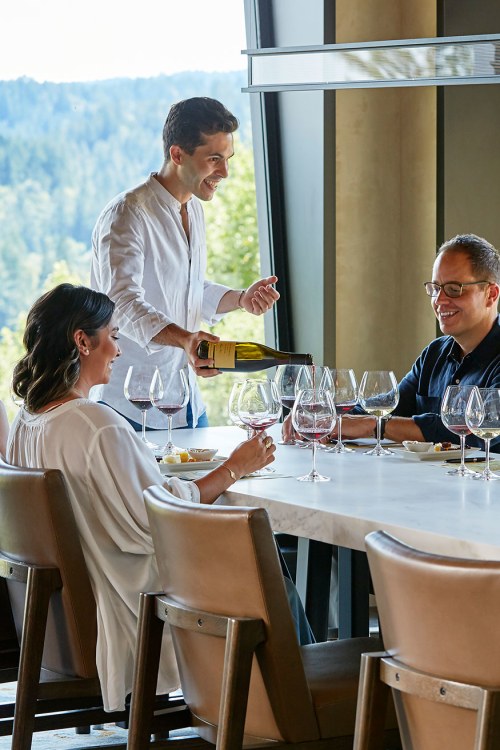 South of Healdsburg's downtown, gorgeous winding Westside Road is dotted with Russian River Valley favorites like garden-rimmed Rochioli (pinot, chardonnay, and sauvignon blanc). Just south of Wohler Bridge, enjoy the pinot noir at Moshin Vineyards and appointment-only Gary Farrell.
North of downtown, the Dry Creek Valley is known for zinfandel and Rhône-style varieties like grenache and syrah. Dry Creek Road is lined with wineries, including small-production Kokomo, Papapietro Perry, and Amphora, all found at the Timber Crest Farms collective. Short side roads lead to gems like the sprawling Preston, which offers Rhône-style wines, acres of vineyards and gardens, and a farm shop.
A few exits northeast of downtown Healdsburg, the Alexander Valley is Sonoma County's best source for cabernet sauvignon. Highway 128's dozen or so wineries include Medlock Ames, where you can enjoy Bordeaux-varietal wines on a shaded back patio set beside edible gardens.
More resources: To find even more Sonoma County wineries, check out Sonoma Wine's rundown of winegrowers in AVAs like the Russian River Valley and Dry Creek Valley, as well as North Sonoma County's Wine Road.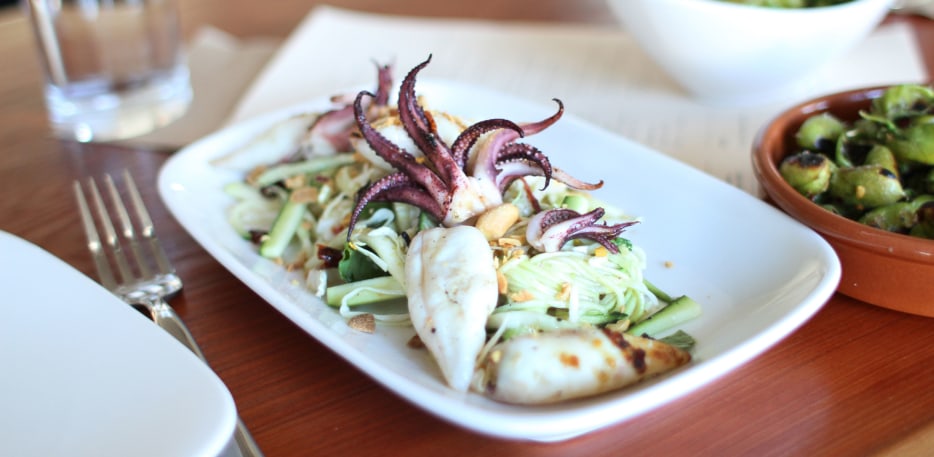 Where to Eat in Sonoma County
Love stuffing your face with impossibly fresh produce and farm-to-table cuisine? Sonoma County should be on your road trip to-do list, since the pursuit of locally sourced food is essentially a sport here.
In downtown Petaluma, indulge in the farm-fresh and baked-good glory of Della Fattoria, which makes just about everything on its plates in-house. If you're gluten-free (or even if you're not), you can safely enjoy pizzas, sandwiches, and even a rich cassoulet at cozy Wild Goat Bistro.
Downtown Santa Rosa is full of lively eateries like Belly Left Coast Kitchen & Tap Room, which focuses on produce from the five Pacific states. In the funky, quiet South A Street Art District, The Spinster Sisters serves farm-and-sea-to-table meals.
Around Sonoma Plaza, grab a breakfast pastry at Basque Boulangerie, stock your picnic basket at the Sonoma Cheese Factory, and luxuriate over a snack or meal at The Girl and the Fig, where the seasonally-influenced menus change every Thursday.
Outside downtown Sonoma, don't miss the freshly and creatively made tacos at laid-back El Molino Central and Mexican paletas (ice cream bars) at La Michoacana. During a day of Highway 12 tasting, find your bliss at Boxcar Fried Chicken & Biscuits, open for lunch Monday-Friday.
Enjoy a daytime meal or afternoon snack at Sebastopol's Pascaline, a vineyard-side patisserie and café owned by two French chefs. And know that while The Barlow's farm-to-table Zazu Kitchen is famed for its bacon caramel popcorn, nearby Lowell's homemade pastas can be just as addictive.
Near Gravenstein Highway wineries in Graton, casual Willow Wood Market Café serves three daily meals of farm-fresh comfort food, while Underwood Bar & Bistro is ideal for lunches and dinners of seafood, burgers, and wine-industry-people watching.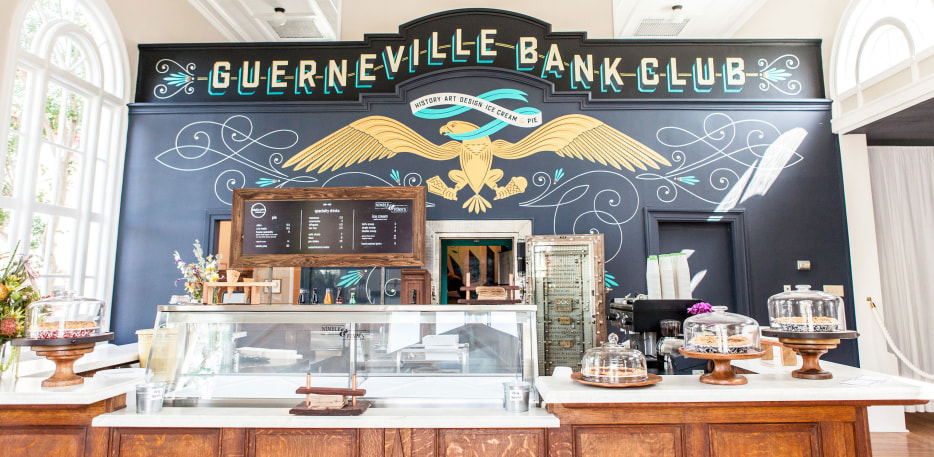 In downtown Guerneville, try to snag a table for lunch or dinner at seasonal California bistro Boon Eat + Drink, or load up on inexpensive, authentic tacos at the Guerneville Taco Truck in the Safeway parking lot. Then treat yourself to artisanal ice cream at Nimble & Finn's, set in the former Guerneville Bank building.
In downtown Healdsburg, enjoy beignets with breakfast on the front porch at Cajun-style The Parish. At dinner, tuck into creative California cuisine on Barndiva's enchanting back patio that feels like dining in a cozy wine country garden.
While wine tasting on Highway 128, stop into the Instagram-friendly Jimtown Store, which specializes in boxed picnic lunches you can take with you. And in the center of 60-yard-long Geyserville, Sonoma County's tiniest town, Diavola makes its own lauded salumi, pizzas, and more inside an 18th-century storefront with a tin ceiling.
Want to take a taste of Sonoma County home with you? Visit the year-round farmers' markets in Sonoma (Fridays), Santa Rosa (Saturdays), and Sebastopol (Sundays).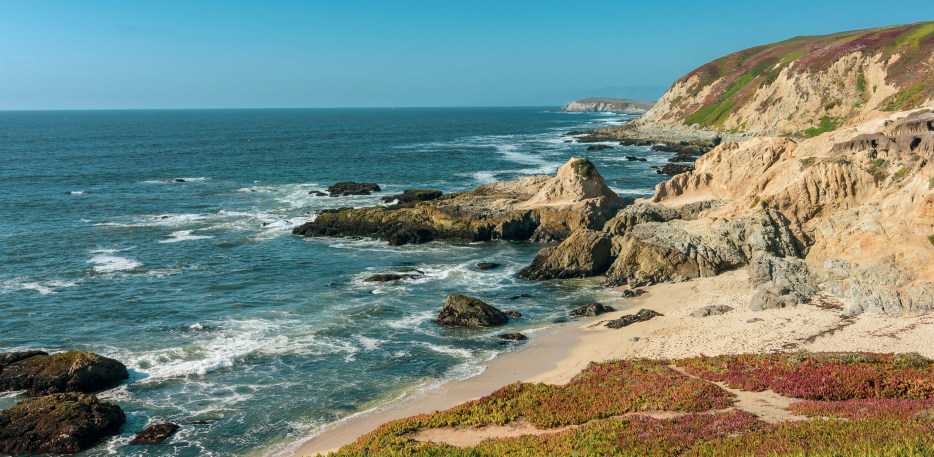 Outdoor Adventures in Sonoma County
Sonoma County is home to 11 state parks, so you're spoiled when it comes to getting outdoors. Popular spots include Sonoma Valley's Jack London State Historic Park, which features 29 acres of hiking trails and the writer's former home. Guerneville's Armstrong Redwoods State Natural Reserve has a self-guided grove stroll that includes the 1,400-year-old-plus Colonel Armstrong Tree.
Get out on the 110-mile-long Russian River, the longest river in Sonoma County. Take gently to the water with Burke's Canoe Trips in Forestville or book a fishing trip with King's Sport & Tackle in Guerneville, keeping an eye out for river residents like turtles, blue herons, and white egrets.
Explore the county's roughly 50 miles of ocean coastline, including Sonoma Coast State Park that stretches north from Bodega Bay to the small town of Jenner. Watch skilled surfers conquer the waves at Salmon Creek Beach, stroll the sand at Goat Rock Beach with an eye out for whales, and go tide pooling on Shell Beach.
Geyserville's 2,700-acre Lake Sonoma offers its own 50 miles of shoreline, with hiking trails and picnic spots. The marina at this man-made reservoir is open year-round and rents a wide variety of watercraft, including canoes, Wave Runners, and ski boats.
Many of Sonoma County's 120 small farms belong to an organization called Farm Trails, and its seasonal-events calendar lets you know when they're open to the public. Escape the city and learn how honey and cheese are made, watch sheep get sheared, pet mini goats and horses, and wander through fruit orchards and fields of flowers.
If you truly want to get above it all, hop aboard a hot air balloon with Up & Away Ballooning, with hour-plus flights for 2-16 guests which include breakfast. If you prefer your aircraft to be more mechanical, cruise over the county with Butterfly Aviation on a helicopter ride to Jenner's rugged Pacific Ocean coastline, ending with a Healdsburg wine tasting—and a greater sense of the county's unspoiled landscapes.
Weather in Sonoma County
Year-round, you'll find cool, foggy mornings, highs of 50-80 degrees, and evenings that rarely dip below 50 outside of winter. Rain is uncommon in late spring, summer, and fall. Whenever you go, be sure to pack layers, sturdy walking shoes, and your sense of adventure—you're bound to use them all.