San Diego has long reigned supreme as California's top craft beer destination, but Santa Rosa is quickly gaining popularity. From hoppy IPAs to smooth Porters, there is something for every taste at these breweries.
Fogbelt Brewing Company
With flavorful brews and an equally delectable food menu, Fogbelt is currently my go-to brewery in Santa Rosa. Taste from a solid selection of flagship brews and a rotating seasonal list, most named after prominent coast redwood trees. I recommend the well-balanced Hyperion Red Ale with an order of pretzel bites with beer-cheese sauce. However, if you're looking for something less hoppy, the menu also includes sours, ciders, and even wines by the glass. With a kids' menu and even a menu for dogs, there's something for everyone at this brewery.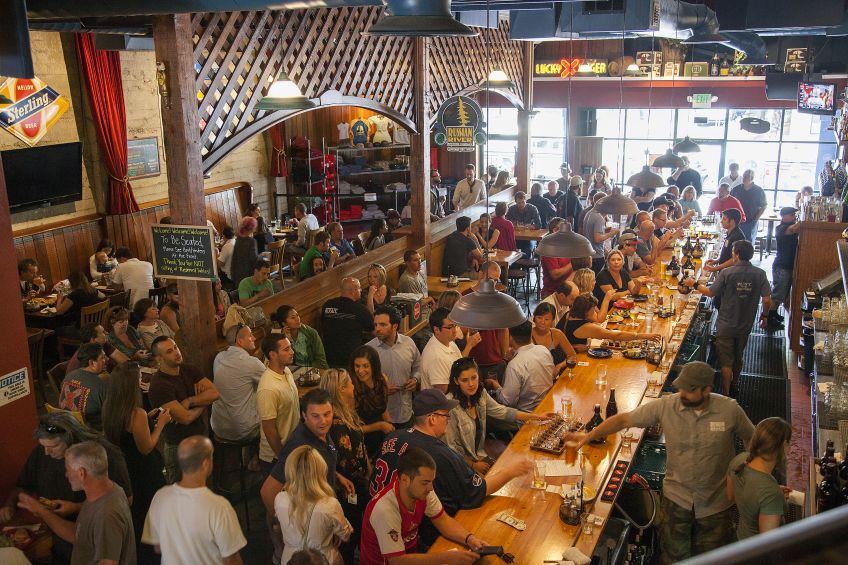 Russian River Brewing Company
I would be remiss to list breweries in Santa Rosa without mentioning Russian River Brewing Company. Known worldwide for Pliny the Elder, its revered Double IPA, you'll see the line of eager customers stretching down Fourth Street before you see the front door. But as fans know, this beer is definitely worth the wait. While most come to sample the famous Pliny, the sours are also worth noting. The exceptional Supplication and Consecration are each aged in wine barrels infusing the sours with flavors from the grapes. (And Pliny aficionados rejoice: The brewery's much larger second location in Windsor opened in October 2018.)
HenHouse Brewing Company
Having opened in 2016, the HenHouse Brewing Company tasting room is newer to the scene, but its unique beer menu garners praise. There's the Oyster Stout, brewed with whole oysters and shells from Hog Island Oyster Company, which lend a slightly briny aroma to the otherwise chocolatey brew. And the Conceptual Nightmare is just that—an imperial stout comprised of more than 50 ingredients including Mountain Dew, donuts, Doritos, and sour gummies. It sounds like it shouldn't work, but magically, it does. However, if those read a little too outside your comfort zone, fear not. HenHouse has plenty of "normal" beers on the menu, too. The industrial space also includes indoor and outdoor seating with complimentary popcorn and a local pizza truck parked outside Fridays through Sundays.
Cooperage Brewing Company
The minute you step into the industrial space outfitted with dart boards, foosball tables, shuffleboard, and board games, it's easy to see that Cooperage Brewing Company is all about fun. That spirit extends to the beers, too. A constantly rotating selection of hoppy and Belgian-style ales features cheeky names, such as My Wittle Ponies, a citra hops Belgian wheat, or the sour blonde Airway to Heaven. You'll have a new beer to try—and giggle over—each time you walk in the door. There's no kitchen, but hungry imbibers will find snacks for sale, and there's often a food truck parked out front.
Third Street Aleworks
Third Street Aleworks is the place you go to watch a game, eat a full dinner, and grab some good beer. The most diverse and lengthy food menu on this list, choices range from fish tacos to meaty shepherd's pie. The beer list is broken down into three categories: standard (always on tap), occasional, and seasonal or specialty. While there are a plethora of options available, be sure to try the gold-medal winning Blarney Sisters' Dry Irish Stout.
Moonlight Brewing Company
This no-frills brewery is all about the beer. Situated in an industrial warehouse, Moonlight does things the old-fashioned way—without computers—using purely sight, smell, and taste to determine when a beer is ready for its debut. But make no mistake: There's nothing dated about the brewery's cult favorite, Death and Taxes. The black lager garners rave reviews for being deceptively light. It drinks like a crisp glass of iced coffee.