Look closely as you travel on Highway 128, the winding ribbon connecting Highway 101 with California's coast, and you'll notice Bay Area drivers slapping their foreheads: How have I never been here? Anderson Valley works hard to preserve the feeling of seclusion responsible for its peaceful, timeless vibe—the town of Boonville even had its own language for a while. But once you're here, the vineyards, teeny towns, and rolling hills deliver a thorough welcome. A tour of the region's trees alone is worth it, as palms give way to lichen-draped oaks, then ghostly eucalyptus and finally massive redwoods—all in 60 miles. The so-called "tunnel to the sea" that winds through misty old-growth forest? Says Pat Daniels, the longtime tasting-room manager at Navarro Vineyards: "For me, that's church." 
Downtown Cloverdale
This small, old-fashioned town just off Highway 101 north of Geyserville, seems disconnected from the more touristy realms nearby. No need for a map here: Stroll the hushed streets, pop into an art gallery, or grab a burger down the block from the tiny movie theater and take a walk along the river that the highway follows to the coast. 
Anderson Valley Brewing Company
Just before entering Boonville, about 27 miles northwest on Highway 128, take a right onto Highway 253 East/Boonville-Ukiah Road and you'll see the brewery immediately on your left. A town institution, it offers something for hops lovers in a region mostly known for wine. Throw down a picnic blanket, play 18 holes of disk golf, or say hello to the goats on the brewery's 30-acre ground.
The Other Place
You may miss the turnoff the first couple of times, and that's a lovely thing. Less than half a mile beyond the brewery on Highway 128, a narrow, unpaved road winds uphill for a mile until you're in the middle of nowhere. Then you see a modern cottage, your home for the night. The Other Place rents four airy dwellings, all dog friendly (with tiled floors). Pull up to the wood-burning stove, uncork some local wine, and marvel at the expansive views. Cottages come with full kitchens, but if you don't feel like cooking, Lauren's is close, casual, and good. For something a little more out of the ordinary, see what the Boonville Hotel's Table 128 is cooking that night.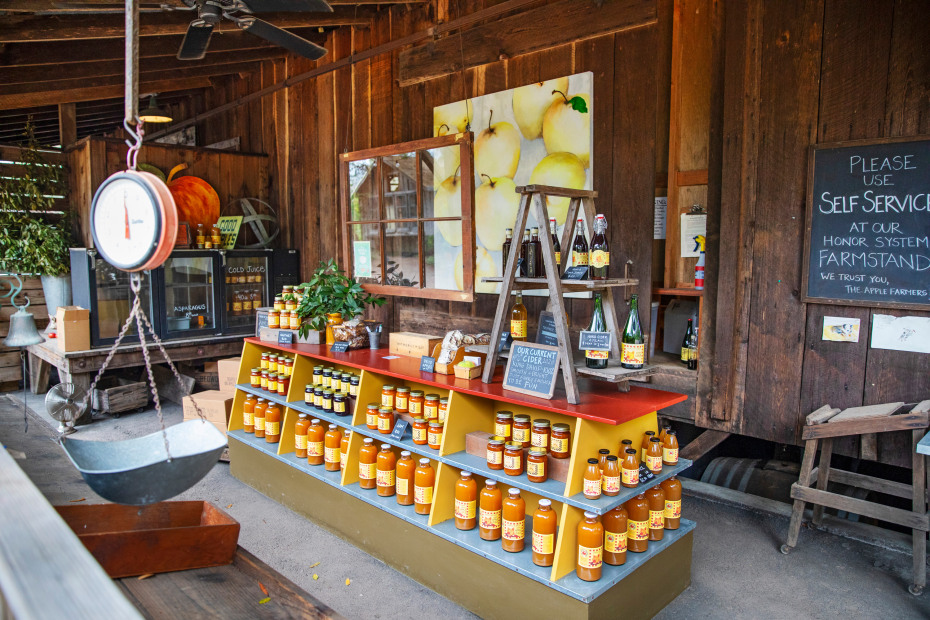 The Apple Farm
Three miles beyond Philo, turn left onto the Elk−Hendy Woods State Park road; you'll come to the Apple Farm on the left at the bridge. The difference between this carefully designed operation and your garden-variety orchard? Sustainability and organic, biodynamically grown apples. If you're just passing through, stock up on cider or take home a bushel of Esopus Spitzenburgs. (They were Thomas Jefferson's favorite.) If you have more time, sign up for weekend-long cooking classes, stay in the folksy but spacious guest cottages, and roam the grounds.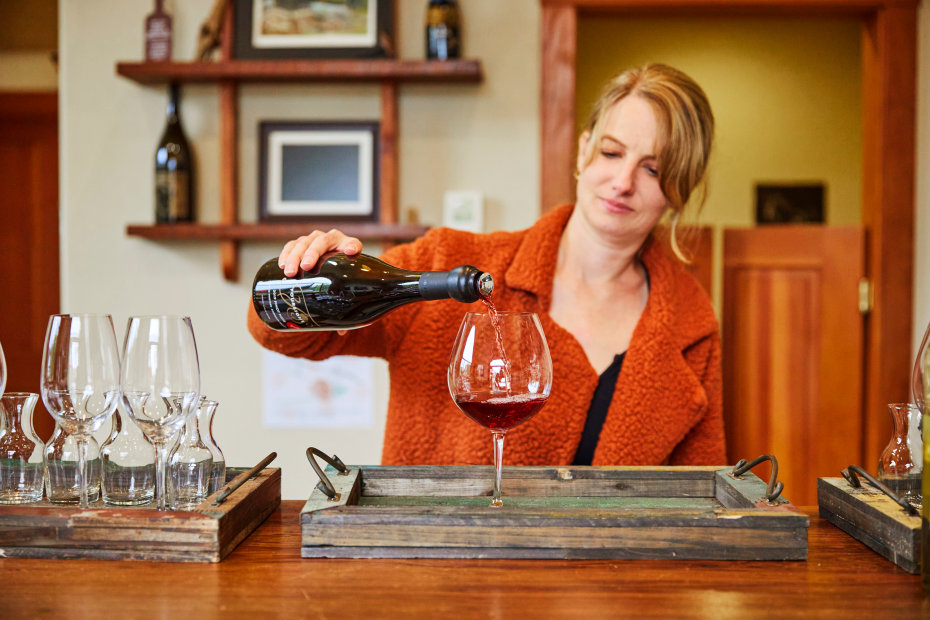 Wine Tastings
With a few exceptions, the couple dozen vineyards in Anderson Valley aren't the sort you can name-drop. That's a good thing. Compared with the giant operations elsewhere in Northern California, the business of making wine in Mendocino County is intimate and unpretentious—pinot on a human scale. At wineries like Jim Ball Vineyards, Foursight Wines, Toulouse Vineyards, Roederer Estate, and Navarro Vineyards tastings are cheap or free and refreshingly casual. No need for reservations—just meander along Highway 128 until you like the look of a place. 
Albion River Campground
All good things must end, and Highway 128 does so abruptly, just minutes from the edge of the continent. Where it stops, Highway 1 picks up, so continue north, up a ridge, until you're peering down at the Pacific. Push on three miles more, crossing the Albion River Bridge, then take an immediate right. Down a short road you'll find the Albion River Campground, a picturesque, pet-friendly RV resort and boat launch. The site was once home to a thriving mill town complete with railroad, post office, hotel, and a steady stream of lumber schooners awaiting freight just offshore. Nine decades after the last mill closed, you can still poke around this quirky little piece of land and explore the Albion River by kayak or canoe.