Oregon's Highway 101: From Newport to Florence
It's barely 50 miles from Newport to Florence along the Pacific Coast Highway, but only NASCAR aspirants would blow by the tide pools, seafood shacks, and pinch-yourself vistas in anything less than a day. Fuel up on fresh fish and chips at Newport's Local Ocean Seafoods, and point the car south.
Just across Yaquina Bay Bridge, you'll find the Oregon Coast Aquarium with its Passages of the Deep exhibit. Explore habitats off the Oregon coast in a journey through three acrylic tubes and get face-to-face with sharks, rockfish, and bat rays.
Eight miles beyond the bridge (and a short detour inland), you can visit a saltwater estuary and hike five miles of trails at Brian Booth State Park. Worked up an appetite? Stop by the Drift Inn in Yachats, home of the region's best seafood chowder.
The road rears up to Cape Perpetua Scenic Area, where pullouts afford views of battered beaches and the iconic Heceta Head Lighthouse. Look below for sea lions or get a closer whiff with a 208-foot-long elevator ride down through the rock at Sea Lion Caves.
Want more? Keep driving south of Florence to visit Oregon Dunes National Recreation Area so you can see it in daylight. The dunes extend 40 miles along the seaside and have some of the planet's tallest coastal dunes—some nearly 500 feet high.
Then return to Florence and make a reservation at the Waterfront Depot to feast on crab-encrusted halibut in a chile cream sauce. —Tim Neville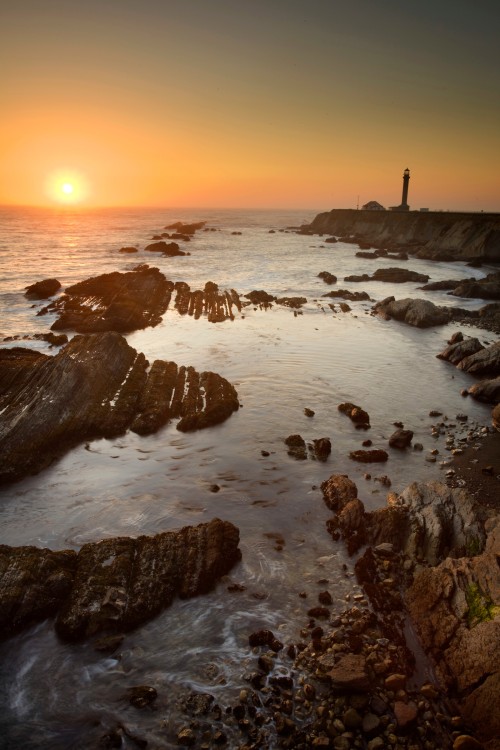 California's Highway 1: From Gualala to Fort Bragg
Brilliant sunsets, weathered barns, hillside pastures, lively arts, and redwood-fringed ocean views: This 60-mile stretch of rural Highway 1 tracing the jigsaw curves of California's coastal bluffs stirs reflection and romance.
At the Gualala Arts Center, a popular venue, you can pick up a list of its gallery exhibits, live music shows, and theater performances by artists from Mendocino's creative coast and beyond. The Shoreline Highway's curves are best savored with frequent infusions of good coffee. Fill up your travel mug at Trinks Cafe and grab a turkey sandwich with house-made cranberry sauce for the road. Thirty minutes up the coast, the 145 steps at the 1908 Point Arena Lighthouse provide a workout as stimulating as the views. In winter and late spring, watch for spouting gray whales on their regular commutes.
Farther on, wind and churning waves relentlessly nibble at the shoreline cliffs and towering sandstone sea stacks at Greenwood State Beach in Elk. Don't miss the park's visitor center with its dizzying mural of the rickety 19th-century trestle that once carried railcars transporting redwood timber to tall ships. Perched on coastal bluffs, the well-preserved clapboard village of Mendocino deserves extended exploration. Even if you're short on time, be sure to pause at the wild and lovely Mendocino Headlands State Park to marvel at the roiling surf powering through rock tunnels and spray-spewing blowholes.
Dreamy coastal stretches finally give way to the outskirts of Fort Bragg. At the 47-acre Mendocino Coast Botanical Gardens, heathers, heritage roses, and pink- and fuchsia-colored rhododendrons reign in early spring through early summer.
Buy a snack pack of smoked cheddar and some German sausage for the return drive at Roundman's Smokehouse in Fort Bragg. Or, for a savory souvenir, take home a party-size fillet of alder- and apple-smoked salmon or smoked albacore. —Deborah Franklin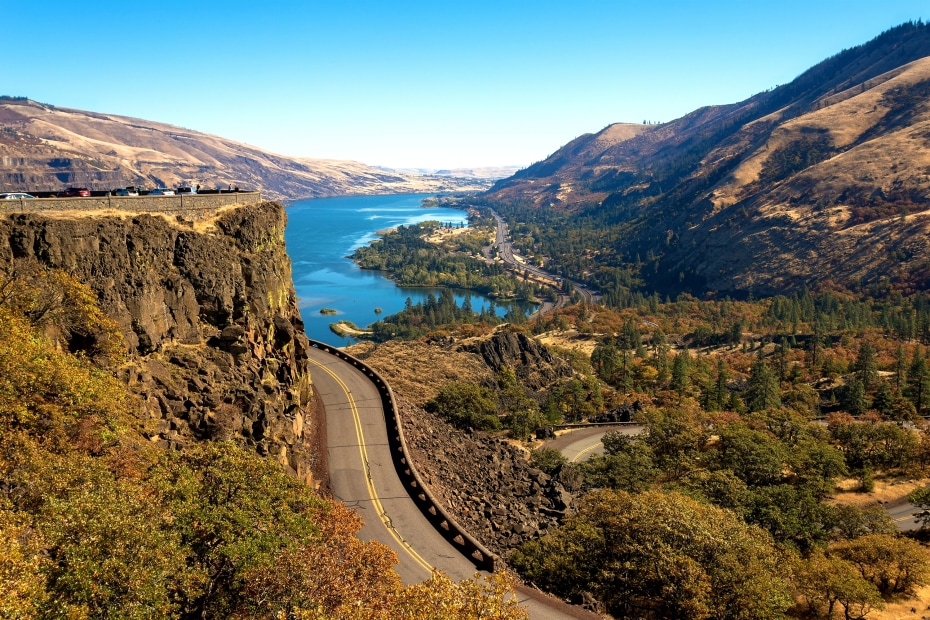 Oregon's Historic Columbia River Highway: From Troutdale to Hood River
Waterfalls plunging down sheer cliffs, and sunlight breaking through maples and firs—the Columbia River Highway packs plenty into 77 miles. Summer attracts crowds seeking shade and cool mists; other seasons allow more solitude. Whenever you visit, start by climbing the highway from Troutdale to the domed Vista House, famous for 360-degree views of the Columbia River Gorge. Next, wend your way downhill on a serpentine road.
The route flattens out at the bottom, aka waterfall central. Latourell Falls looks inviting from the car, but you'll want to walk closer. The honeycombed basalt at its base is as picturesque as the water. Drive on and the waterfalls keep gushing: Wahkeena, Horsetail, and, of course, 620-foot Multnomah. Other falls—including Punch Bowl, Ponytail, and tall but delicate Elowah—lie just a short hike from the road.
The highway merges with I-84, which heads past the Bonneville Dam to the town of Cascade Locks, where you can picnic next to the river or catch a cruise on the Columbia Gorge riverboat. Beyond that, you can explore Hood River, known for wineries, pears, and windsurfers, and The Dalles, where the lush gorge finally gives way to the dry expanse of northeastern Oregon. —Chris Woolston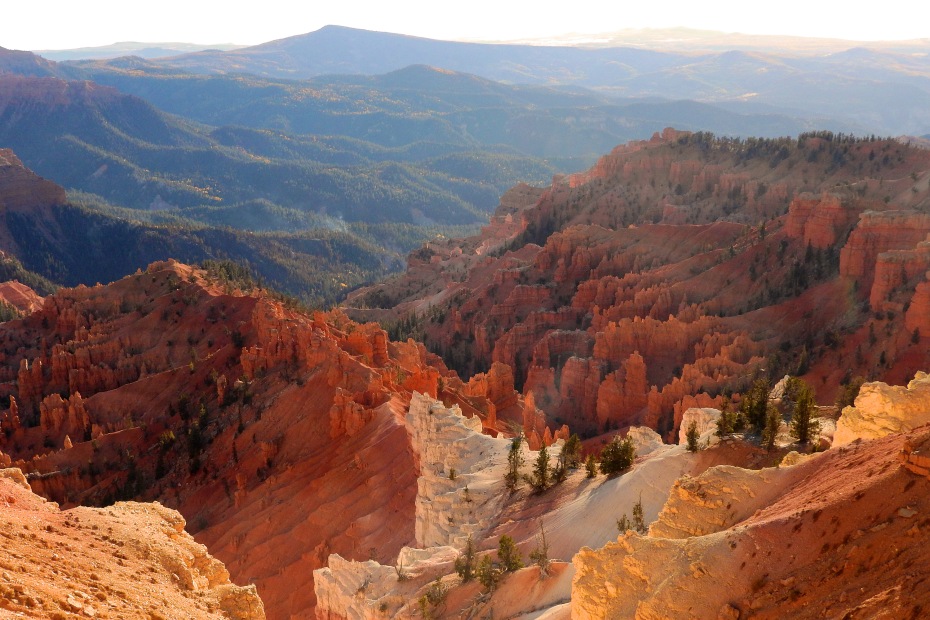 Utah's Scenic Byway 143: From Parowan to Panguitch
Southwest Utah—home to Bryce Canyon and Zion national parks—delivers big-time scenery. That's what you get on the 55-mile stretch between Parowan and Panguitch, known as the Patchwork Parkway: a lot of wow per mile. From Parowan, the road leaves the desert and climbs up the forested slopes of the Markagunt Plateau, a geologic layering of sandstone, limestone, and lava flows. Eight miles in, you can take an easy hike to Hidden Haven, where a 20-foot waterfall plunges over a red rock cliff.
A series of switchbacks takes you upward to Brian Head Resort at 9,600 feet. Against expectations, the road keeps climbing as you approach the turnoff for Cedar Breaks National Monument, a stunning three-mile-across amphitheater of red-and-orange limestone cliffs and spirelike hoodoos.
Finally, it's time to start heading downhill. The eastern side of the plateau features large meadows blending with stands of spruce and aspen. Trees thin out as you approach the notoriously fishy Panguitch Lake. Then it's on to Panguitch itself, another small town on the edge of the desert. —Chris Woolston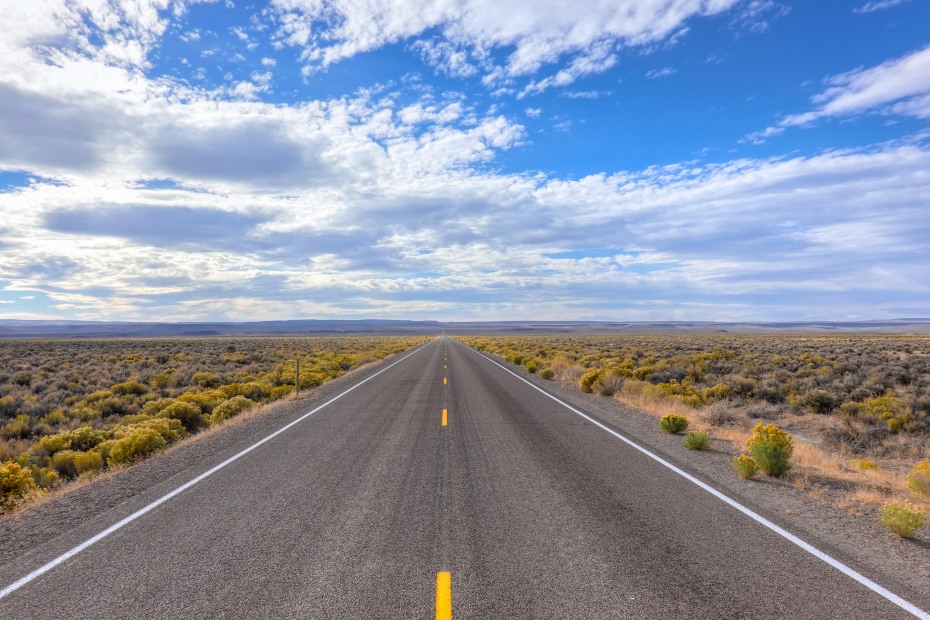 Nevada's Highway 50: From Baker to Ely
Fuel up for this trip with a plate of pancakes at Kerouac's Cafe in tiny Baker. You're about to drive 63 miles from here to Ely—a short leg of "America's Loneliest Road."
You start across a flat expanse of sage and rabbitbrush just northeast of Great Basin National Park and the rugged Snake Range. Then the highway climbs along the Sacramento Pass, where old logging roads lure hikers and mountain bikers.
The drive descends into Spring Valley, home to 66 whirring, 400-foot-tall wind turbines. After taking a hard westerly turn toward the Schell Creek Range, you'll have a good photo op of a long, straight stretch of deserted asphalt. Pass—or stop at—the antler-festooned Major's Station Bar and RV Park before climbing Connors Pass.
From here the highway drops into the Steptoe Valley, where elk gather in the fall and spring. The final haul to Ely is so quiet that the westbound lane is occasionally used for fun runs, which mostly turn into walks. That's the Loneliest Road: no traffic and no reason to hurry. —Chris Woolston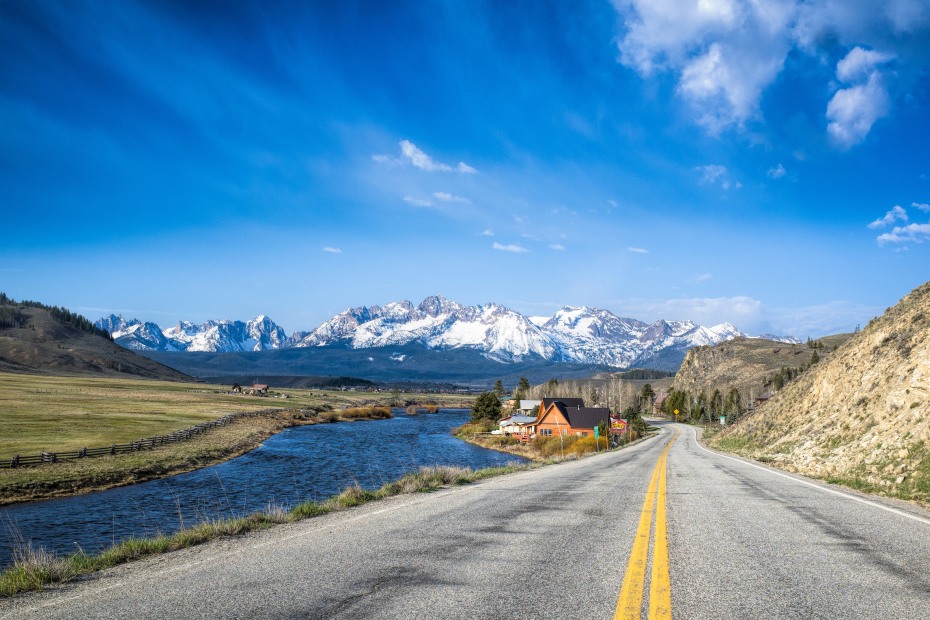 Idaho's Highway 75: From Hailey to Stanley
The 73-mile trip starts near chic Sun Valley at Hailey, known for its people-watching and intimate restaurants. The highway continues toward the trails, mountainscapes, and wildlife of the Sawtooth National Recreation Area. At Billy's Bridge, watch for mountain goats on the slopes. Consider soaking in the Easley Hot Springs pool, and afterward pull in at Galena Lodge for a Grown-up Grilled Cheese.
As you wind over the 8,701-foot Galena Summit, the Stanley Basin unfolds before you, cradling the Salmon River against a backdrop of the jagged Sawtooth Range. From here, you can hit the trails at Alturas or Pettit alpine lakes and enjoy a huckleberry shake at Smiley Creek Lodge. At Redfish Lake, a blue gem surrounded by pines and peaks, visitors can rent kayaks and paddleboats or relax on a cruise.
The town of Stanley marks the end of the drive. Still feeling adventurous? Why not raft the Salmon—a wet finish to a wild trip. —Gayle Keck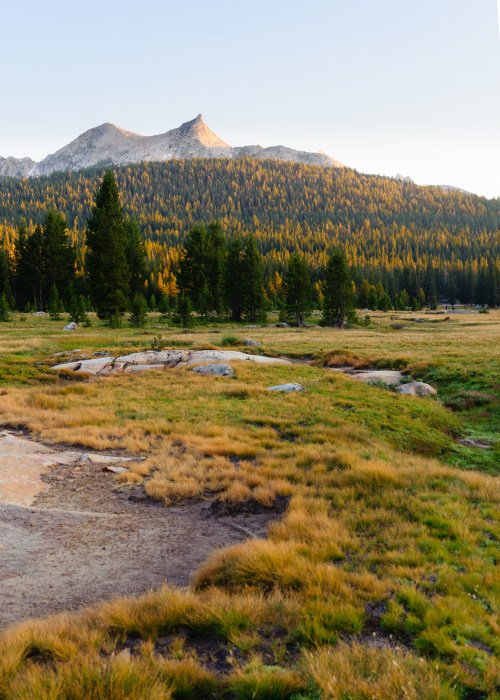 California's Highway 120: From Groveland to Mono Lake
To relish Yosemite's granite grandeur without the constant crowds, consider taking the 98-mile drive that climbs 9,950 feet from rolling foothills on the west to the crest of the Sierra, then descends to otherworldly Mono Lake.
Groveland has been provisioning miners and adventurers since 1848. These days, you can find flaky pastries and strong coffee at Mountain Sage Cafe.
As you head east up the Sierra, the hillside oaks give way to fragrant pines near the south fork of the Tuolumne River. At Rainbow Pools, a noisy 15-foot waterfall splashes bathers in a natural swimming hole. At Crane Flat, you can take a 2.5-mile round-trip walk to a group of old-growth giants in Tuolumne Grove.
From the Crane Flat turnoff, head east on Tioga Road for 30 miles, where you can view Yosemite's granite grandpappy, Half Dome, and the less famous Clouds Rest, from the panoramic view at Olmsted Point, 8,420 feet above sea level.
A few minutes up the road, pull over at Tenaya Lake, a great spot for picnics. A paved walkway on the north side provides access to wheelchairs. At 8,600 feet, Tuolumne Meadows offers fields of wildflowers, scattered lakes, and the gentle, meandering Tuolumne River.
Thirteen miles downhill from the summit, high desert awaits. Craggy mineral formations called tufa towers rise like icebergs from 760,000-year-old Mono Lake, a meeting spot for gangs of migrating birds. Human travelers are welcome too.
If you're hungry after crossing the Sierra, head next to the tiny town of Lee Vining and its small but well-stocked Mono Market, where you'll find burritos, apple strudel, guacamole, and organic produce. Take your picnic to Mono Lake County Park to eat beneath the willow trees and trek along the short boardwalk for close views of Virginia rails, American avocets, phalaropes, and other migratory birds. —Deborah Franklin