Yosemite National Park has so much to offer, it can seem overwhelming to attempt a quick trip. Schedule all of these and you'll make the most of a long weekend.
Plan a hike.
For a moderately challenging hike with rewarding views, head to Vernal Fall. Start at Happy Isles, crossing the nearby bridge to the wide, paved trail along the Merced River. It winds up through large boulders and offers occasional glimpses of the waterfall ahead―at its fullest in spring. At .8 miles, the Vernal Fall Footbridge is a great break spot, with several trailside rocks and logs to sit on while you enjoy a snack and the roaring rush of water. Then continue up the Mist Trail to the top of Vernal Fall. This challenging section includes a stone staircase with more than 600 steps, and it can be slippery. But the view from the top of the 317-foot waterfall can't be beat. From here, return the way you came or take the longer but less steep John Muir Trail, which junctions with the Mist Trail about .2 miles ahead (and also returns to Happy Isles) and has views of Liberty Cap and the back of Half Dome.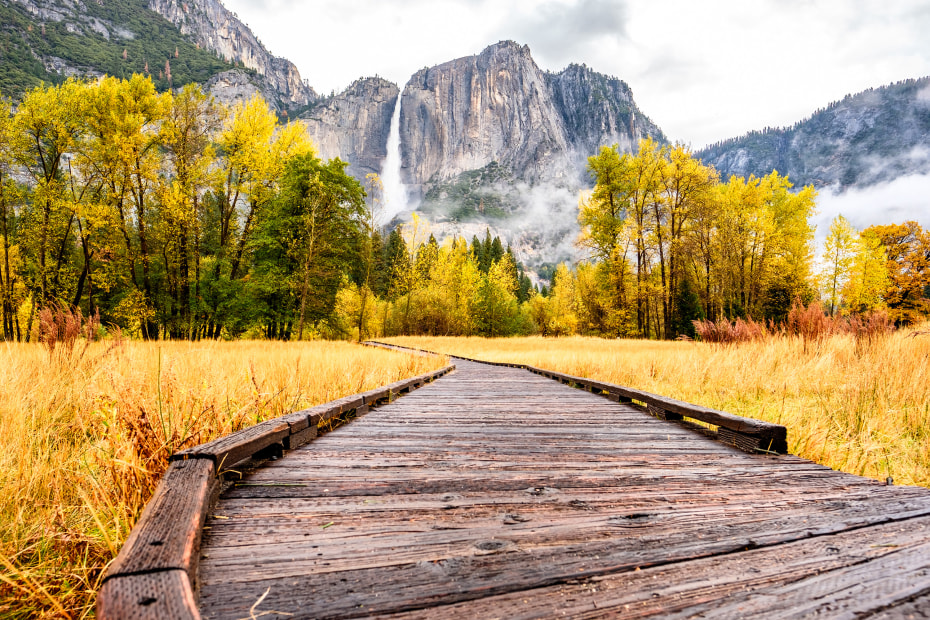 Cycle the valley.
Rent a bike at Curry Village, Yosemite Village, or Yosemite Valley Lodge, then pedal around more than 12 miles of dedicated paved bike paths in Yosemite Valley, hitting several sites with speed. For a five-mile loop, head southwest from the lodge through a scenic meadow and over bridges across the Merced River. Here you can pull off the path for an easy one-mile walk to Lower Yosemite Fall or pedal alongside cars up Northside Drive to scan for rock climbers on El Capitan (binoculars recommended). Then bike east to Curry Village for an ice cream cone before continuing on to Mirror Lake, where you can take a one-mile path to the water. (The water is only there in spring and early summer.) Afterward follow the signs to loop back to Yosemite Village, stopping at the historic Ahwahnee, the Ansel Adams Gallery, or other points of interest before returning your bike.
Take a drive.
For a bird's-eye view, drive an hour up winding Wawona Road from Yosemite Valley to Glacier Point*. From this large, walkable vista perched at 7,200 feet, you'll see Half Dome in profile, Vernal and Nevada Falls in the distance, and miles upon miles of granite half-covered in evergreen. Glacier Point is especially dazzling in the evening, with Half Dome turning a pink hue during sunset and astronomers setting up telescopes in the summer months for stargazing in Yosemite's notably dark night sky. *Glacier Point Road will be closed to all traffic in 2022 for rehabilitation and road improvements.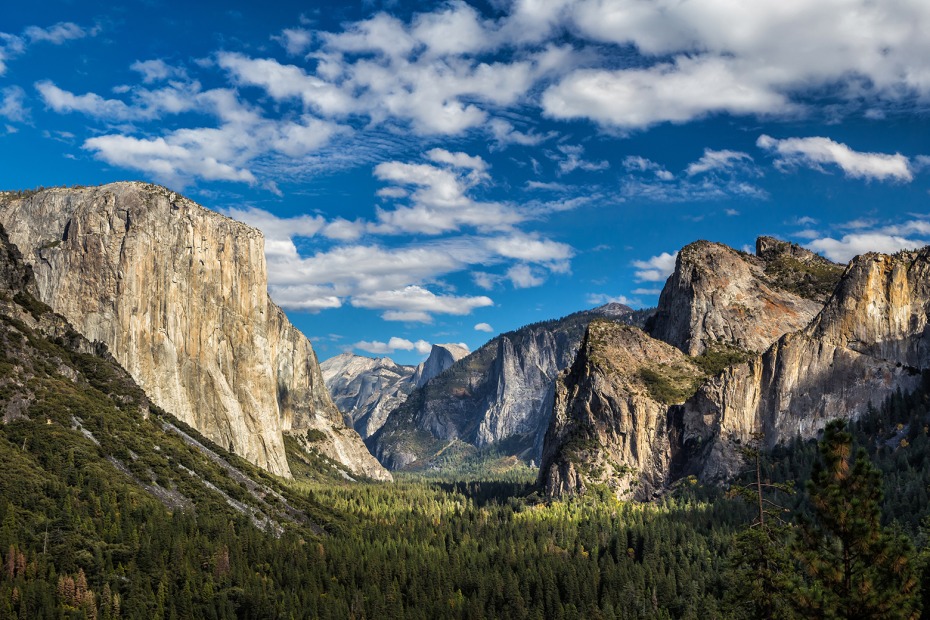 Explore new spots.
In the northwest corner of Yosemite National Park, a 45-minute drive from the valley, the Hetch Hetchy Reservoir is a beautiful destination for a wildflower hike. Park at the O'Shaughnessy Dam, which was controversially constructed in the early 20th century to provide water to the San Francisco Bay Area, and walk along the top and through a rock tunnel to the trailhead. From here, it's an easy 2.5-mile trek along the north side of the reservoir to 1,400-foot Wapama Falls. Look for lupine, monkeyflower, and California thistle along the trail. At the falls, a footbridge that spans the water offers a refreshing post-hike mist (or, depending on the water level, soak).