No season in Yosemite National Park is more exciting and full of life than spring. It's a versatile time, thanks to the park's broad range of elevation. In the valleys, mid-May means violets and verdant meadows, gentle sunshine and thunderous waterfalls. A few thousand feet up, the mountains are still shrouded in snow. To Park Ranger Kari Cobb, that kind of diversity is exactly what makes spring in Yosemite so spectacular. Not to mention that visitors enjoy the park's wonders free of summertime crowds.
Yosemite Waterfalls
One of Yosemite's most jaw-dropping features ebbs and flows with the seasons, usually peaking in May or June. Three back-to-back cascades make up Yosemite Falls, which is visible from almost anywhere in Yosemite Valley. Take them together and you've got the tallest waterfall in North America and the fifth largest in the world. But because it's fed strictly on snowmelt and rain, the show is mostly over once the snow is gone. "If you come in September, Yosemite Falls will be dry," Cobb says. "But if you're able to come in the spring, you'll see the waterfall at its peak flow."
Wildlife in Yosemite National Park
"Spring is a really good time to see bears," says Cobb. "You'll usually see them wandering around the meadows, eating the grasses and tearing up logs." Other big mammals are easier to spot, too. Thanks to the quiet and the cool weather, bobcats, coyotes, and mule deer tend to stay at lower elevations in March, April, and May than the ones they frequent in summer. Migrating flocks of warblers, flycatchers, and other colorful songbirds also pass through the park this time of year.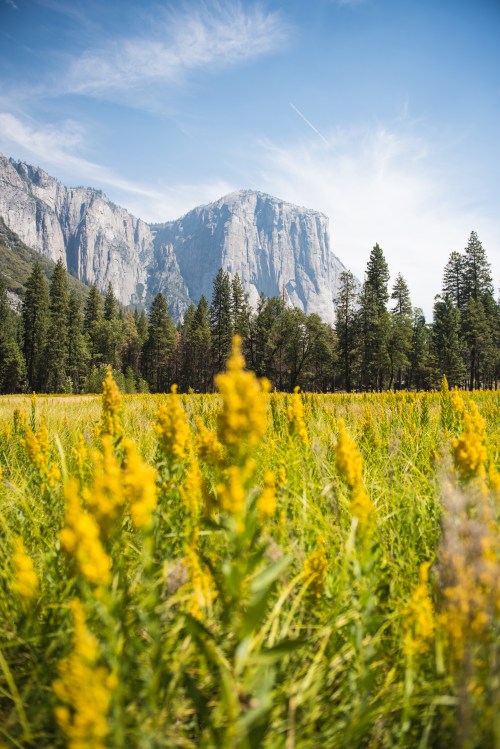 Spring Wildflowers in Yosemite
Spring blooms in Hetch Hetchy Valley, one of the lowest parts of the park at 3,800 feet. Delicate monkey flowers, purple-and-yellow shooting stars, and pink-hued harlequin lupine dot trails and clearings. The Wapama Falls Trail, a leisurely five miles round-trip hike, begins at O'Shaughnessy Dam and meanders past brilliant carpets of spring blooms and two gushing, snow-fed waterfalls before finishing at the base of its namesake, a 1,400-foot stunner that plunges down a granite rock face and showers visitors with mist.
Temperate Snow Excursions
In May, when most of North America is prepping for summer, skiers and snowshoers can still come to Yosemite's high country for pristine powder. Tioga Road usually opens by Memorial Day (check here for updates), so visitors can drive to see sapphire-blue Tenaya Lake, which is often ringed by ice and snow-capped peaks. Those seeking a bigger excursion can take off from the May Lake to Snow Creek Trailhead to the valley rim for horizon-filling vistas of Half Dome, a scene they're likely to have all to themselves. "That experience," says Cobb, "can be pretty powerful."