Wildflowers may be fickle about making appearances, but in most years the following parks are top contenders for sightings. Before you go, check the park's website or dedicated hotline for current conditions, which change day to day. For up-to-the-minute bloom reports submitted by aficionados, visit desertusa.com.
Arizona
Catalina State Park
Higher elevations and snowmelt from the Santa Catalina Mountains bring cooler temps and a slightly later wildflower season to this park 17 miles north of Tucson. In late March and early April, look for a riot of purple lupines and golden Mexican poppies along Sutherland Trail.
Lost Dutchman State Park
An hour east of Phoenix, the Superstition Mountains provide a dramatic backdrop for orange globe mallows, red chuparosas, and yellow brittlebushes. These and other species are often spotted along Jacob's Crosscut Trail, mid-February to late March. In April and May, the park's giant saguaros unfurl their white bouquets at dusk.
Picacho Peak State Park
In the Sonoran Desert 40 miles northwest of Tucson, Picacho Peak rises 1,500 feet above spring swaths of desert marigolds, pink penstemons, and white desert chicory. Calloway Trail is a good bet for flowers from February to April.
Saguaro National Park
Saguaro lures botanists to Tucson with pink fairy dusters, violet-blue lupines, yellow brittle bushes, and other blooms during its flowering peak in mid- to late March. Hike Gould Mine Trail to catch strawberry hedgehogs, teddy bear chollas, and other flowering succulents in early April.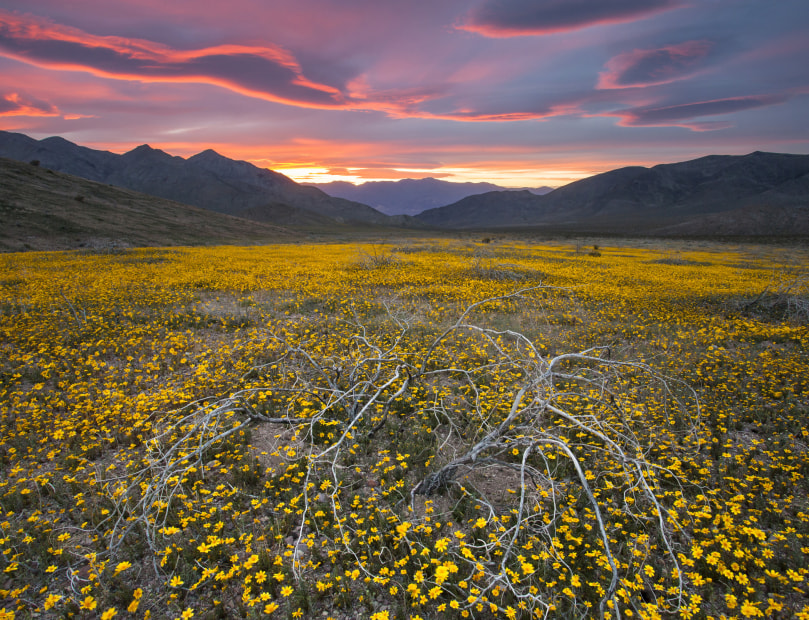 California
Antelope Valley California Poppy Reserve
Fields of brilliant orange poppies mixed with cream cups, forget-me-nots, and owl's clover blanket this reserve in the Mojave Desert grasslands, 70 miles north of Los Angeles. Visitors can follow eight miles of trails; peak season runs mid-February to mid-May.
Anza-Borrego Desert State Park
Two hours from San Diego and Palm Springs, California's largest state park erupts with fragrant dune evening primroses, golden desert dandelions, and purple phacelias. Borrego Palm Canyon Nature Trail is a likely spot for blooms during the early March peak.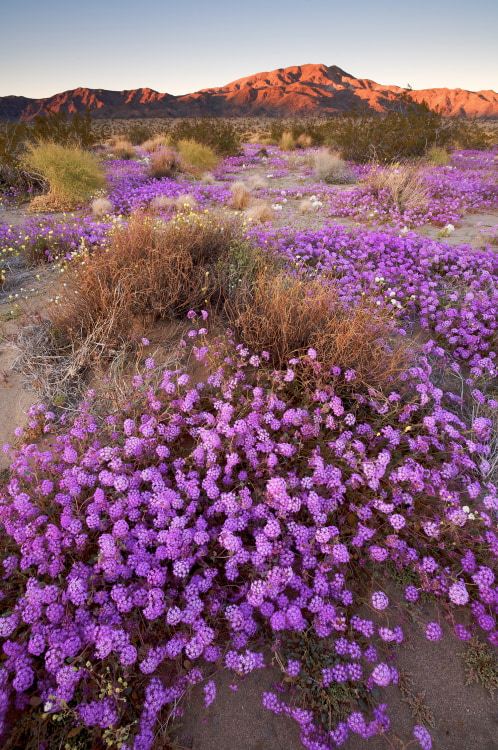 Death Valley National Park
Stunning ephemerals, including Bigelow's monkey flowers, Death Valley phacelias, and desert dandelions, draw attention in Death Valley. The season starts in February and can last well into May at higher elevations; check with the visitor center for ranger-led walks.
Joshua Tree National Park
At the intersection of the Mojave and Colorado Deserts, Joshua Tree's varied elevation means blooms can last from March into May. Look for blue Canterbury bells, purple mats, and sand verbenas in washes, and spy Mojave asters and orange globe mallows on rocky hillsides. The park's namesake trees often sport creamy blossoms along Barker Dam Loop.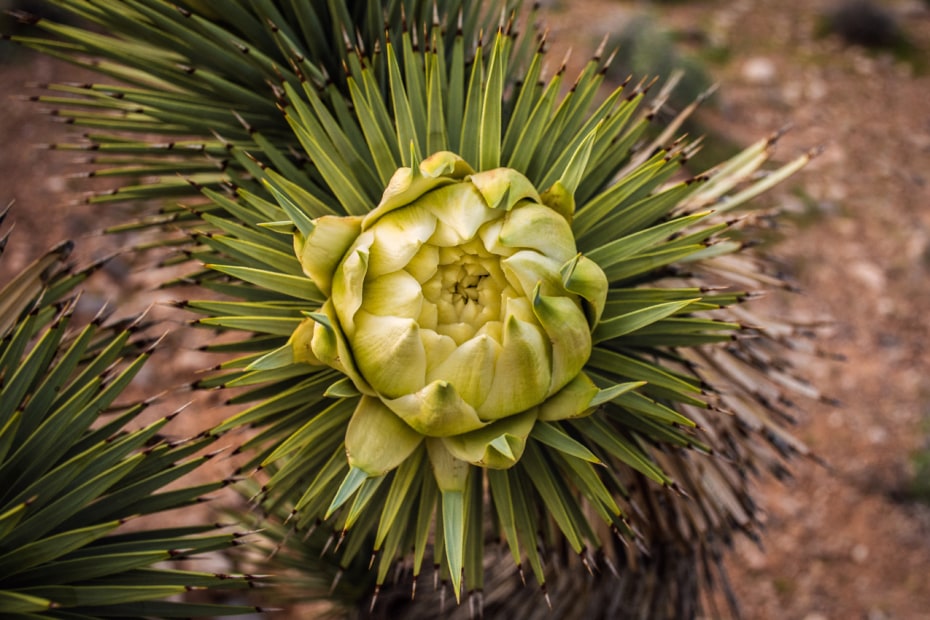 Nevada
Lake Mead National Recreation Area
Spanning 1.5 million acres along the Nevada-Arizona border, Lake Mead puts on a spring show of blooming creosote bushes, chuckwalla's delights, desert golden poppies, and pink Mormon teas. From the visitor center outside Boulder City, the paved River Mountains Loop Trail winds through prime wildflower territory.
Red Rock Canyon National Conservation Area
Cliffrose, Mariposa lily, and tidy fleabane are just a few of the species that appear March to May in this Mojave Desert oasis 20 minutes west of the Las Vegas Strip. Look for wildflowers along the park's 26 paths, including on a creekside walk on Pine Creek Canyon Trail.
Valley of Fire State Park
Fifty miles northeast of Vegas, this red rock terrain comes alive with desert marigolds, indigo bushes, and sacred daturas, as well as beavertail and hedgehog cacti in March and April. Spot wildflowers along park roads or walk Fire Wave Trail for vivid plants and equally colorful sandstone swirls.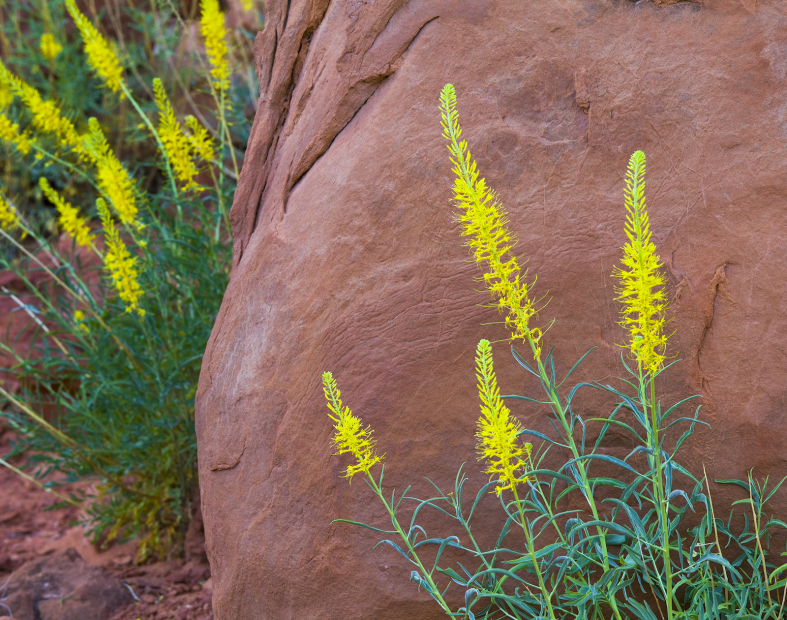 Utah
Arches National Park
March and April are peak months in this park north of Moab, when blazing stars, common paintbrushes, and yellow Hopi blanket flowers stand out against the sandstone. For blossoms and rock formations, follow Devils Garden Trail to the broad span of Landscape Arch.
Capitol Reef National Park
Wildflower season at this out-of-the-way park 150 miles west of Moab starts in April, with some blooms lasting into October at higher elevations. Look for showy four-o'clocks, silvery townsendias, and yellow catspaws along Hickman Bridge Trail, which leads to a natural rock arch.
Snow Canyon State Park
Ten miles north of St. George, Snow Canyon sees wildflowers peak between late March and early May. Markers on Hidden Pinyon Trail offer a self-guided overview of the native flora, including firecracker penstemons, purple desert sages, and Utah's state flower, the sego lily.
Zion National Park
Zion surprises with its hanging gardens—lush alcoves created by water seeping from porous sandstone. Lower Emerald Pool Trail leads to one such grotto, where golden columbines, scarlet lobelias, and shooting stars often blossom in late spring and early summer.