Wildflowers are one of the West's most photo-worthy and prolific annual offerings. And while there are well-known parks with lavish displays, you likely don't have to leave your neighborhood to see native blooms. They blanket hillsides, spring up near roadways, and turn desert landscapes into multi-colored portraits.
Out of the hundreds of wildflowers that grow from the Bay Area to the Sonoran Desert, the nine highlighted below are particularly easy to identify and bountiful enough to pop up on your daily walk. Here's how to spot them.
California Poppy (eschscholzia californica)
In 1903, the "golden poppy" was designated as California's state flower and its bright orange petals became a long-standing floral representation of the 1849 Gold Rush. Today, these fields of gold are found throughout the West, from southern Washington to the Sonoran desert. Look for them along roadsides and in grassy fields and meadows. They're easily identified by their blue-green foliage and long stems topped with orange or yellow blooms, each sporting four distinct petals. The petals close up at night, or during inclement weather, and open again with the sun. 
Smart Tip: Remember to never pick any flower in the wild (in some cases—particularly if you are on state, federal, or private land—it may actually be illegal) and to always stay on designated paths to avoid trampling sensitive areas.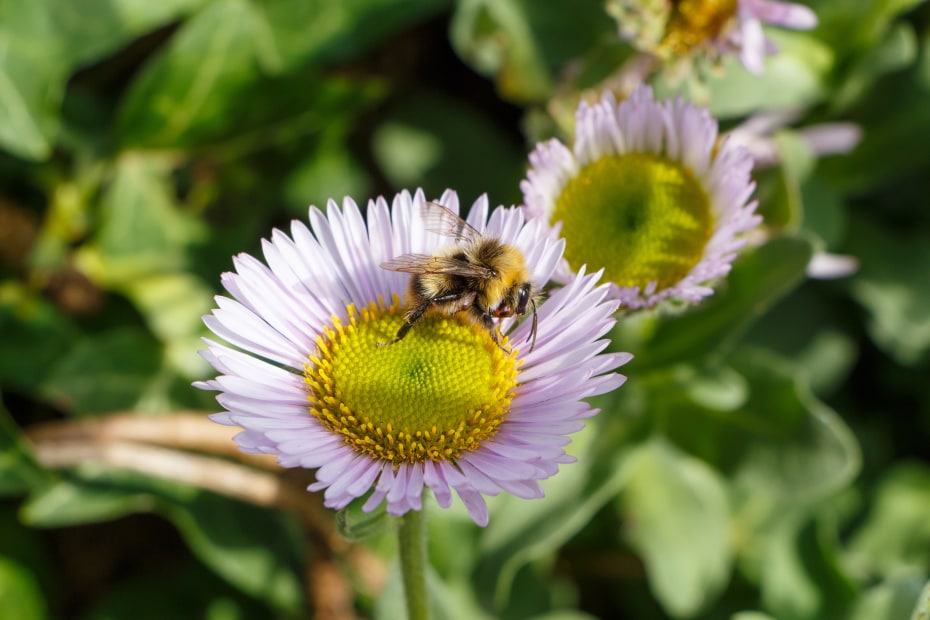 Seaside Daisy (erigeron glaucus)
Native to beaches, coastal bluffs, and sand dunes along the coastline of California and Oregon, the seaside daisy (also known as seaside fleabane) is recognizable by its branching stems, rounded leaves, and clusters of tiny flowers. Each flower is made up of hundreds of thin, feathery petals that surround a golden yellow center. They typically range in color from ice-blue to a near-white lavender. Butterflies love them, and their long blooming season—mid-spring until late summer—make them easy to spot.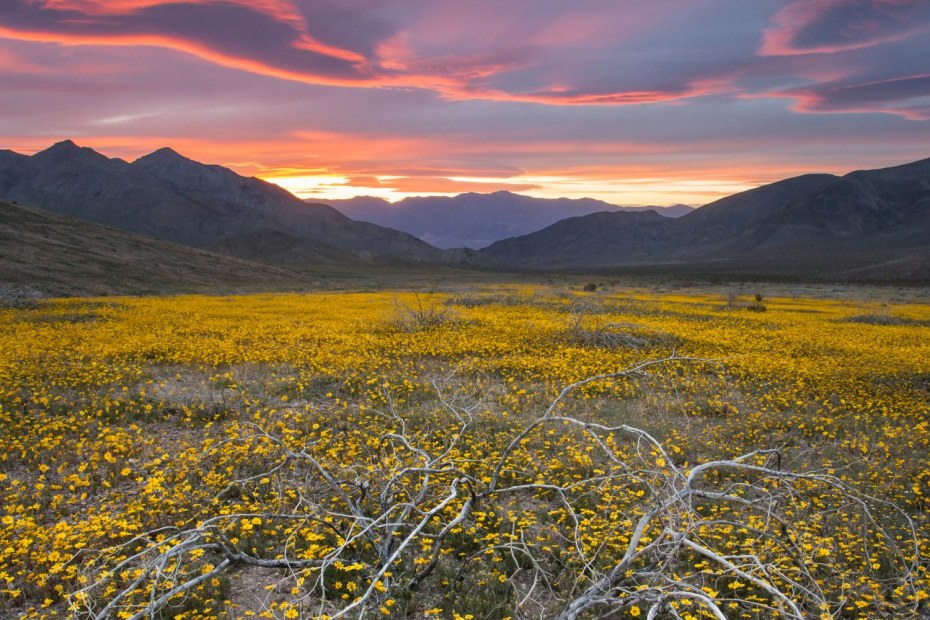 Desert Marigold (baileya multiradiata)
Also known as "paper daisies," these brightly colored flowers are about two-inches in diameter and feature daisy-like yellow petals with a mustard center. They're long-stemmed and bloom sporadically—popping up anytime between March and November. You'll often see them growing in sunny desert plains and mesas, and along roads across the southwest, including around Las Vegas, Tucson, and southwest Utah. When their luster dies off in the fall, their seeds attract captivating black-throated sparrows.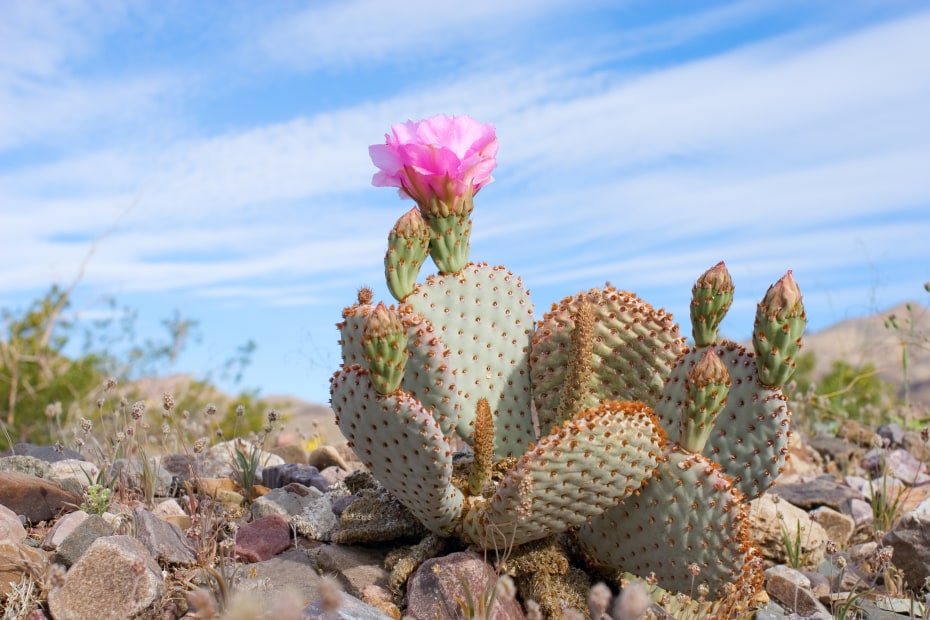 Beavertail Cactus (opuntia basilaris)
Found in rocky or sandy soils across the southwest, especially in the Mojave and Colorado deserts and Red Rock Canyon outside of Las Vegas, the beavertail cactus is known for its stunning magenta-colored blossoms. The plant itself is low-growing and bush-like, comprised of numerous flattened pads that are prickly to the touch and blue-gray in color. They're not much to look at initially, but when the cacti start blooming in the spring into early summer, their large, sun-loving flowers are an absolute sight to behold.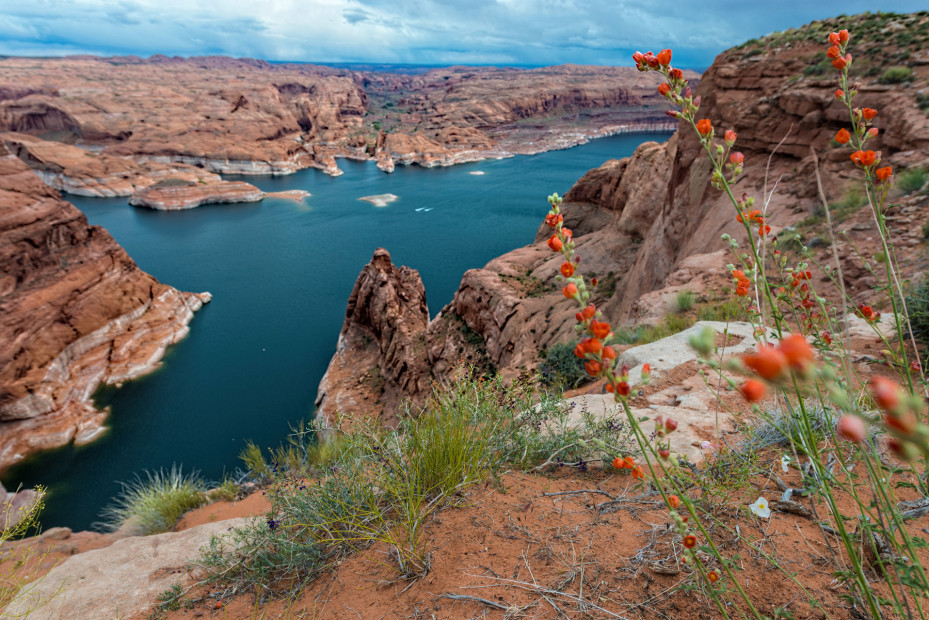 Desert Globemallow (sphaeralcea ambigua)
Sometimes called apricot mallow because of the color of the shrub's flowers, desert globemallow is also native to the Southwest. It is prominent in landscapes across the Mojave Desert that are heavy with low-lying desert scrub and along roadsides in Arizona and the southern portions of California, Nevada, and Utah. You may also spot it growing in arid areas that were recently decimated by forest fires as it is one of the first plants to return. One root produces hundreds of stems, and many of them showcase their own cup-shaped blossoms come spring.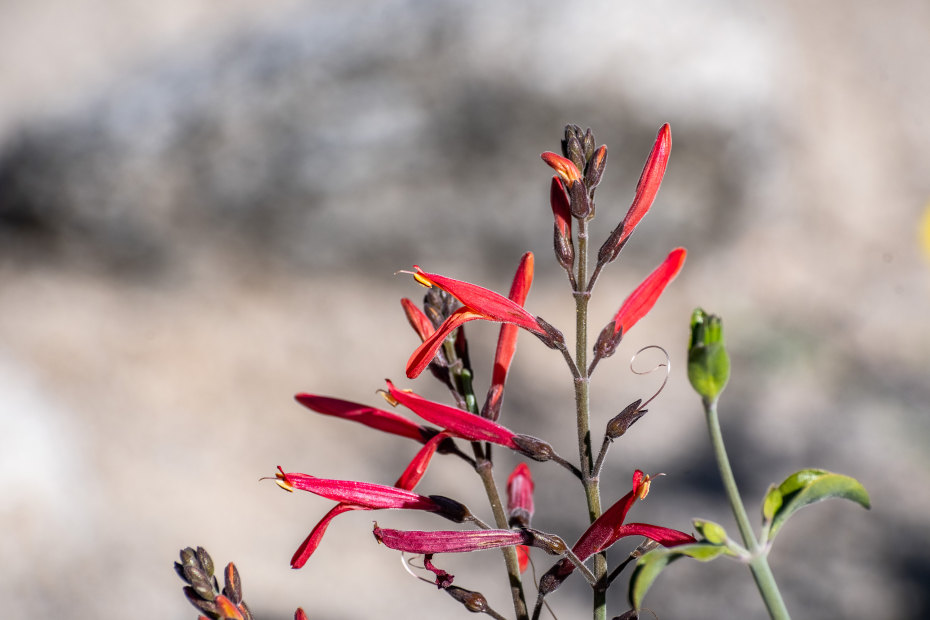 Chuparosas (justicia californica)
This low-lying shrub produces magnificent bright-to-deep-red flowers that are long and tubular in shape and grown in clusters. These flowers act as drinking vessels for hummingbirds, who access their nectar through each floret's three-lobed lower lip. They appear regularly in the sands and rocky terrain around Phoenix, as well as throughout the deserts of the larger southwest, typically during winter and in the early spring. 
Smart Tip: See where desert wildflowers are blooming in real time at DesertUSA.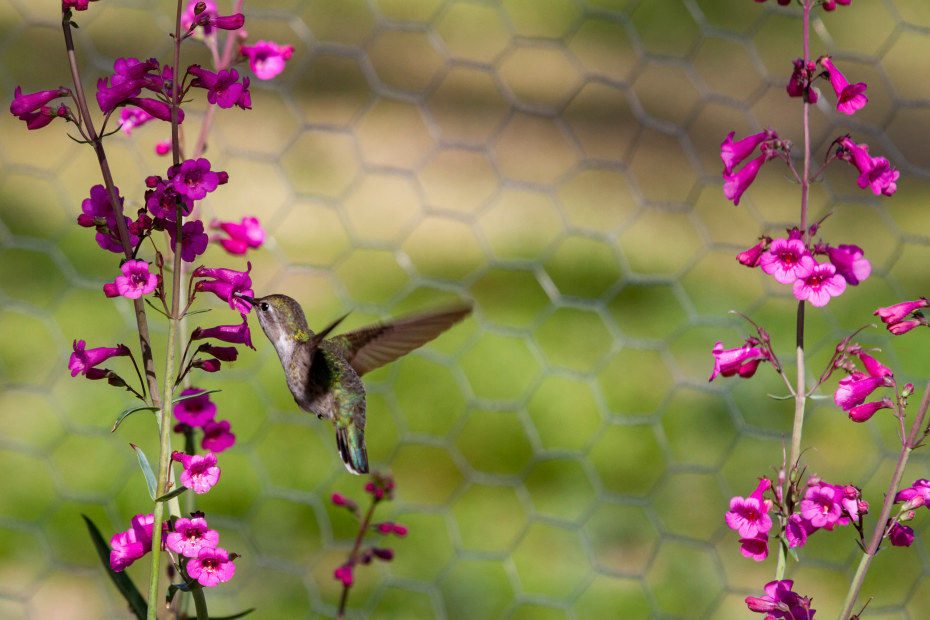 Parry's Penstemon (penstemon parryi)
There are hundreds of types of penstemon (or beardtongues) that grow across the American West. Their tubular, nectar-rich flowers are an easy lure for hummingbirds and bees. While they range in shades that include white, red, blue, and purple, Parry's Penstemon is known for its bright pink flowers that add a distinctive pop of color to south Arizona's desert landscape when it blooms during March and April. Dozens of blossoms appear in long spires atop the upper portion of the plant's long stems, which give it an elegant appearance. While it can be difficult to spot in the wild, it's a favorite among home gardeners.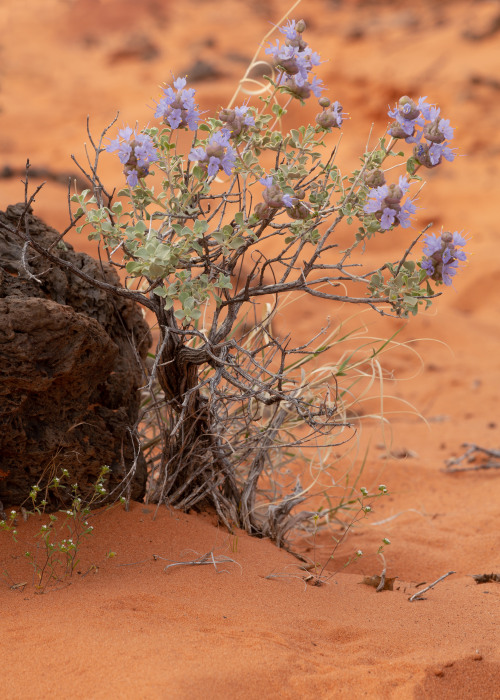 Desert Purple Sage (salvia dorrii)
Bees take full advantage of this small shrub's heavy blooms, a burst of brilliant pale-blue to purple that occurs each spring. They grow in abundance across the dry, rocky desert of the Great Basin range, which covers parts of multiple Western states, including Idaho, Oregon, and Utah. The first thing you may notice is the plant's minty scent, which is most notable after rainfall. It's also identifiable by its silvery, oval-shaped leaves and flower spikes, meaning its flowers grow directly off the stem, rather than from individual stalks.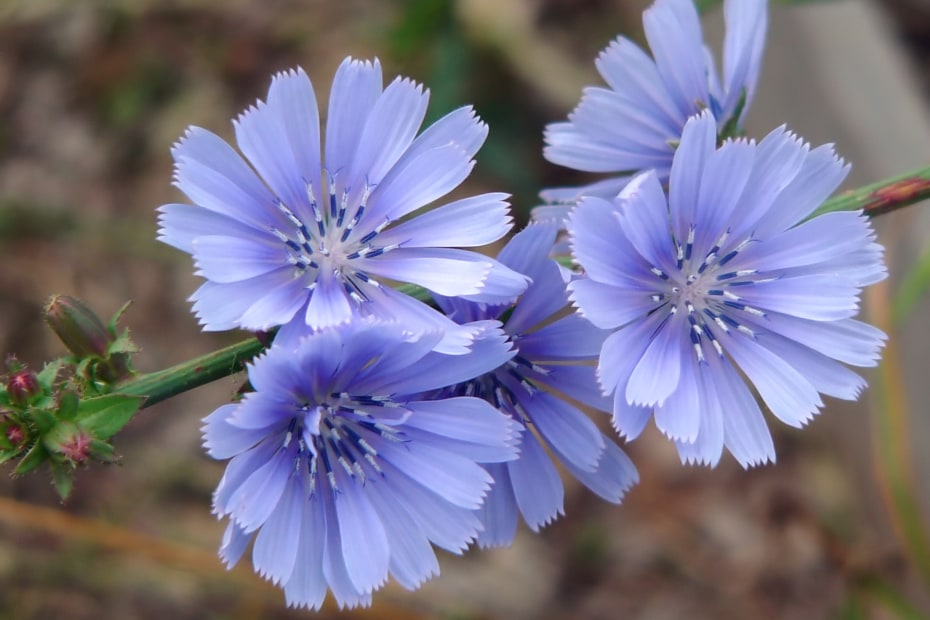 Chicory (cichorium intybus L.)
A member of the dandelion family, chicory grows throughout the West, often along roadsides, beside suburban fences, and across undeveloped lots. Though the European native is an invasive species in the United States, it was planted across the country and used to feed cattle. Its flowers are picturesque, with fringed ray-like petals that grow in shades of periwinkle blue, pink, and white that open and close with the sun. Its leaves and flowers are edible, and its root is often used as a coffee substitute. Chicory typically blossoms from late spring through mid-fall.