When the greens turn to gold and yellows turn to orange, it's easy to spot fall foliage at a distance. But to fully experience the magic of the season, you'll want to get even closer. See the coin-shaped aspen leaves quake and smell the musky crispness of the pines on these nine hiking trails in the West.
April Bowl Trailhead near Palmer, Alaska
Couple your fall hike with a scenic drive up Alaska's Hatcher Pass, easily accessible from Anchorage, Palmer, and Wasilla. You can't go wrong with any of the trails along the bypass, but as a starting point, the 2.2-mile round trip April Bowl Trail is a moderately challenging route that climbs 850 feet through the alpine to a set of glacial lakes. Unlike the other trails on this list, you won't find many trees. But the transformation of the ground vegetation from olive to amber is a spectacle. Before winter sets in, bringing snow and fog, you can even sometimes see the northern lights from this area if you're lucky.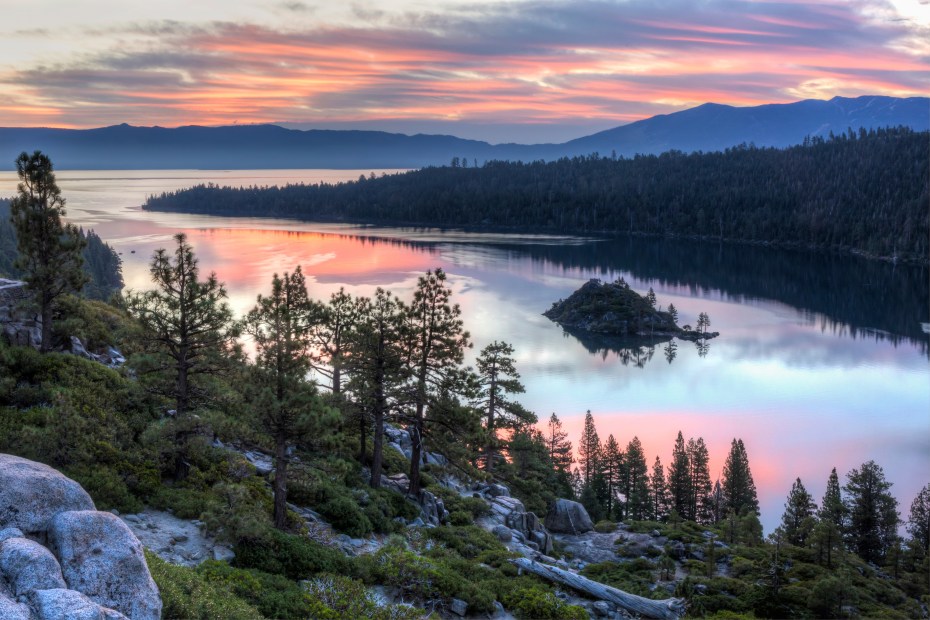 Eagle Lake Trail in Lake Tahoe, California
In South Lake Tahoe, the aspens and cottonwood trees perk up with colors starting as early as September. For an easy, family-friendly hike with waterfalls, a bridge crossing, and lake views, take the Eagle Lake Trail in Emerald Bay State Park. Because it's scenic the whole way, you can customize your trek depending on energy levels. Keep it short by turning around at the bridge over Lower Eagle Falls (1 mile round trip), or take the stone steps all the way to Eagle Lake (4 miles round trip). It costs $5 to park in the lot, which typically fills up by 9 a.m. on weekends. Don't forget to fill out a Desolation Wilderness permit if you're heading to the lake. 
Seaview and Big Springs Trails Loop in Orinda, California
Fall lasts a little longer in Northern California, stretching all the way through November. In Tilden Regional Park, oaks and manzanitas are just a couple of the plants that turn a new shade before winter. On the 4.3-mile Seaview and Big Spring Trails Loop, you'll be treated to views of the rolling hills on the way up and on the way down. True to the East Bay, this trail has a mix of hilly and flat sections. You can shorten or extend your day by taking one of the connecting trails. Parking is located off Wildcat Canyon Road.
Boynton Canyon Trail in Sedona, Arizona
This red-rock city is awash in warm hues come mid-October, when the maple and oak trees start matching the colors of the geological features and the summer's scorching temperatures have cooled to 80 degrees or below. Get your fill of desert scenery on the 7.2-mile out-and-back Boynton Canyon Trail that takes you past soaring sandstone walls and native plants like yucca and manzanita. This route is considered moderate for its steep sections, and the roads to the trailhead are paved. A $5 Red Rock Pass is required to park, which you can purchase at the trailhead.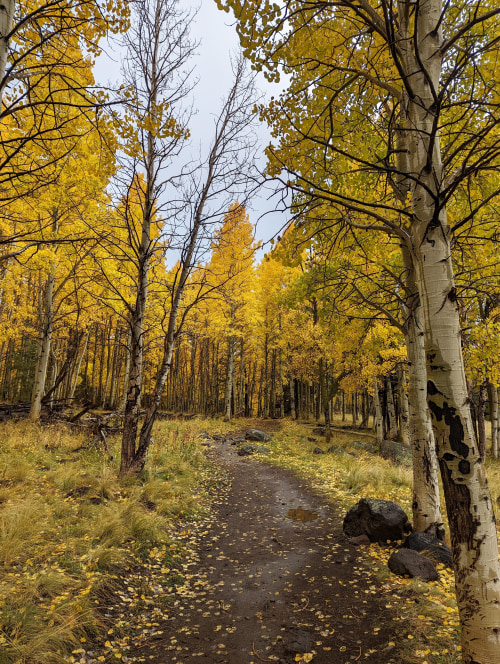 Aspen Nature Loop Trail in Flagstaff, Arizona
Up in the San Francisco Peaks, walk underneath the golden glory of the trembling aspens from the end of September throughout October. Follow Snow Bowl Road up to Arizona Snowbowl, where you'll be immersed in the colors. For a mellow walk through the woods, take the 2.7-mile lollipop-shaped Aspen Trail Loop. This route shares a trailhead with Humphreys Peak, so be sure to follow signs for the aspen loop. From there, the trail forms a narrow aisle through the forest of thin white trunks and ferns. You'll also get panoramic views of the Grand Canyon from the higher points on this route. Weekends in the fall are particularly busy, so arrive early. 
Davenport Trail near Alamo, Nevada
Less than 90 minutes from Las Vegas, the Pahranagat National Wildlife Refuge is a flora and fauna sanctuary in the Mojave Desert. It only receives 6 inches of rainfall a year, but this area is especially lush because it's fed by the waters of Crystal and Ash Springs. The lakes, marshes, and wet meadows are popular stopovers for migratory birds. Get a spectacular view of the grounds and Upper Pahranagat Lake from the moderately challenging 3.4-mile roundtrip Davenport Trail, which gradually climbs from the visitor center to the Upper Lake Trail. Plan your hike for late October to early November to catch the cottonwood and willow trees glowing orange.
Cascade Springs Interpretive Trail near Provo, Utah
You don't have to drive far or hike deep into the forest to get a glimpse of fall's best treats on the Cascade Springs Interpretive Trail. On the east side of Mount Timpanogos, just off the Alpine Loop Scenic Trail, this paved pathway consists of three loops (two are partially accessible to wheels) that are less than a mile long. Because it's short, you can take your time admiring the terraced cascades and pools of this artesian spring. Aspens, maples, and oaks burst with color all around you. It's the perfect route for little legs, strollers, and wheelchairs. Bring your camera or plein air paint set. A $6 recreation pass is required to stop or park. 
Kim Williams Nature Trail in Missoula, Montana
Everywhere you look in Montana, you'll witness autumnal beauty. Colors start changing in mid-September in higher elevations and last through October in lower places. For a leisurely urban exploration that begins in downtown Missoula, take the Kim Williams Nature Trail. The trail is nearly 10 miles round trip, but you don't have to finish the full route to get a healthy dose of nature. This riparian corridor parallels the Clark Fork River and connects several parks, so you're guaranteed to spot birds as the trees shed their colorful leaves. This is also a popular path for mountain bikers and dog walkers—and bears frequent the area. Stay alert and keep bear spray easily accessible.
Turtle Rock in Vedauwoo, Wyoming
Only 20 minutes from Laramie are the unique rock formations of Vedauwoo, which means "earth-born" in Arapaho. This is a world-class area for climbing and mountain biking, and the hiking is just as spectacular. Take the easy 2.8-mile loop around Turtle Rock, which follows the outer edges of the iconic Sherman Granite outcropping that looks like the shelled creature from some angles. In the fall, Engleman spruce, Douglas fir, limber pine, and aspen trees provide a vivid backdrop to the already-stunning vistas that moose, beavers, black bears, and birds call home. (Bring bear spray.) Dogs must be leashed and a $5 fee is required to park.