Looking for a quick couple's getaway or fun adventure the whole family can enjoy? How about hitting the slopes? No matter where in Arizona you live, you're never too far from one of Arizona's three ski properties—one each in the north, south, and east. Each serves skiers of all skill levels and ages during the winter, with seasons that run from November to April, weather permitting. All three offer season passes, special day rates, and complete packages to fit all budgets. Better yet, they're also open for summer outdoor recreation. Here's the scoop on these cool experiences.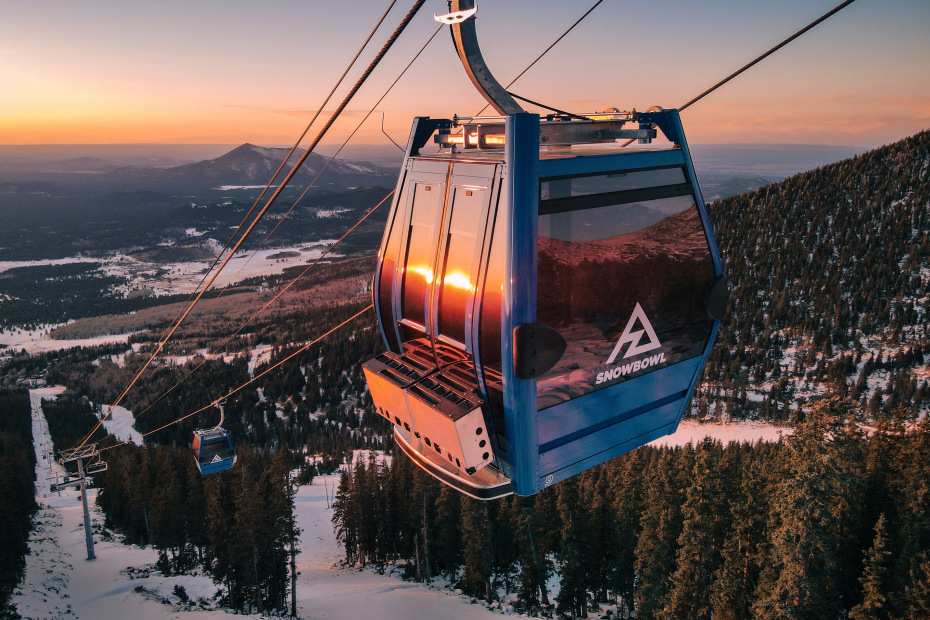 Arizona Snowbowl, Flagstaff
One of the oldest continually operated ski resorts in the country, Snowbowl, located 14 miles north of Flagstaff, opened in 1938 below the San Francisco Peaks in the Coconino National Forest. Surrounded by tall ponderosa pines, the hills have long offered a favorite escape for Northern Arizona University students. 
The ski resort also is catering to families: Kids 12 and under ski free and the resort has multiple recreational opportunities, including a third terrain park that serves both freestyle skiers and snowboarders alike. 
With eight lifts serving 48 trails on 777 skiable acres, Snowbowl boasts the tallest peak in the state—Humphreys Peak at 12,637 feet. When the snow is good, it competes with the best of what Colorado and Utah have to offer, and machine-made snow fills in any gaps.
You'll be able to find a ski shop, ski rentals, lift tickets, lessons, and other outfitting needs at two base lodges—Hart Prairie and Agassiz lodges—along with burgers or craft beer on outdoor patios. The ski park also offers adaptive-use programming for those with disabilities. After skiing, guests can head to historic downtown Flagstaff to cozy up over food and beverage. 
Snowbowl operates the closest accommodations, Basecamp at Snowbowl, which rents remodeled cabins and rooms in the woods (reservations required).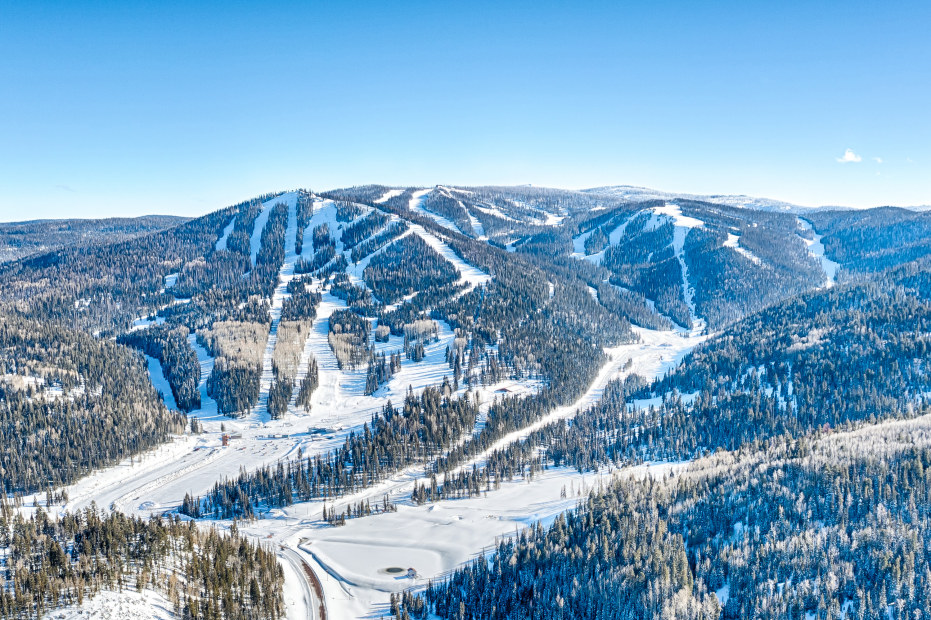 Sunrise Park Resort, Greer
The largest ski resort in the state, Sunrise, owned and operated by the White Mountain Apache Tribe, boasts three mountains, six ski lifts, and 65 runs on 1,200 acres of skiable area. It opened in 1970 as part of an economic development program for the tribe, providing jobs for its members. 
Sunrise Mountain was developed first, followed by Apache Mountain in 1982, and Cyclone, which is the steepest, in 1983. The attractions are great snow, small crowds, and mostly sunny days, warm enough that you often can ski in jeans. The high-speed detachable lift up Sunrise means skiers are on the slopes in seven minutes, equating to more skiing in less time. For beginners, a shorter lift provides a friendlier, more teachable experience at the base of Sunrise. 
The most developed ski resort of the three, Sunrise always has attracted guests, many from Phoenix or Tucson, with weekend events. There's also cross-country skiing, tubing, archery, horseback rides, fishing, kayaking on Sunrise Lake, and Arizona's longest and fastest zip line.
Mount Lemmon Ski Valley, Tucson
The southernmost ski area in the country, Mount Lemmon, opened during World War II. Started by noted journalist Lowell Thomas and a few buddies, including Art Devlin, who became a future Olympic ski jumper and TV commentator, they formed a ski club and invited friends to join. At the end of that first season, they celebrated with a big party at The Arizona Inn. At the time, the road didn't even go all the way up the mountain; it stopped at Soldier Camp.
Today, Mount Lemmon, about an hour's drive east of Tucson, is managed by Graham Davies and owned by his parents, George and Jean Davies, who bought the property in 1970. Back then, skiers straddled a poma lift up the mountain to ski three runs. The first chairlift replaced the poma in 1975. Now there are two lifts and 22 runs, the majority for the intermediate to advanced. Along the winding route up, you'll pass cyclists and seven different elevations with varied landscapes. 
With no access to snow-making equipment or the appropriate water source to operate it, they rely completely on Mother Nature for their snow at about 9,000 feet. Absent of snow, they offer the Sky Ride up the mountain and hiking trails back down through the aspen, pine, and fir forest. They also operate a ski shop that sells sweatshirts all year long because it's 30 degrees cooler up there than in Tucson down below. At the base, you'll also find a snack bar, fudge shop, and restaurant that serves German-inspired dishes (though a favorite is the chili and corn bread). 
Guests can expect to have a good old-fashioned time at this more rustic and relaxed ski venue.