Outdoor fun meets urban cool in the Valley of the Sun, a place where you can kayak past wild horses by day, then sip cocktails in a decadent bar by night. And, no matter where you are in Greater Phoenix, you're never far from a saguaro-dotted peak or a delicious meal.
From the Ashes
Phoenix was so named because, like the mythical bird, it rose from the ashes of its predecessor: the ancient, vanished Hohokam civilization. Look back at the Pueblo Grande Museum, home to the mud rooms and ball court of a 1,000-year-old village, and learn how those original residents irrigated the valley by carving the New World's largest canal system.
Blooms at the Desert Botanical Garden
The Desert Botanical Garden slays the stereotype that deserts are all barren and beige. Its trails wind past magenta cactus blossoms, fuchsia penstemons, and sculptural succulents. During the night-time Electric Desert installation (through May 2019), colorful lights dance across the ora in sync with enchanting electronica.
Colorful Culture at Roosevelt Row
In Roosevelt Row, downtown Phoenix's arts district, bungalows are canvases for vibrant murals. During carnivalesque First Fridays and quieter Third Fridays, thousands of people converge here to gallery hop, watch street performers, and listen to live music at venues such as the Nash where performers have included renowned trumpeter Wynton Marsalis and Phoenix-born drummer Lewis Nash.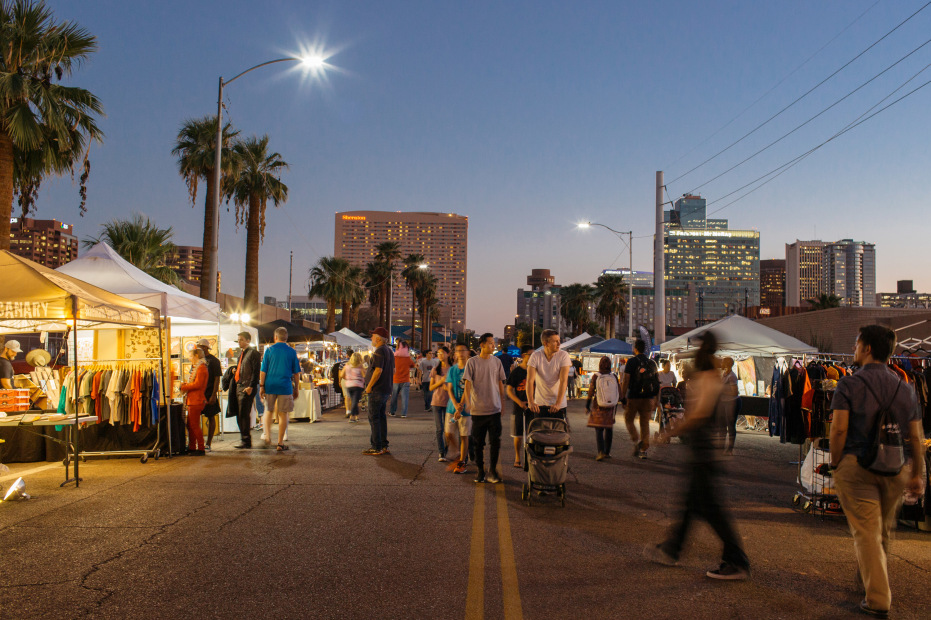 A Hike with a View
At intervals around town, ruddy mountains jut from the valley floor, offering hikers an aerial perspective on the city. While Camelback Mountain is the iconic draw, Piestewa Peak has similar vistas, plus some easier trails. As you climb, you might spot red-tailed hawks riding on air currents. Feeling less ambitious? Drive past the Piestewa trailhead to the end of Piestewa Peak Drive, then stroll serene paths among smaller hills.
Golf Near Phoenix
Golf is king in this sunny, leisure-loving city, and nearly 200 courses provide plenty of opportunities to play a round. Two public courses, Troon North and We-Ko-Pa, embrace the arid landscape, with fairways rippling through throngs of cacti and palo verde trees, and soaring mountains in the backdrop.
Past Meets Present
In Heritage Square, Phoenix's original brick buildings have evolved into cultural hot spots. Tour the 1895 Rosson House to hear how the city's early Anglo residents beat the heat and performed surgery. Then make a pilgrimage to the former Baird Machine Shop, a 1929 building now occupied by Pizzeria Bianco, which turns out pies crowned the best in America by Bon Appétit. The Rosa, replete with Parmigiano-Reggiano and Arizona pistachios, is nutty and delicious.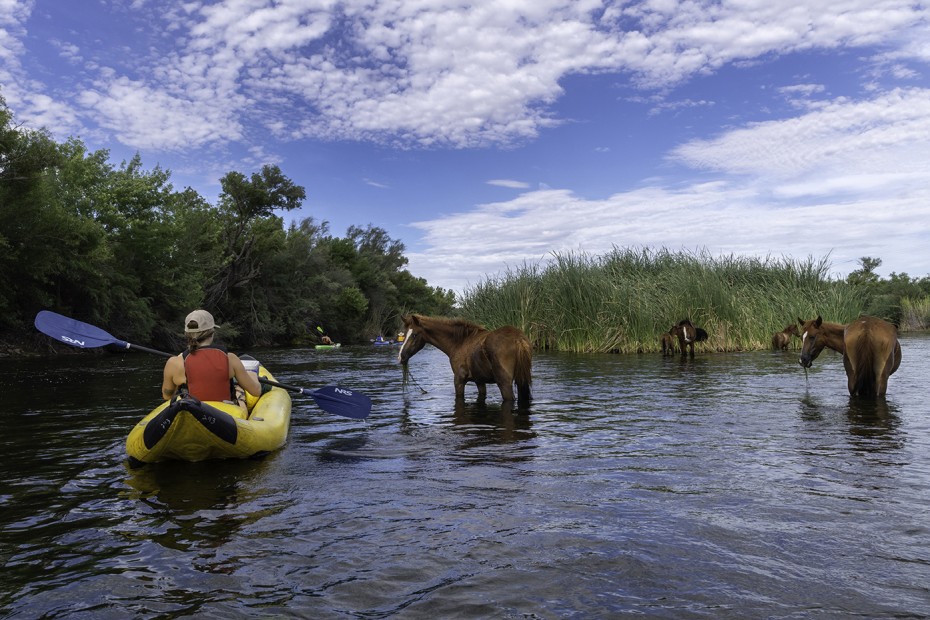 Cool Off in Phoenix
A shimmering blue lake fringed by sienna cliffs. A river where bald eagles dive and wild mustangs splash. You'll find both—in the form of Saguaro Lake and the Salt River—just a short drive from downtown Phoenix. Join Arizona Outback Adventures for a guided excursion by kayak or stand-up paddleboard. Or you can sit back and gently float down the river on your own; Salt River Tubing offers tube rental and a shuttle in spring and summer.
Insider's Tip: Heading to the Grand Canyon? You can also whitewater raft inside the park for a refreshing adventure.
Old-School PHX
Phoenix's movers and shakers have been congregating at Durant's ever since 1950, when the eatery was founded by a former employee of Las Vegas gangster Bugsy Siegel. Enter the way the insiders do: Open the back door and walk through the kitchen. Then slide into a leather booth surrounded by flocked scarlet wallpaper, sip a gin martini, and strike a deal.
Nearby Places to Explore