In 1864, when Prescott (pronounced press-KIT by locals) was named capital of the Arizona Territory, it was a rough-and-tumble place where cowboys and miners caroused over pints on Whiskey Row. The town has since grown up, but its pioneer spirit remains.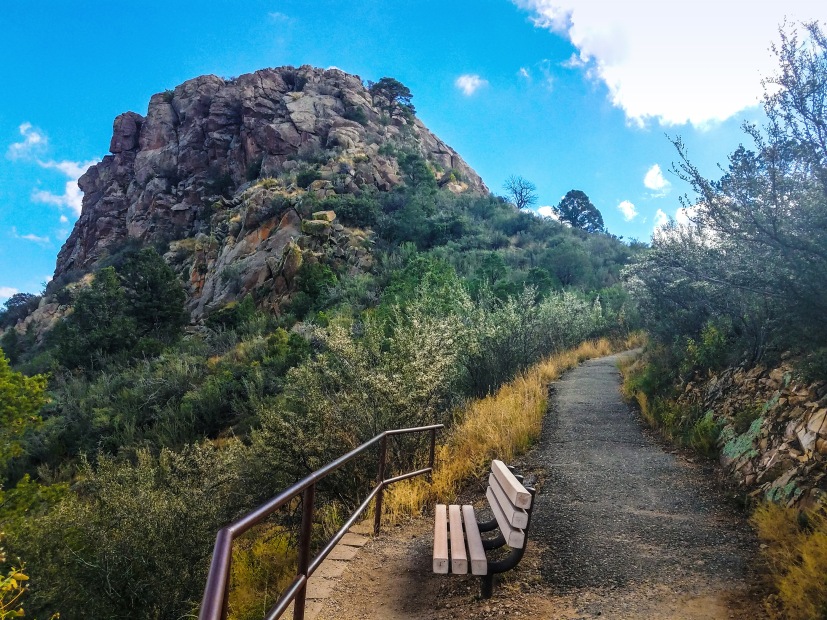 Things to See and Do
During autumn, Prescott's warm days and cool nights offer a chance to shake off the heat of the summer and enjoy Mother Nature's annual color spectacle. You can start right in the center of town at Historic Courthouse Plaza where showy trees in hues of yellow, amber, and crimson shade the Neoclassical courthouse steps and inviting park benches. 
Learn about the early days of Prescott and Arizona at Sharlot Hall Museum, where you can stroll through the first territorial governor's mansion and see baskets made by the Yavapai-Prescott Indians and aerial photos of the surrounding area from 1868 to the present.
If you're in the mood to move, walk a block down Gurley Street to the Greenways Trail System for a shady 1.5-mile hike along Granite Creek beneath old-growth cottonwood trees. The trail leads north from downtown to Granite Creek Park, where you can enjoy a game of horseshoes or a picnic. If you're looking for something to get your heart pumping, the surrounding Prescott National Forest offers 450 miles of hiking trails, including the scenic 1.75-mile Thumb Butte Trail. The trail's crest offers views of the surrounding Bradshaw Mountains and—on a clear day—the San Francisco Peaks near Flagstaff. You might also spot Peregrine falcons that nest nearby.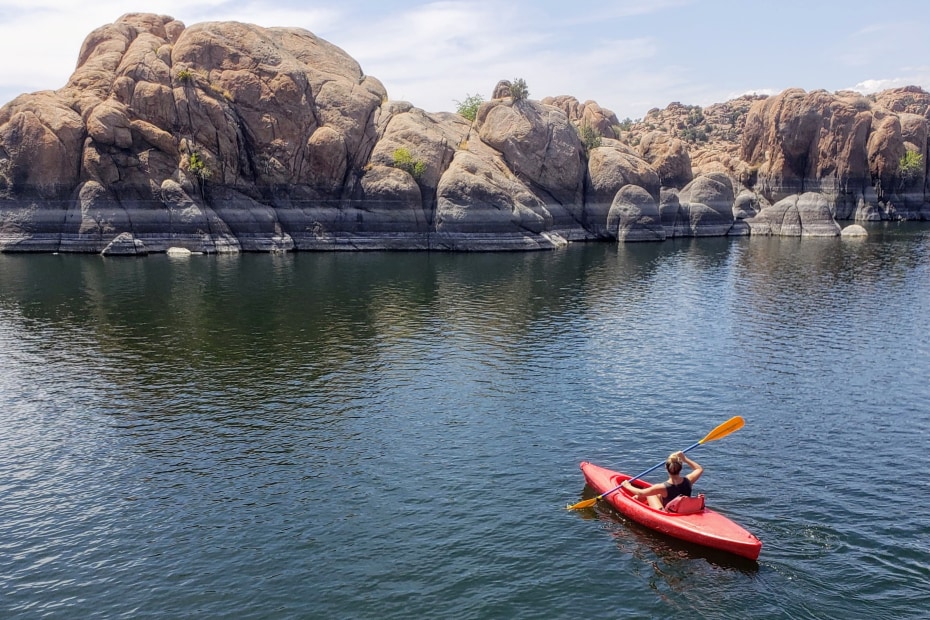 Just east of town, the Peavine National Recreation Trail—an old corridor originally constructed by the Santa Fe Railway in 1893—beckons walkers, cyclists, and hikers to Watson Woods Riparian Preserve. The 6-mile trail winds around the southern end of Watson Lake to a stunning landscape filled with weather-beaten monoliths known as the Granite Dells, which surround the lake. 
Several other lakes in the area—Willow, Lynx, and Goldwater—offer fishing and boating, and Watson and Lynx also have campsites. You can rent kayaks at Watson Lake through the middle of October, or you can bring your own kayak, canoe, or paddleboard to any of the lakes. Head out onto one of the trails that encircle the lakes to see wildlife play hide and seek among tall pines or high desert shrubs. 
Just north of Watson Lake sits one of the state's most cherished museums preserving the art of the American West. The Phippen Museum showcases the art and heritage of cowboys, ranchers, and Native Indians.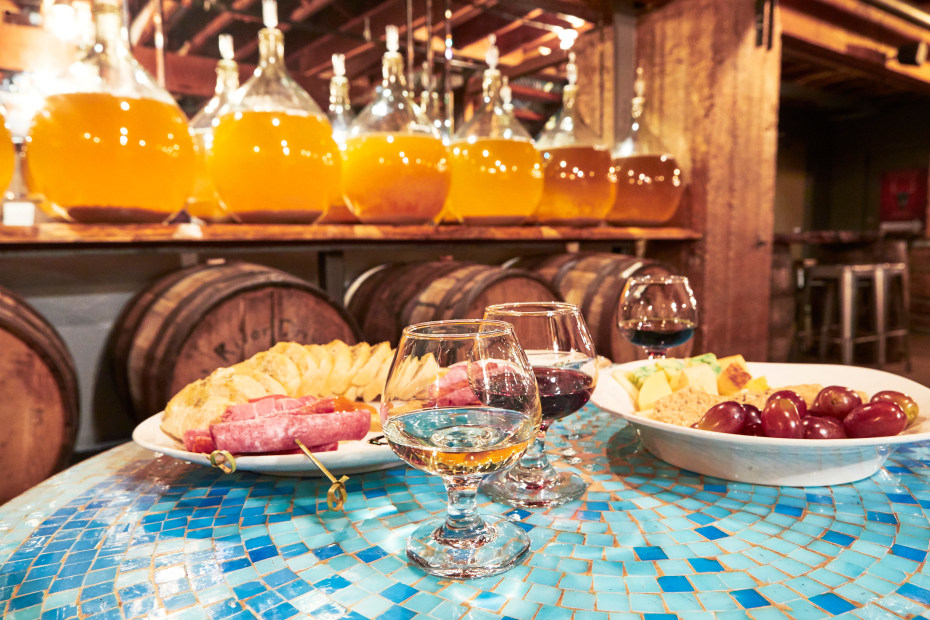 Where to Eat and Shop
Past meets present downtown (where you'll find about 30 antique shops) as artists and artisans breathe new life into century-old buildings on Courthouse Square. Located in the Burmister building across from the courthouse, Superstition Meadery Tasting Room offers a 12-mead flight of standards, specialty batches, and one-off releases such as Desert Monsoon, a prickly pear and wildflower honey mead, or warming Ginger Voodoo, made with Jamaican ginger root.
A couple of blocks from the plaza, casual Barley Hound has an expansive, dog-friendly patio. Owner Skyler Reeves changes the menu according to season, but standards include blistered shishito peppers and the ground chuck and duck breast burger with cherry jam, arugula, and smoked provolone. 
Whiskey Row may no longer boast 40 saloons, but the historic street is still home to the state's oldest watering hole, the Palace Restaurant and Saloon. Sidle up to the original 1880s bar, have a seat, and take a look around. In cases along the walls, you'll see a vintage roulette wheel, old playing cards, and antique whiskey bottles. Today's whiskey lovers can sip the saloon's newest offering, the recently released Palace Whiskey—a testament to Doc Holliday, Wyatt Earp, and other Wild West legends who, back in the day, tipped a few at the saloon. 
If you're after something fresh, Yavapai Regional Medical Center West hosts Prescott Farmers Market every Saturday morning through October. Pick up locally grown produce, handmade treats (look for a rolling cart with a rainbow umbrella to snag a refreshing fruit popsicle from AZ Pops), and more.