Last summer, Scottsdale's Taliesin West, together with seven other Frank Lloyd Wright masterpieces scattered across the United States, joined the Unesco World Heritage List. The honor placed the seminal architect's work squarely alongside such world wonders as Machu Picchu, the Taj Mahal, and the Great Wall of China. But Wright isn't the only designer who has drawn inspiration from Arizona's blue skies, bright light, hot weather, and what he called the "abstraction in line and color" that emerges in the desert. Over the centuries, visionaries and iconoclasts have planned and built architectural treasures all over the state, from the foothills fringing Tucson to the rim of the Grand Canyon. Ranging from American Indian cliff dwellings to modernist showpieces, these 10 landmarks are so striking, they're worth designing a road trip around.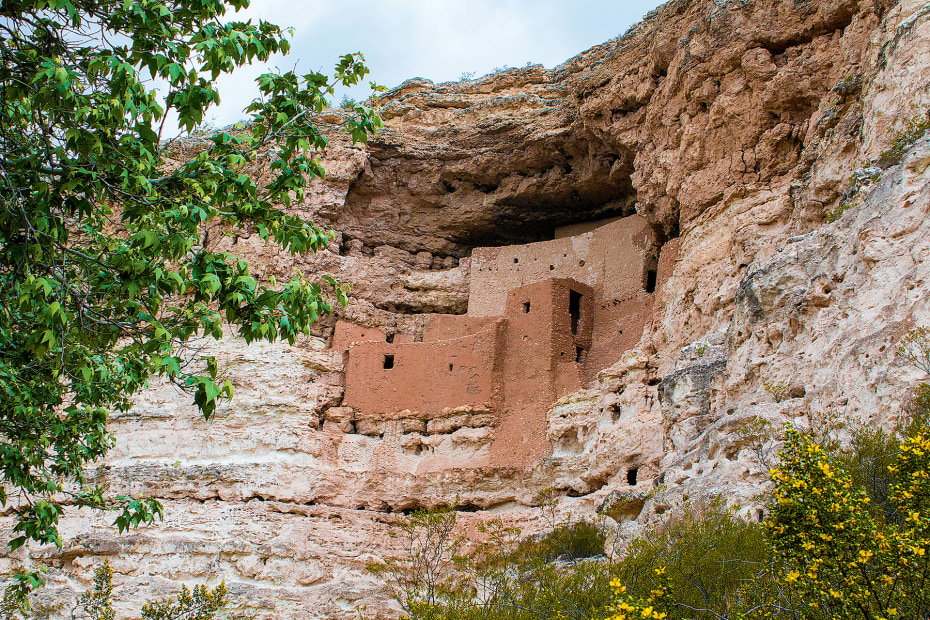 Montezuma Castle National Monument, Camp Verde
Early Anglo settlers believed that the famous Aztec emperor had something to do with this prehistoric Verde Valley site—and the name stuck. In reality, it was the pre-Columbian Sinagua people, early inhabitants of central Arizona, who erected numerous dwellings here between 1100 and 1425: the home base for a community engaged in farming, hunting, and gathering in the surrounding valley. At its center stood the limestone-and-adobe-plaster castle that gives the monument its name: a five-story, 20-room structure the color of wet clay, tucked into a niche just below the cliff's brow. You can look up at that ancient apartment building—once home to some 35 people—from Montezuma Castle Trail. Learn more about the Sinagua at the visitor center, and check the monument's calendar for events such as storytelling and basket-weaving demonstrations.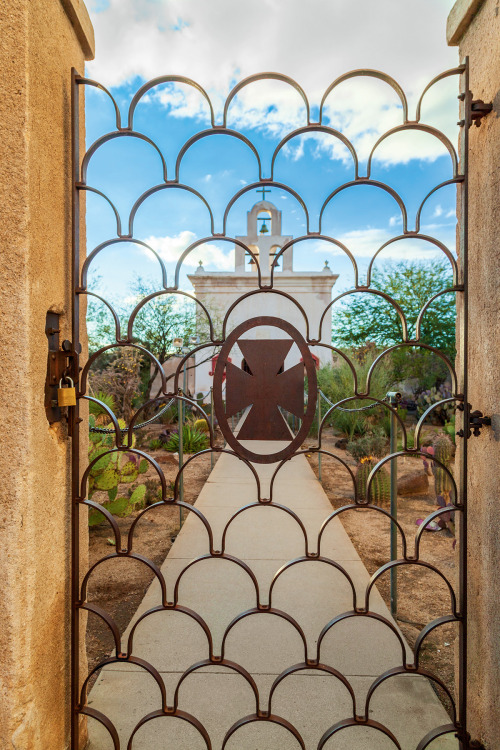 Mission San Xavier del Bac, Tucson
Rising dramatically from the brown Sonoran sand, this white-walled Spanish colonial church shines brightly in the sun—hence its nickname, the White Dove of the Desert. Built as part of the mission founded by Father Eusebio Kino, the 1797 adobe shrine is a real beauty. Outside, ornate carvings inspired by plants, shells, and tendrils cover the facade; inside, rich-hued frescoes of saints and angels adorn the walls and vaulted ceilings. The church continues to serve the local Tohono O'odham community with daily masses, but you too can explore the mission, either on your own or on a free tour through Patronato San Xavier, the organization overseeing the preservation of the baroque gem. Between the tour and the on-site history museum, you might learn why one of the towers remains unfinished, which animals are incorporated into the building's design, and just how much gold leaf was used in the gilded altar. The mission's Christmas concerts are legendary—Tucson native Linda Ronstadt headlined the first one, in 1996. Plan ahead to score tickets.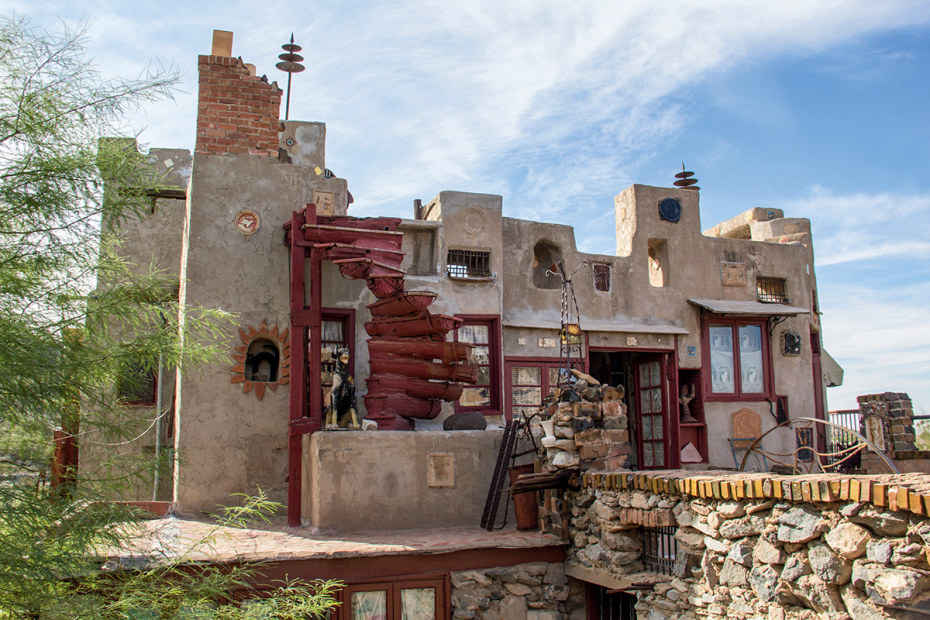 Mystery Castle, Phoenix
In 1929, after being diagnosed with tuberculosis and given just months to live, Boyce Luther Gulley abandoned his family in Seattle and headed to the desert to meet his maker. When the sweet hereafter failed to materialize as swiftly as he expected, Gulley started work on a free-form home at the base of South Mountain. Using stone found at the site, along with telephone poles, rail tracks, wagon wheels, parts of cars, and anything else he could scrounge from the nearby dump, Gulley constructed an 8,000-square-foot, 18-room tour de force. The sprawling structure features a cantina, a dungeon, a chapel, and plenty of balconies for sunset views. After Gulley passed away in 1945, his daughter, Mary Lou, inherited the property—dubbed the Mystery Castle by Life magazine—and opened it for public tours, which continue to this day.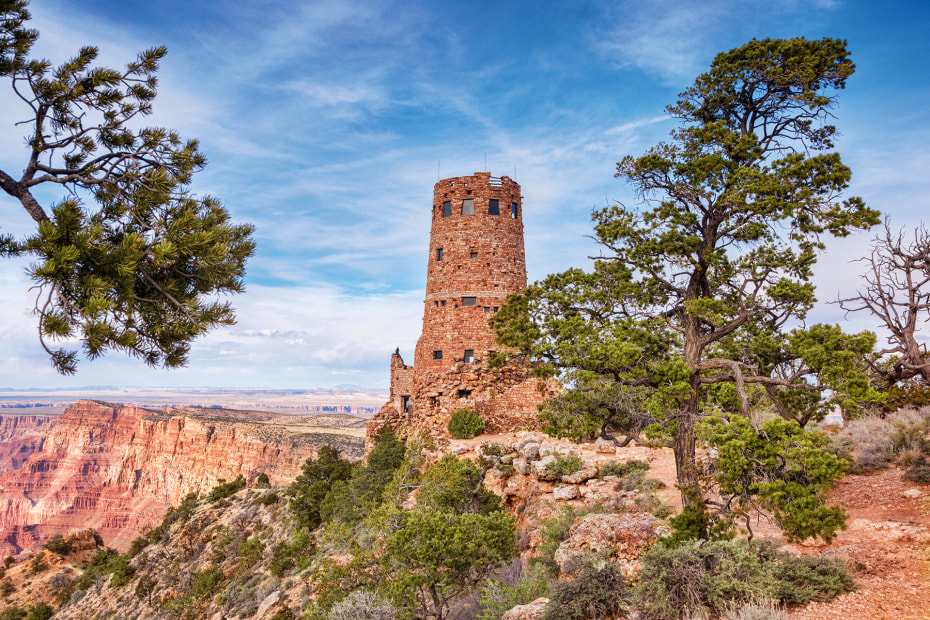 Desert View Watchtower, Grand Canyon National Park
Mary Colter was a pioneer, working as an architect in the 1930s, when there were few women in the field. She was also a maverick in terms of style. While most of her peers were still emulating European design, Colter tapped indigenous architecture and the desert landscape for ideas. Harnessing this rich source material, she created striking edifices throughout the Southwest, from La Posada in Winslow to Hermit's Rest on the Grand Canyon's South Rim. Perhaps her most dramatic work is Desert View Watchtower, a stone column that rises 70 feet above the edge of the Grand Canyon, providing sweeping views of the Colorado River, the North Rim, and the surrounding Kaibab National Forest. Colter patterned Desert View after Ancestral Puebloan towers at Hovenweep and Mesa Verde, giving a nod to her predecessors with the faux ruined base, which creates the impression that the tower was built atop an older structure. Explore the turret and you'll find recently restored murals by Fred Kabotie, a Hopi artist from Second Mesa, as well as an observation deck equipped with telescopes.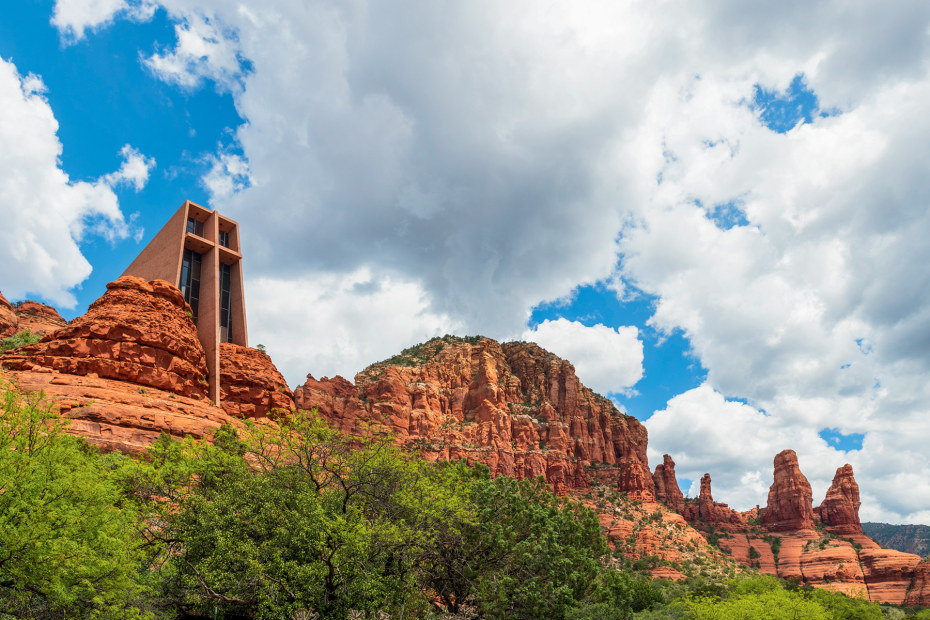 Chapel of the Holy Cross, Sedona
With soaring concrete walls and a 90-foot-tall cross bisecting the front window wall, this sleek church  wouldn't look out of place in New York City. Perhaps that's because Marguerite Brunswig Staude, the Sedona rancher and sculptor who first envisioned the chapel, was influenced by the famous spires of Saint Patrick's Cathedral in Midtown Manhattan. After years of attempting to build her dream church in places like California and Hungary, Staude finally found the perfect site near her home: a nook atop one cliff and backed by another. In the early 1950s, she tapped architects Richard Hein and August Strotz from the San Francisco firm Anshen & Allen to complete the design, which focuses views of red rock spires, buttes, and cliffs through the glass-framed altar.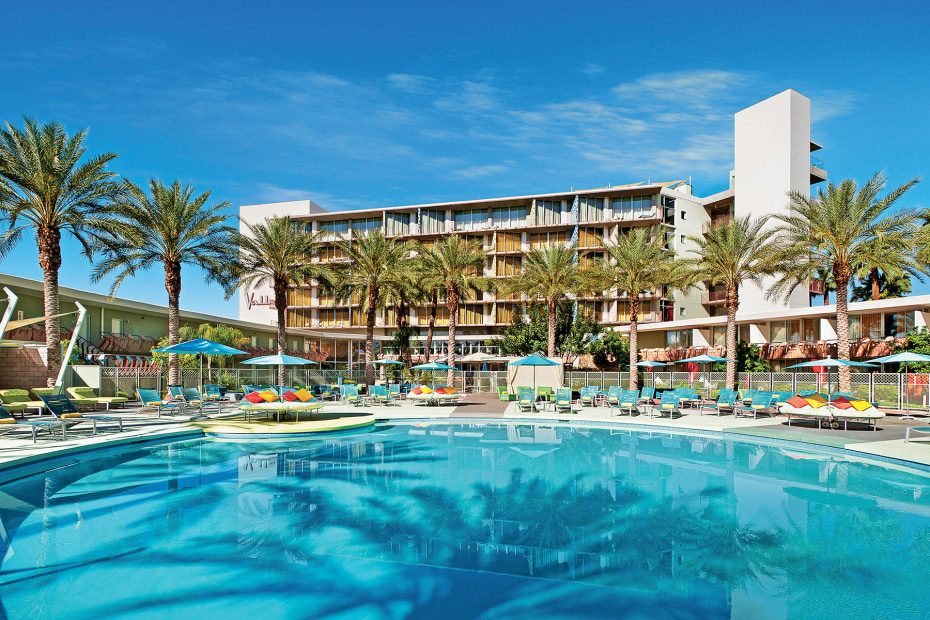 Hotel Valley Ho, Scottsdale
Built in 1956, as midcentury modern design was taking off all over the Southwest, the Hotel Valley Ho was the epitome of desert cool, a low-slung resort that attracted such celebs as Zsa Zsa Gabor and Janet Leigh; Natalie Wood and Robert Wagner held their wedding reception here. Designed by Arizona architect Edward Varney, the hotel featured rock walls, large plate-glass windows, lush lawns, and stylized arrowhead motifs on columns and balcony edges. But by the 1990s the Valley Ho's star had faded. In 2002, the property was put up for auction; luckily, a local company swooped in to save it. In 2005, thanks to three years' and $80 million worth of renovations, the complex reclaimed its old-school glamour—and once again it's a hip spot to stay, drink, dine, and spa. Take a guided tour to learn more about the Ho's classic design and glorious Hollywood past.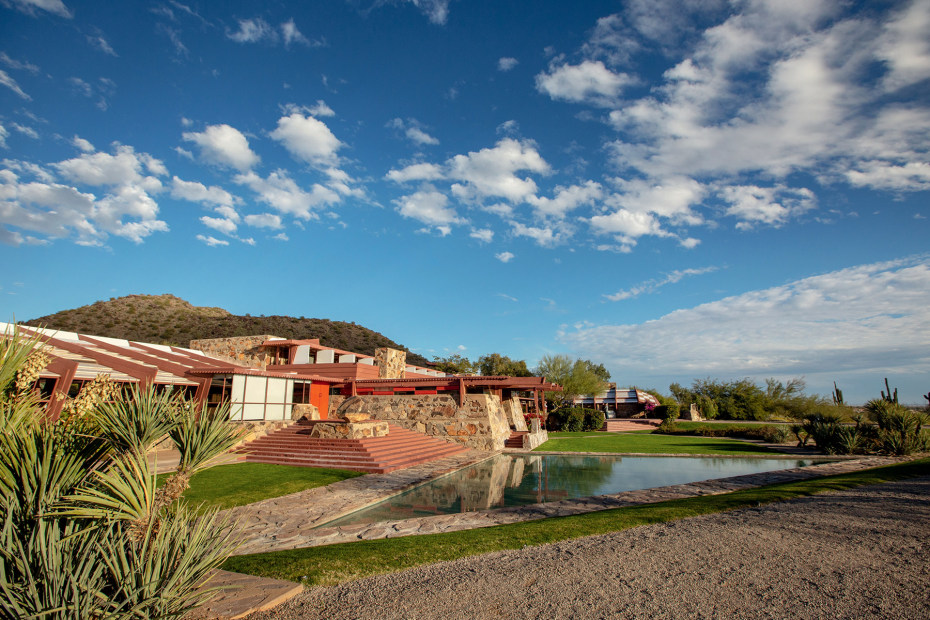 Taliesin West, Scottsdale
When Frank Lloyd Wright arrived in 1927 to work as a consulting architect on the Arizona Biltmore in Phoenix, he fell head over heels for the state's rugged landscape. A decade later, he bought a parcel near the McDowell Mountains to build a winter home and architecture studio—a desert laboratory where he could experiment with materials, forms, and plans. Often tracing ideas in the air with his walking stick, Wright designed a series of structures that seem to rise organically from the desert floor, with walls made of stone gathered in the surrounding desert, and redwood beams angled to mimic the nearby peaks. Today, the 494-acre landmark is still a living laboratory, with an architecture school and a busy calendar of events. Visit by day to wonder at Wright's masterpiece, take a tour, and then return after dark to see a concert in the Cabaret Theater—a space that's so acoustically perfect, a faint whisper onstage can be heard from the very back row.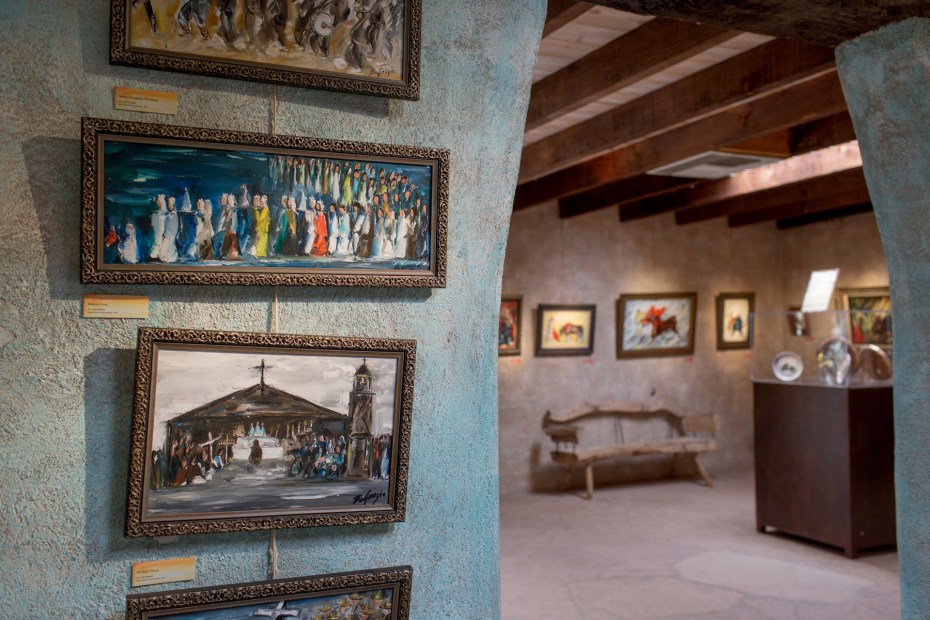 DeGrazia Gallery in the Sun, Tucson
By 1949, Ted DeGrazia was well on his way. He had apprenticed with Diego Rivera, and his art had been shown in Mexico City's Palacio de Bellas Artes. But, recently divorced and remarried, he sought a spacious place to live and work. So DeGrazia did what anyone might do: He bought 10 acres near the Santa Catalina Mountains and, with the help of Yaqui friends, built a clutch of sculptural adobes. The compound includes a rustic 1952 chapel—its walls dotted with murals depicting angels, Spanish padres, and Yaqui deer dancers—and a 1965 museum, a serene space with beamed ceilings and a lacquer floor embedded with slices of cholla cactus. Wander the galleries and you'll see hundreds of the late artist's works, including the ones that catapulted him to fame: sweet, colorful paintings of American Indian children.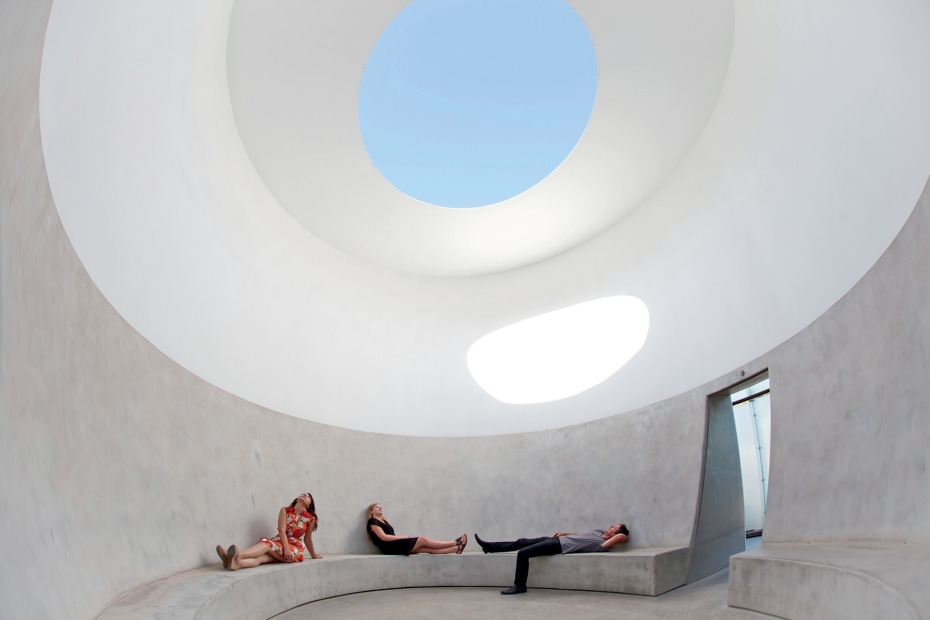 Scottsdale Museum of Contemporary Art, Scottsdale
If 20th-century Arizona architecture belongs to Frank Lloyd Wright, present-day desert modernism belongs to Will Bruder. The self-trained architect—who, like Wright, hails from Wisconsin—designed the beloved Burton Barr Central Library and has netted major awards for his work. His most innovative project? The Scottsdale Museum of Contemporary Art, a masterful transformation of an old movie theater into a minimalist art institute, its facade clad in purple-gray stucco detailed with perforated and corrugated metal. The museum is flanked by two site-specific works. On one end, James Carpenter's curving glass Scrim Wall refracts the light and shapes in the sculpture garden outside; to the south, James Turrell's Knight Rise—a large, elliptical hole in the roof—encourages visitors to experience the sky as a work of art.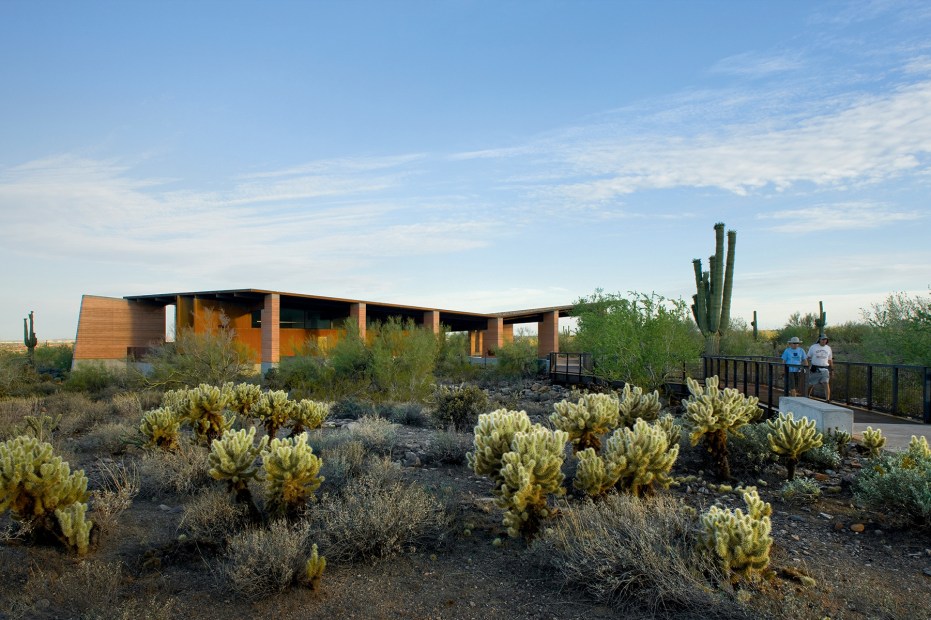 Gateway Trailhead at McDowell Sonoran Preserve, Scottsdale
Proving that even the most utilitarian buildings can be art, Scottsdale architect Philip Weddle masterminded a gloriously high-design trailhead. Gateway serves as a gathering place for hikers and bikers at the threshold of McDowell Sonoran Preserve. (On Saturdays, it's also headquarters for ranger talks on bobcats and javelinas.) Partnering with Floor Associates, Weddle created rammed-earth walls to blend the building into the site, and he included a huge canopy to provide shade and frame mountain views. A rainwater-harvesting system irrigates the native brittlebush and palo verde trees nearby, and the rock-strewn roof renders the structure nearly invisible from higher trails.