If you've ever hiked within the Phoenix metro area, you know the popular trails: Echo Canyon, Piestewa Peak, Cholla, Papago's Hole-in-the-Rock. After the stifling heat and cabin fever of the summer months, temperate fall days lure Phoenicians and visitors to popular urban hikes—along with the reward of a great meal and drink afterward. But you can beat the crowds by taking the trails less traveled, where you can enjoy the area's unique desert surroundings in peace and quiet.
Dreamy Draw Nature Trail, Phoenix Mountains Preserve
Distance: 1.5 miles | Difficulty: Easy to moderate
This trail is Piestewa Peak Summit Trail's more pleasant cousin. It's one of a few trails in the preserve that is fairly easy to hike with kids. You can even take along the family pup. The loop winds through Sonoran Desert landscape, and you may even spot a wily coyote—as well as its nemesis, roadrunner.
Post-hike bite: Grab a burger to go from the Vig Uptown, less than a 10-minute drive away. Choose from a varied list of snacks and starters, enjoyed alongside the Vig burger topped with cheddar cheese, smashed avocado, tomato, serrano onions, and sweet pickle aioli.
South Overbank Trail, Rio Salado Habitat Restoration Area
Distance: 3.0 miles | Difficulty: Easy
Located just a mile and a half from downtown Phoenix, this dog-friendly trail runs along the Rio Salado River's south bank—an area that has been restored to its native wetland habitat. The paved trail passes through a lush riparian landscape, providing hikers a chance to enjoy native plants and wildlife: More than 250 bird species nest in the area.
Post-hike bite: Ramp up both your protein and carbs at Lo-Lo's Chicken & Waffles, just a few miles north on Central Avenue. If you're not feeling the namesake dish, check out the catfish beignets or Stupid Fries, seasoned french fries topped with fried chicken, gravy, onions, bell pepper, and covered with cheese.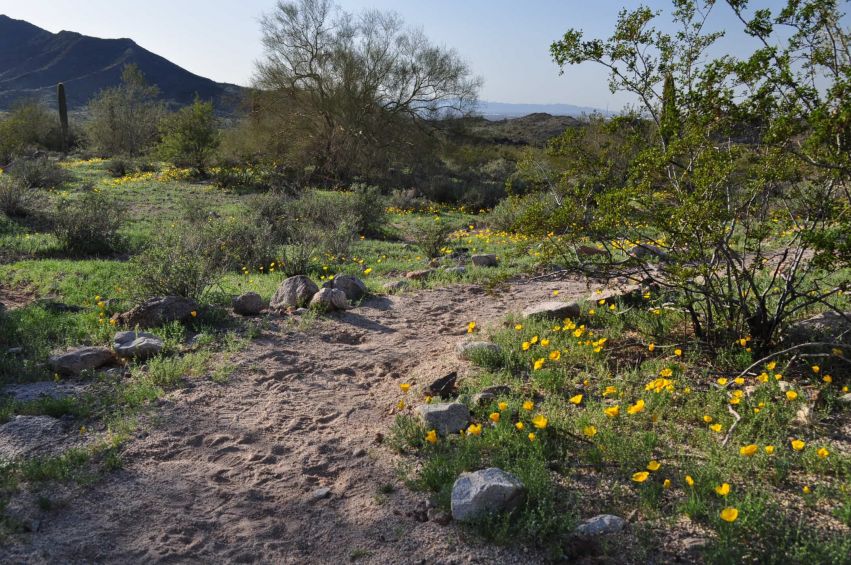 Hobart Trail, South Mountain Park and Preserve
Distance: 2.5 miles | Difficulty: Difficult
As one of the largest city parks in the country, South Mountain boasts more than 16,000 acres along three mountain ranges and 51 miles of trails for hiking, cycling, and horseback riding. Most of the trails intersect, meaning you can customize your workout. Check out Hobart Trail, a steady climb leading to magnificent views of the valley. You can connect to other trails along the way for a longer hike. One of the best things about South Mountain is the "Silent Sundays" program. On the fourth Sunday of each month, the park prohibits motorized vehicles on its main access routes, allowing wheelchair users, skaters, cyclists, and strollers full use of the park's paved roads.
Post-hike bite: Calm your enchilada cravings at Aunt Chilada's, just 15 minutes from the park. Try the Aunt Chilada's Special: a flour tortilla filled with red chile con carne, topped with red and green sauce with cheese, and served with sour cream and guacamole. Top it off with an icy house margarita.
Deem Hills Circumference Trail, Deem Hills Recreation Area
Distance: 5.9 miles | Difficulty: Moderate 
On the north side of Phoenix, the Deem Hills Circumference Trail follows a 5.9-mile loop offering excellent views of the Phoenix area as well as Hedgepeth Hills to the south and the Hieroglyphic and Bradshaw mountains to the north. The trail is flat in some places, steep and rocky in others, and at one point, it cuts through a mountain instead of going around it. Hikers can take in views of the Central Arizona Project canal as well as the McDowell Mountains near Scottsdale.
Post-hike bite: Pick up lunch at Pita Jungle at Norterra to keep your healthy habits going, a 10-minute drive east on Happy Valley Road. You'll find a menu packed with nutritious dishes catering to both vegetarians and carnivores. Start with cilantro-jalapeño hummus served with house-made pita wedges, and finish with any one of a variety of salads, burgers, pizzas, or signature Mediterranean-style entrées. 
Sunrise Trail, McDowell Sonoran Preserve
Distance: 3.7 miles | Difficulty: Moderate
This two-hour out-and-back hike is one of the best in metropolitan Phoenix, and well worth the climb to the top. Located in the McDowell Mountains in north Scottsdale, the trail is a great cardio workout with switchbacks during the steady hike up to the top. Once you've arrived, you can't miss the spectacular 360-degree views of the Valley, including one of the largest fountains in the world—spouting up to 560 feet—in Fountain Hills.