Aravaipa Canyon Preserve
Hike rating: Difficult
In southeast Arizona, between Safford and Winkelman, this wilderness area offers an 11-mile pristine hike through a rare perennial stream. This hike is difficult, with an elevation gain of 430 feet. But persistent hikers are rewarded with towering limestone walls, whistling cottonwoods, and bighorn sheep, and there are no crowds to impede the view. Only a limited number of daily hiking/camping permits are available.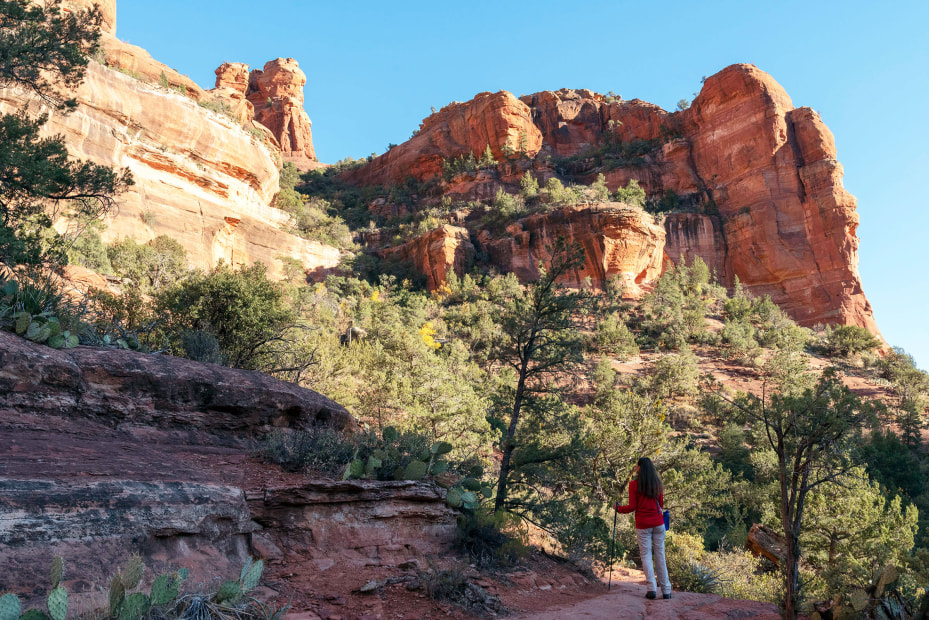 Boynton Canyon Trail #47
Hike rating: Easy
The Boynton Canyon Trail No. 47 trailhead outside the entrance to Enchantment Resort leads to one of Sedona's vortex sites, Boynton Canyon. This 5-mile, round-trip hike presents colorful canyon views, a varied landscape of Gambel oak, manzanita, and Arizona alder, and ancient cliff ruins overhead.
Hugh Norris Trail
Hike rating: Moderate
Popular for viewing sunsets, wildflowers, and wildlife across the dense cactus forest, at nearly 4.9 miles long (one way), this trail is the longest in the Tucson Mountain District. It climbs steadily up to Wasson Peak for 360-degree views of the city, including a gander at the tallest peak in town, Mount Lemmon, to the east.
Lower Cathedral Wash
Hike rating: Moderate to Difficult
At the base of the Vermilion Cliffs in the Glen Canyon National Recreation Area, just a few miles east of Lees Ferry, this hidden slot canyon hike thrills with scrambles over limestone boulders, and ducks or crawls along narrow sandstone ledges and alcoves. At the end of the 1.25-mile descent, hikers reach a sandy beach on the banks of the Colorado River.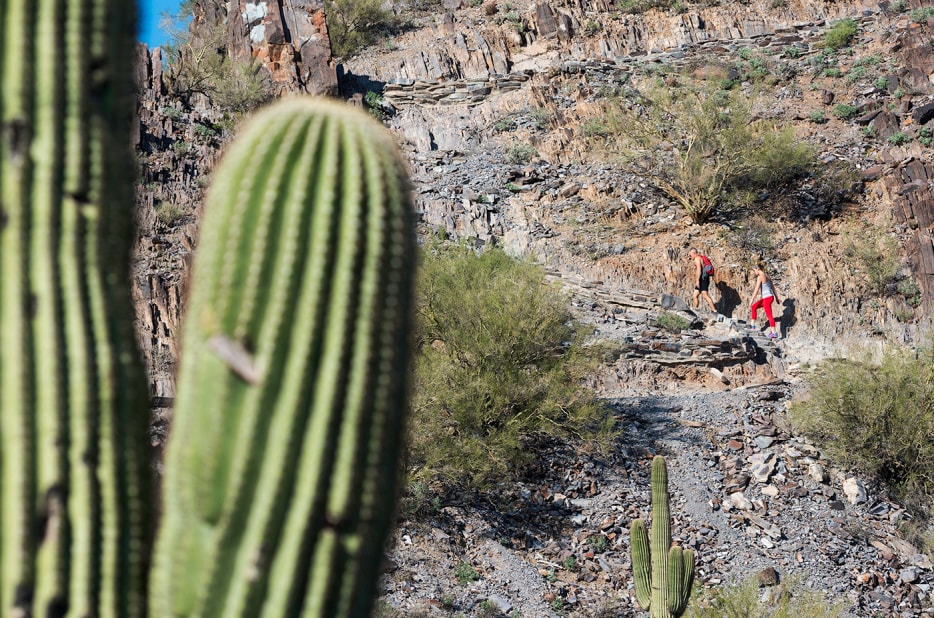 Summit Trail #300
Hike rating: Moderate to Difficult
Phoenicians love their urban trails, and Piestewa Peak is a long-standing favorite. A tough, rocky climb to the summit at 2,608 feet, the 1.2-mile-long (2.4 round trip) hike is a heart-thumping trek up and around switchbacks, with benches at several points along the way. The reward at the very top is a 360-degree view of the valley below. 
Hamburg Trail 
Hike rating: Moderate to Difficult
The trailhead begins just outside the visitor center at Ramsey Canyon Preserve in the Huachuca Mountains. This lush, green, 5.6-mile round-trip trek passes Ramsey Creek (a tributary of the San Pedro River), climbs uphill, follows several switchbacks, and leads to a scenic overlook in the Coronado National Forest. From there, hikers can enjoy the view and then head back, or continue on for additional trails. Along the Hamburg Trail, hikers will see hummingbirds, remnants of an old mining camp, and waterfalls after a rain.
West Fork Trail #94
Hike rating: Easy to Moderate
This higher-elevation trail in Greer, popular with the summer crowds, takes hikers along a 5-mile path toward West Baldy Trail in the Mount Baldy Wilderness. Notice the scent of ponderosa pine, the touch of fresh cool air, and the sound of woodpeckers tapping away at the white bark on aspen trees. Along the way, see monkey flowers, a pond or two, and deer or elk crossing grassy meadows.
Hike Ratings Explained
Easy: For a person in fair hiking condition, trails generally are in good condition, not a huge elevation gain.
Moderate: For a person in good hiking condition, trails generally are in good hiking condition, moderate elevation gain, some advanced hiking skills required. 
Difficult: For a person in good-to-excellent hiking condition, trails are not always in good condition, significant elevation gain, advanced hiking skills required.
Note: No matter the rating of the hike, always remember to use proper precautions. Bring your own water, wear a hat and sunscreen, do not disturb the wildlife, avoid hiking alone, and tell friends or family where you are hiking. Check websites or call in advance to confirm any closures.