Portland
With so much lush greenery, Portland is a city made for outdoor enthusiasts. There are more than 10,000 acres of parkland within city limits, the bulk of which is Forest Park—one of the largest urban forest reserves in the United States. Wandering along the park's more than 80 miles of paths and forest roads, it's easy to forget you're in a major city. Douglas fir, red alder, and big-leaf maple trees dominate the landscape, which stretches across the Tualatin Mountains' eastern slopes, often providing a thick, shady canopy ideal for hours of exploring.
At around 30 miles, Wildwood Trail is Forest Park's longest, winding past the historic Pittock Mansion and offering panoramic views of Portland and its many nearby peaks. The trail continues into Portland's Washington Park, a cultural hub that features its own 15 miles of trails, along with the Oregon Zoo, International Rose Test Garden, and the Hoyt Arboretum—home to more than 2,000 tree species from around the globe and the Pacific Northwest's largest bamboo collection.
Boise
The Boise foothills loom large behind the city's mostly flat downtown, beckoning anyone seeking an easy getaway from the everyday grind. A short walk from most parts of Boise's North End or a five-minute drive from downtown is Camel's Back Park. At 2,893 feet, the top of Camel's Back provides quite a workout (and one that can be done during a long lunch break) and spectacular views of the Idaho State Capitol building and surrounding Boise.
Camel's Back Park and the connected Hulls Gulch Reserve offer convenient access to the foothills' Ridge to Rivers Trail System, a network of more than 190 miles of hikeable paths, ranging from gradual climbs to heart-pumping treks. One of the most popular is Table Rock Trail No. 15, a 3.8-mile up-and-back path that steadily works its way toward the namesake 3,652-foot flat top, from which Idaho's Owyhee Mountains can be seen on a clear day.
San Francisco
While the city has no shortage of steep hills and staircases on which to flex your calves, it's also ripe with pockets of wilderness that make the bustle of urban life disappear. One such place is Mount Sutro Forest, a 900-foot-tall hill covered in eucalyptus trees, tucked between the family-friendly Cole Valley neighborhood and UCSF Medical Center on Parnassus Avenue. Mount Sutro boasts trails, dense greenery, and an ever-present mist that makes this stunning cloud forest seem almost enchanted. Keep an eye out for mountain bikers rounding the corners and tiny gnome figures often left along the trails.
Located at San Francisco's northwestern corner, Lands End provides another great urban escape. Expect windswept cypress trees, endless ocean views, and cliffsides popping with color when wildflowers are in bloom. Its popular Coastal Trail begins above the ruins of the Sutro Baths and runs to the tony Sea Cliff neighborhood, with plenty of jaw-dropping vistas en route—including some of the Golden Gate Bridge.
Eugene, Oregon
Knowing where you are in Eugene is as simple as locating one of its two iconic buttes, which also happen to be home to some of the city's best urban hikes. Skinner's Butte—named after city founder Eugene Skinner—stands right along downtown's northern edge, making access to the butte's moderate, mile-long trail easy. Its western face is also home to basalt rock columns that are popular climbing spots, as well as the new, quarter-mile, and somewhat strenuous West Summit Trail that runs above them. Spencer Butte lies south of the city (about a 10-minute drive from downtown) and offers a phenomenal 360-degree view from its summit, reachable by a 2.2-mile loop trail.
For seemingly remote wilderness right in the middle of town, try the Ribbon Trail in Eugene's Hendricks Park. It's a 1.7-mile, out-and-back ravine trail through dense Douglas fir and past colorful irises that spring to life as the weather warms.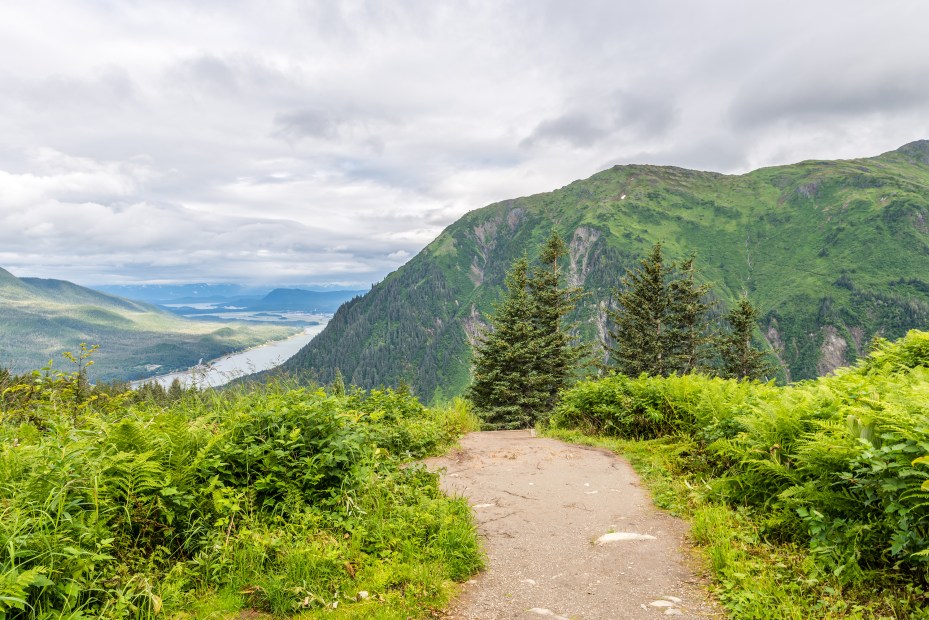 Juneau, Alaska
It's no surprise that great hikes are prevalent throughout Alaska, including in its cities. Juneau's Mount Roberts Trail is a case in point. The 9-mile, out-and-back trail climbs up the 3,819-foot peak, crossing through boreal forest as the elevation increases, and offers many chances to spot wildlife, such as marmots and bears. If it's a shorter hike you're after, the Timberline Bar and Grill as well as the upper terminus of the Goldbelt Mount Roberts Tramway sit 1,760 feet up the mountain slope along the Mount Roberts Trail. From here you can enjoy awesome views of the capitol city and neighboring Gastineau Channel, then take the tramway (May through September) back down.