Boise, Idaho, has long been a magnet for outdoors enthusiasts who hike trails in the foothills at sunrise, then strap their skis to their SUVs and hit the slopes at Bogus Basin before dinner. But downtown development has given that outdoorsy vibe a distinctly citified edge, luring both locals and visitors who prize their macchiatos as much as their mountain bikes. There's no mistaking it: The City of Trees is growing up.
A good spot to start exploring this downtown renaissance is the front patio of Boise Brewing, a community-supported microbrewery that serves frothy pints of crisp Broad Street Blonde and chocolaty Snowboarder Porter to a mixed crowd of nine-to-fivers and bearded cyclists.
Around the corner, Peace Valley Dry Goods & Barber Shop offers beard trims and straight-razor shaves as well as men's clothing. Nearby, check out the art space Ming Studios; there's usually an artist in residence there and always some kind of contemporary art installation going on.
As you continue down Broad Street into the BoDo neighborhood, you can stop to nurse a pour-over at Slow by Slow Coffee Bar, a café with black-and-white tiled floors and a rotating menu of coffees from artisan roasters, including San Francisco's Ritual and Portland's Heart.
For more high-end imbibing, cross the street to Bodovino, where wine machines dispense measured pours from more than 140 bottles at the push of a button. The cheese counter offers a wide selection of fromage, which on any given day might include St. André triple cream, Humboldt Fog chèvre, and much, much more, all served by the ounce or in flights.
Stepping outside and looking west, you can't help but notice the fantastical Jack's Urban Meeting Place—funded by the Simplot potato-farming dynasty—swirling skyward at the end of Broad. The fancifully designed six-story building houses studios, event spaces, and part of J.R. Simplot's collection of vintage tractors (tours run Wednesdays at noon).
To further explore Boise's growing sophistication, walk up Eighth Street through Grove Plaza, a popular pedestrian space with an interactive fountain for kids to splash around in, and past City Center Plaza. As you go, you'll hit the city's restaurant corridor, where couples clink glasses on sidewalk patios, throngs of teens snag slices of pizza, and legislators in suits shuffle to and from the Idaho State Capitol building.
At Wild Root Café & Market, an airy counter-service eatery committed to regional sourcing, you can dig into a bowl of creamy winer squash risotto with sage and microgreens, or slurp the cioppino with calamari, muscles, scallops, white fish, and ciabatta on the side. For more down-home fare, live it up at low-lit Saint Lawrence Gridiron, known for its shrimp and grits and its smoked brisket platter. Cut the meaty richness with a properly executed old-fashioned.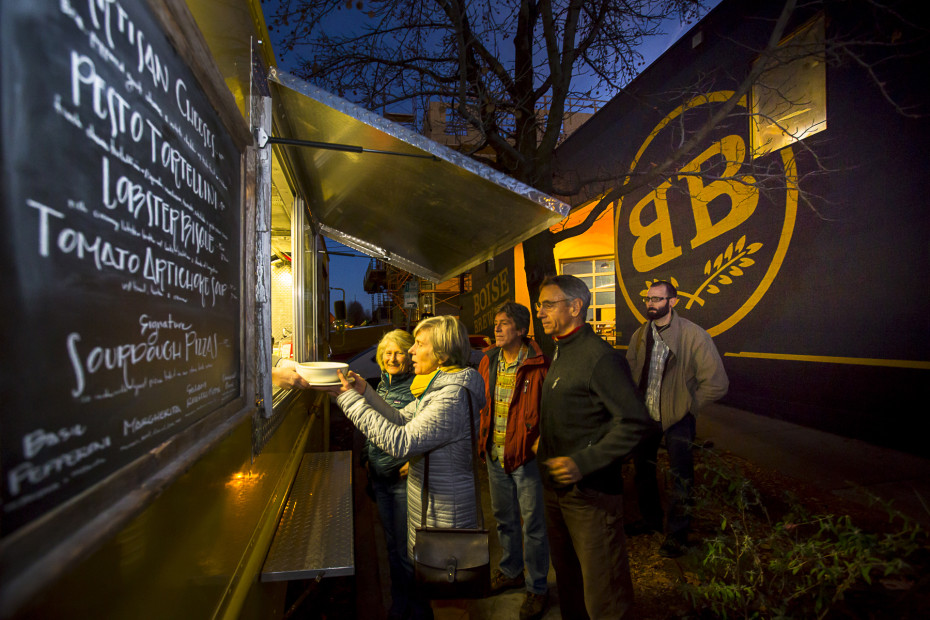 Wherever you eat, you can walk off your meal with a stroll through Freak Alley Gallery, the open-air mural exhibit on Ninth Street filled with colorful artistic renderings of things like zombie ghost monsters and a serene businessman careening through space.
Downtown isn't the only Boise neighborhood that's getting a makeover. Hop on a rented bike and head west on the Greenbelt, the pedestrian and bike thoroughfare that runs along the Boise River. It's a two-mile trip to Garden City, an industrial community best known for its auto dealerships, but which recently has seen an influx of wineries and breweries, along with some unexpected recreational opportunities.
Park your ride at Corridor Paddle Surf Shop, where you can rent a surfboard or stand-up paddleboard before heading over to Boise River Park and its engineered standing wave—ideal for surfing and kayaking.
After your bike ride (or water adventure), pull up a stool at The Yardarm's reclaimed wood bar and dig your toes into the sandy floors. Order a pint from one of Garden City's numerous nearby breweries and savor a blue-corn taco stuffed with beer-battered mahimahi from the Gem Street Kitchen food truck. (Both bar and food truck usually close for winter in early October and reopen around April 1.
The Yardarm might be the perfect place to cap your day. It's a surprising, offbeat retreat that combines fresh-air exertion with a healthy dose of urban excitement—a lot like Boise itself.